With its expansive desert and towering saguaro cactus, Tucson is the epitome of the American Wild West. Located in the Sonoran Desert along the Santa Cruz River, Tucson is home to over 993,000 people and the second-largest city in Arizona.
Quick Facts
The average cost of auto insurance in Tucson is $1,315 per year.
The average car insurance rate for teens is three times more than for drivers in their 20s.
How Much Does Car Insurance Cost in Tucson?
Car insurance premiums in Tucson are about 15% less than the national average of $1,548. On average, Tucson residents pay about $1,315 per year for car insurance. That's slightly higher than the Arizona state average of about $1,247 annually.
| City | Annual Car Insurance Rates |
| --- | --- |
| Phoenix | $1,660 |
| Scottsdale | $1,427 |
| Tucson | $1,315 |
| Flagstaff | $1,016 |
| Sedona | $973 |
Average Car Insurance Cost in Tucson by Zip Code
Insurance rates are often influenced by risk factors in the area you live in. Areas with more people, more crime, and more accidents will have to pay higher insurance rates.
Tucson has a higher percentage of crime, which affects the average rate of insurance premiums there. There are 33 different zip codes in Tucson, and the average annual car insurance rates can differ in each zip code. Tucson's cheapest car insurance rates are in the city's Diamond Bell Ranch (85736) and Tucson West (85735) neighborhoods.
| Zipcode | Annual Car Insurance Rates |
| --- | --- |
| 85716 | $1,419 |
| 85710 | $1,313 |
| 85706 | $1,279 |
| 85730 | $1,306 |
| 85745 | $1,353 |
| 85711 | $1,350 |
| 85735 | $1,268 |
| 85736 | $1,163 |
How Much is Car Insurance in Tucson for Teenagers
Your age is a significant determining factor in how much you'll pay for car insurance in Tucson. Teenagers who've just gotten their driver's license will have to pay almost three times as much as drivers in their 20s, 30s, 40s, and 50s. Drivers older than 70 will also have to pay about $378 more for car insurance than they did when they were in their 60s.
| Age | Annual Car Insurance Rates |
| --- | --- |
| Teens | $6,265 |
| 20s | $2,036 |
| 30s | $1,488 |
| 40s | $1,439 |
| 50s | $1,341 |
| 60s | $1,395 |
| 70s | $1,773 |
Driving Conditions in Tucson
How Many Fatal Accidents Happen in Tucson?
The year 2020 was a deadly year on Tucson streets. The Tucson Police Department estimated the city had one traffic fatality every four days. Of the over 77 fatalities on Tucson streets that year, 24 were pedestrians, and 23 were motorcyclists.
In response to the rising number of fatal accidents on Tucson city streets, the city adopted the Move Tucson initiative to look for ways to make city streets safer. The transportation master plan creates a "mobility blueprint" for the city's future.
How Are the Road Infrastructure and Bridges in Tucson?
In 2021, the state of Arizona is undertaking many plans to improve its transportation infrastructure. The city adopted a five-year master plan that includes spending $407 million on projects to improve highway safety, efficiency, and functionality. Part of the plan involves spending $83 million to fix the interstate between Tucson and Phoenix.
The American Society of Civil Engineers (ASCE) gives Arizona a D+ grade on its street and roadway infrastructure. State residents travel an average of 36.4 miles per day on Arizona's more than 66,000 miles of public roads.
Minimum Car Insurance Requirements in Tucson
Driving without car insurance is illegal in Arizona. The state's mandatory car insurance requirements follow the 25/50/15 rule, which is:
$25,000 Bodily Injury Liability per person
$50,0000 for Total Bodily Injury Liability
$15,000 for Property Damage Liability
Factors Allowed in Tucson Car Insurance Rates
Car insurance companies are allowed some discretion regarding what factors they look at to determine your premiums. Factors impacting your car insurance rate can be:
Home location
Marital status
Educational affiliation
Credit score
Occupation
Homeownership
Employer
Discounts for Car Insurance in Tucson
Drivers who haven't made any claims over the years may qualify for a Good Driver Discount on their car insurance annual premiums. Seniors age 55 and older also have the option of taking an online Arizona Mature Driver Course to get a reduction in their auto insurance rates. The discounts can vary depending on your insurance company.
What Are the Penalties for Driving Without Insurance in Tucson?
As with most states, if you drive without insurance in Arizona, you could be facing hefty fines. Fines increase from $500 to $1,000 for your first three offenses. Each offense also includes suspension of your driver's license and a mandatory requirement that you obtain SR-22 insurance for two years. An SR-22 is a certificate of financial responsibility that proves your auto policy meets the minimum liability coverage required by the state.
Get a Quote for Car Insurance in Tucson Today!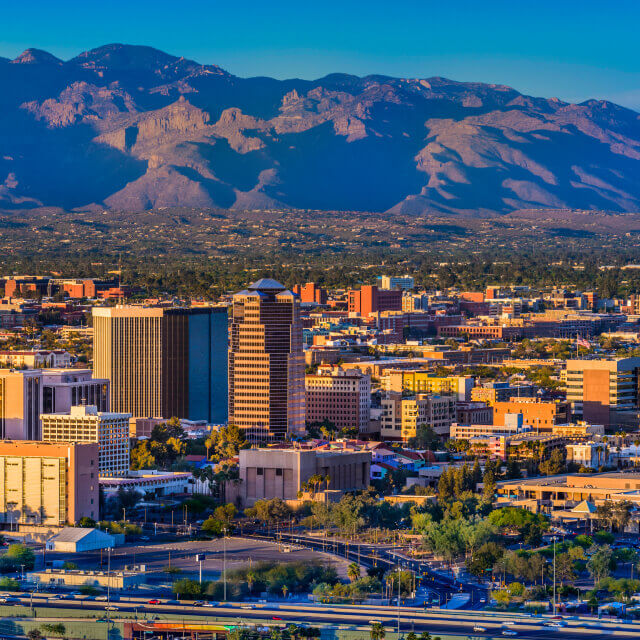 With the low cost of car insurance premiums in Tucson, it's a good idea to make sure you at least have the minimum liability coverage required by the state of Arizona.
Get started with a quote online, visit us at a Tucson office near you, or call us at (800) 777-5620 for a quote.