San Diego is known for its green spaces, warm atmosphere, and beautiful beaches. It also has its share of traffic congestion. Some reports even tabulated that in 2019 drivers lost 124 hours waiting in San Diego rush hour traffic. That's 5 days and 4 hours, or as the report illustrated, it's enough time to watch 110 episodes of Game of Thrones. For 2020 though, time lost in traffic has decreased significantly by approximately 64 hours. As beautiful as San Diego is, it won't be long until people are back on the road, so ensure you have auto insurance before driving to the beach to enjoy it with everyone else.
Get Low-Cost California Auto Insurance
Quick Facts
San Diego's average annual car insurance premium is $1,692.
San Diego's traffic fatalities were lower than the state average, at 7.43 deaths per 100,000 people.
How Much Does Car Insurance Cost in San Diego?
In the United States, California car insurance companies provide better coverage and protection to customers when compared with other states. San Diego's average annual full-coverage premium will cost you approximately $1692. This rate is lower than other California metropolitan areas by an average of nearly $300, making it one of the more affordable rates.
| City | Average Annual Premium |
| --- | --- |
| Los Angeles | $2,422 |
| San Francisco | $2,169 |
| Fresno | $1,791 |
| San Diego | $1,692 |
| San Jose | $1,645 |
Insurance companies provide car insurance based on several factors. The major factors include the zip code of the area you live in and your age. Other criteria will also play a part in your premium costs, such as average household income, population, area accident statistics, and crime rates. Common vehicle types owned and driven in the area may also play a factor in determining your rate. Younger drivers will pay more for their insurance than individuals who have had years of experience on the road. New, younger drivers are considered high-risk drivers who may have more traffic violations or accidents.
San Diego Car Insurance Rates by Zip Code
The different areas of San Diego will also affect your car insurance premium rates. Zip codes with more densely populated zip code locations such as 92105, the Oak Park area, have the highest average premiums at $1,416, while 92154, the Otay Mesa area, has the lowest premium at $1,161.
Other criteria specific to the zip code you live in plays a major role in the average car insurance premium rate. A sample of how these criteria affect costs would be to take both the Oak Park and Otay Mesa areas. They have roughly the same population. However, the population density for 92154 (the less expensive of the two locations) is about 2,100 people per sq mi, and the exact measurement for 92105 is over 12,500 people per sq mi. Insurance providers will weigh the chances higher that accidents will occur in more densely populated areas.
Below is a list of San Diego zip codes with their respective average car insurance premium costs:
| ZIP Code | Average Premium |
| --- | --- |
| 91911 | $1,216 |
| 92154 | $1,161 |
| 92021 | $1,363 |
| 91910 | $1,205 |
| 91942 | $1,306 |
| 92115 | $1,308 |
San Diego Car Insurance Rates by Age
Across the U.S., age and zip code assist insurers in calculating your car insurance rates. Both marital status and gender have less of an effect on premiums.
Drivers in their teen years will pay more for their car insurance premiums than older drivers. Once they move into their 20's, rates will begin to drop and continue to decrease into later adult years.
| Age | Average Annual Premium |
| --- | --- |
| Teens | $6,455 |
| 20s | $2,611 |
| 30s | $1,725 |
| 40s | $1,666 |
| 50s | $1,590 |
| 60s | $1,581 |
| 70s | $1,831 |
Driving safely, avoiding tickets, and being accident-free will guarantee lower premium rates. Having a clean driving record is one of the criteria insurers will use to calculate rates.
Driving Conditions in San Diego
How Many Fatal Accidents Happen in San Diego?
Statewide 2019 statistics show that that there were 9.13 fatalities per 100,000 people in California. For that same year, the San Diego numbers were lower, at 7.43 deaths per 100,000 individuals, a two-point plus difference.
Fatalities may have been avoided had drivers been wearing their seat belts and avoided driving while under the influence. 30% of the San Diego fatalities (75 individuals) were driving while intoxicated, with high blood alcohol levels. Of the 75 individuals, 37 were not wearing seat restraints.
How Are the Road Infrastructure and Bridges in San Diego?
Amazingly, the 2,000 miles of roads in San Diego could stretch to Florida. The San Diego Department of Public Works steps up to maintain these roads and highways. Repairs and work may be minor, such as filling potholes, installing signs, or clearing brush. Other major repairs could include resurfacing highways and streets, maintaining bridges, replacing streetlights or traffic lights, and more. It is their responsibility to keep the roads clear, safe, and drivable.
California received an overall grade of C+ on infrastructure. The 2019 report published by the American Society of Civil Engineers (ASCE) periodically publishes a report on the U.S. infrastructure overall. Roads in California received a poor rating, receiving a D grade. Bridges weren't much better at a C-. This same report noted that the San Diego bridges along I-5 needed "major repair and rehabilitation."
However, with California being a well-populated state, the roads and bridges' wear and tear were expected by the ASCE. They speak to this in the same report, noting that the grades do not reflect a lack of attention or diligence on the part of the San Diego public works. Ratings from the ASCE assist agencies in determining where they can target limited resources.
Minimum Car Insurance Requirements in San Diego
When it comes to accidents and insurance laws across the U.S., there are two categories, "no-fault states" and "at-fault states." California is an "at-fault" state with some of the strictest insurance premium laws across the country. Drivers who cause the accident are held responsible. The minimum liability insurance mandated in California (California Insurance Code §11580.1b) is 15/30/5. Spelled out this coverage includes:
$15,000 for injury/death to one person
$30,000 for injury/death to more than one person
$5,000 for property damage
Liability insurance compensates a person other than the policyholder for personal injury or property damage. Comprehensive or collision insurance does not meet vehicle financial responsibility requirements.
Factors Allowed in San Diego Car Insurance Rates
Unlike other states that use a variety of data to determine insurance rates, San Diego insurers are restricted to basing their premium rates on the following criteria:
Education & occupation
Age
Marital status
Zip code
Although common across other states in the U.S., California does not allow these common insurance factors to calculate auto insurance premiums:
Discounts for Car Insurance in San Diego
San Diego drivers may be unaware that there are discounts available that can lower their auto insurance costs. Check into these discounts if they apply to you or a family member:
Military discount
Multi-policy discount
Multi-car discount
Good driver discount
Anti-theft discount
Student discount
Mature, retired, or senior discount
What Are the Penalties for Driving Without Insurance in San Diego?
San Diego drivers must carry the minimum amount of insurance coverage mandated by California. Driving uninsured will result in fines and other possible consequences. First offenders will pay fines from $100-$200 plus any additional penalties. If there is a second offense within three years, offenders will pay fines of $200-$500, again with additional penalties.
Get a Quote for Car Insurance in San Diego Today!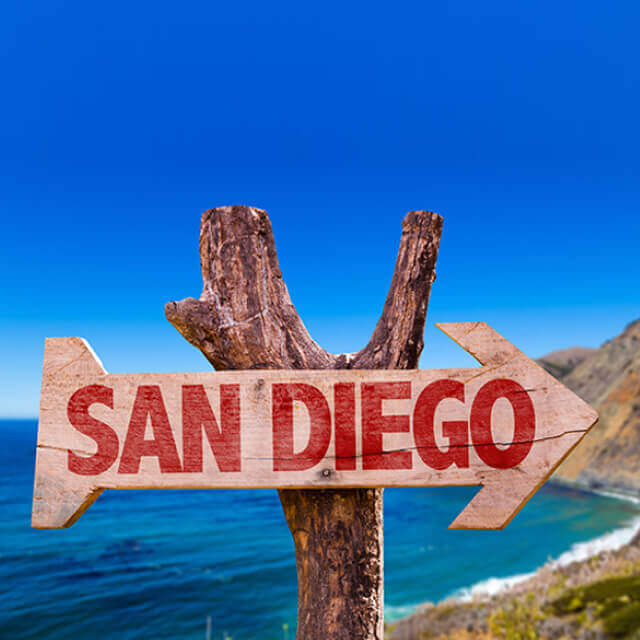 It's more than just a legal requirement. Insurance is an inexpensive way to protect yourself from the tremendous risks of daily driving in San Diego. Don't let yourself be bogged down with considerable medical expenses and car repair bills that often result from collisions. Get started with a quote online, visit us at a San Diego office near you, or call us at (800) 777-5620 for a quote.