Auto insurance is crucial for residents of Santa Rosa as it provides financial protection in the event of an accident or other unexpected event. Without car insurance, individuals may be responsible for paying for any damage or injuries sustained in a collision, which can be financially devastating. Additionally, car insurance is legally required in most states, including Illinois, so failing to have car insurance can lead to fines, penalties, and even the suspension of your driver's license. Overall, having car insurance like the options we provide here at Freeway Insurance in Santa Rosa is essential for protecting yourself, your vehicle, and other drivers on the road.
Santa Rosa, CA Car Insurance
Less than an hour north of San Francisco, Santa Rosa, California, is one of the country's winery meccas. It offers a nice intersection of antique and hip, home to Historic Railroad Square, the Luther Burbank Home & Gardens, and the Pacific Coast Air Museum. On the natural side, more than 800 acres of redwoods, endless hiking trails, Tirone-Annadel State Park offers more than 500 acres of lush greenery, and Bodega Bay hosts the iconic Sonoma Coast with mouth-watering seafood eats.
With a neat mix of hip town culture and sprawling nature trails, Santa Rosa, California, is full of vibrant happenings.
How Many Fatal Accidents Happen in Santa Rosa CA?
In 2019, there were 15 people involved in fatal car crashes and road traffic accidents. Of these, there were nine fatalities, and five accidents involved drunk drivers.
According to recent statistics, car crashes have resulted in at least one driver or passenger being injured in 43% of cases. In 2020 alone, there were 2,282,015 injuries reported, which equates to an average of 6,252 injuries per day or four injuries per minute. Although the number of injuries is high, it is worth noting that the injury rate per mile traveled decreased by 6% from 2019 to 2020, indicating that there may be a slight decrease in the overall risk of injury while on the road. 
In 2020, approximately 2,800 teenagers in the United States between the ages of 13-19 were killed and 227,000 were injured in motor vehicle accidents. This equates to an average of eight deaths and hundreds of injuries per day. The financial cost of these accidents for medical expenses and lost lives was around $40.7 billion. 
How Are the Road Infrastructure and Bridges in Santa Rosa?
Santa Rosa's infrastructure and bridges are constantly under evaluation. Many initiatives, such as this decade's California Senate Bill 1's Road Repair and Accountability Act, allocate millions of dollars towards road maintenance, pavement management, and reconstruction projects. On the state level, the areas of concentration include seismic improvements to bridges and local street repairs.
How Much Does Car Insurance Cost in Santa Rosa?
On average, the cost of car insurance in Santa Rosa is $1,243 per year. This is lower than the U.S. national average and a lot lower than California's average car insurance cost, which is $1,974 per year for full coverage.
The average cost of car insurance in California is higher than the national average. Many factors contribute to a lower or higher auto premium, including driving history, age, gender, and make/model of your vehicle. In general, the safer you drive, the lower your California car insurance rate.
It is very important to search for a comprehensive auto insurance policy that keeps you covered in the event of an infraction or auto accident. If you do not carry auto insurance coverage, then you will be liable for all costs if it is determined you are at fault. Drivers with solid driving records may be eligible for safe driver discounts.
Santa Rosa Car Insurance Rates by Zip Code
In Santa Rosa, California, auto policy premiums are lower or higher depending on the zip code in which you reside. Each zip code has its own number of reported accidents, thefts, and other activities affecting auto policy premiums. As a rule of thumb, the lower the number of accidents per zip code, the lower the average premium.
Santa Rosa, California, has six zip codes. Each one may offer different auto insurance rates. Here are the average rates for each zip code:
| Zip Code | Average Car Insurance Rate |
| --- | --- |
| 95401 | $123.36 |
| 95403 | $114.93 |
| 95404 | $114.73 |
| 95405 | $98.60 |
| 95407 | $117.26 |
| 95409 | $107.34 |
Santa Rosa Car Insurance Rates by Age
One of the most important factors when deciding the cost of auto premiums is age. Some age ranges pay higher insurance than others, depending on the collective driving record.
Regardless of age, it is crucial to keep a healthy driving record with no infractions or accidents to keep rates low. Here is a breakdown of the average car insurance rate by age in Santa Rosa, California:
| Age | Average Car Insurance Rate |
| --- | --- |
| Teenagers | $196.23 |
| 20s | $137.88 |
| 30s | $115.94 |
| 40s | $96.60 |
| 50s | $85.11 |
| 60s | $88.24 |
| 70s | $119.15 |
Get a Quote for Car Insurance in California Today!
Minimum Car Insurance Requirements in Santa Rosa
With more than 90% of Santa Rosa households owning one or more vehicles, having a comprehensive auto insurance policy is very important. California is a "no-fault" state, which means all people involved in an accident are eligible for injury and damage coverage.
In California, the state minimums are as follows:
$15,000 bodily injury per person per accident
$30,000 bodily injury for all persons per accident
$5,000 property damage liability
$15,000/$30,000 uninsured motorist coverage for bodily injury
$3,500 minimum for uninsured motorist property damage coverage
If you're leasing a vehicle, your leasing company will most likely ask for full coverage, including comprehensive and collision coverage, to absolve them of any responsibility in the event of an accident. To save money on car insurance, opt for a higher deductible.
Factors Allowed in Santa Rosa Car Insurance Rates
Many factors help determine the cost of your auto insurance policy.
Some of these factors include:
Driving record
Age
Gender
Zip code
Marital status
Type of vehicle
Credit rating
Discounts for Car Insurance in Santa Rosa
If you have a clean driving record, you may be able to save on your car insurance premiums with the following benefits:
Military discount

Good driver discount

Anti-theft discount

Student discount
As a best practice, it is a good idea to call your auto insurance company every six months to go over your driving records and see what discounts you may be eligible for. Note, many insurance carriers require a minimum tenure before being considered for any discount.
What Are the Penalties for Driving Without Insurance in Santa Rosa?
Driving without insurance in Santa Rosa, California, could expose you to some harsh penalties. First-time offenders will pay a fine up to $200 (on top of any penalty assessment fees). Second and third offenses are subject to harsher punishment, including the possibility of jail time if you cause an accident. You may also have your vehicle impounded.
On top of penalties, driving without insurance will make it harder to be compensated for damages and assure all damages are paid out of your own pocket. If it is determined you are at fault for an accident, the other driver and insurance company could put you on the hook for all car repair and hospital bills.
Lastly, driving without insurance will almost certainly cause your auto premium to go up. According to WalletHub, premiums rise by an average of 36% after the first conviction.
What Happens if I Damage a Property? 
Having car insurance can provide significant benefits in the event of property damage. Specifically, car insurance that includes coverage for property damage can help cover the cost of repairs or replacement if you are found to be at fault for damaging another person's property, such as their house or vehicle. This can help protect you financially in the event of an accident, as the cost of repairs or replacement can be quite high. Additionally, car insurance can also provide coverage for legal expenses if you are sued for property damage. Overall, having car insurance can provide peace of mind and financial protection in case of any property damage caused by a car accident. 
Insurance that Helps You Prepare for the Future 
Find long term benefits in a car insurance policy by ensuring they have the right coverage for their needs. This can include liability coverage to protect against damages or injuries caused to others in an accident, collision coverage to repair or replace their own vehicle, and comprehensive coverage to protect against non-collision events such as theft or natural disasters. Having these protections in place can provide peace of mind and financial security in the event of an accident or loss. Additionally, many insurance companies offer discounts for safe driving or multiple vehicles, which can help lower the overall cost of coverage in the long term.
Making these types of decisions not only lightens the load on your wallet in the long run, but also gives peace of mind to your family and loved ones.
The Best Car Insurance Company in Santa Rosa, CA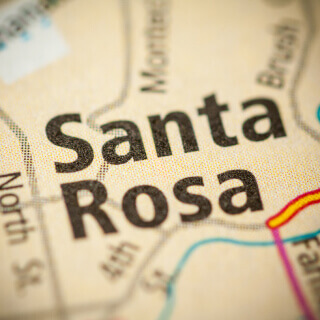 Fortunately, Freeway is here to help you find the best car insurance for you in Santa Rosa, California.
Get started with a quote online, visit us at a Santa Rosa office near you, or call us at (707) 394-6671 for a quote.