Located in southwest California, Ontario has very few things in common with the Canadian province of the same name. But one important detail is the same: drivers in both locations are trying to find the best car insurance in Ontario.
Understanding the Basics of Car Insurance in Ontario, CA
For vehicle owners in Ontario, California, securing the right insurance coverage is essential. If you're wondering about the best way to get the best rate and reduce your auto insurance premiums, read on to learn more.
Quick Facts
In 2021, there were 23 traffic-related fatalities in Ontario. 

The Ontario government mandates insurance coverage to provide financial protection in case of accidents.

The average cost of full coverage car insurance in Ontario, California, is $209. However, finding the best rate for your specific needs can be challenging. Many factors influence your auto insurance premium, including your driving history, the type of vehicle you own, and your location.

To get the best car insurance in Ontario, you must research and compare quotes from different insurance providers.
Direct Compensation-Property Damage
One essential aspect of car insurance in Ontario is the Direct Compensation-Property Damage (DC-PD) system. This mandatory system allows vehicle owners to claim for property damage directly from their own insurance provider, regardless of who is at fault in an accident. Understanding the DC-PD system is crucial for vehicle owners in Ontario, as it ensures a smooth claims process in the event of an accident.
How Much Is Car Insurance in Ontario?
Ontario drivers need to protect themselves with good car insurance. But just how much is it going to cost at the end of each month? Finding the right insurance coverage that suits your specific needs is crucial for not only financial protection but also peace of mind.
The average cost of car insurance in Ontario, California, is $191, making it a slightly more expensive option than California's average cost of car insurance, which sits at $172, and higher than the national average cost of car insurance, which stands at $168. Saving on your auto insurance rates while maintaining adequate insurance premiums is a smart move for any vehicle owner.
But how cheap is car insurance in Ontario compared to other major cities? Below, we have a breakdown of how Ontario stacks up against other well-known California areas, helping you make an informed decision about your auto insurance coverage. Remember, tailoring your policy to your specific needs is the best way to ensure you're getting the most value for your auto insurance premium. 
| City | Full Coverage Insurance | Liability Insurance Coverage |
| --- | --- | --- |
| Fresno | $181 | $51 |
| Los Angeles | $239 | $61 |
| Sacramento | $223 | $63 |
| San Diego | $185 | $48 |
| San Francisco | $231 | $64 |
Ontario Car Insurance Rates by Zip Code
By now, it should be obvious to every Ontario driver that moving to another California city can have a major impact on your monthly car insurance premium. But many drivers are surprised to discover that all it takes is a slight change in zip code to get a change (sometimes a major change) in how much you pay.
Don't believe it? Below, we have a table of different Ontario zip codes and the average monthly cost of car insurance in each area.
| Zip Code | Full Coverage Insurance | Liability Insurance Coverage |
| --- | --- | --- |
| 91761 | $191 | $51 |
| 91762 | $196 | $55 |
| 91764 | $198 | $54 |
Ontario Car Insurance Rates by Age
Moving to different cities within the state or just moving to a new Ontario neighborhood may have a major effect on how much you pay for car insurance. But the same thing can happen if you never move at all due to the fact that age impacts the cost of your car insurance, especially for new drivers, teens and young drivers. 
To give you a better idea of how much you might pay in the coming years, we have a breakdown of the average monthly car insurance prices in Ontario based on the age of the driver, including insights on the specific challenges faced by teens and new drivers. Understanding how age influences insurance costs is essential for all drivers, as it helps in making informed decisions about insurance coverage.
| Age | Full Coverage Insurance | Liability Insurance Coverage |
| --- | --- | --- |
| Teenagers | $485 | $139 |
| 20s | $250 | $67 |
| 30s | $191 | $51 |
| 40s | $180 | $49 |
| 50s | $174 | $48 |
| 60s | $169 | $47 |
| 70+ | $183 | $53 |
Driving Conditions in Ontario
When it comes to driving in Ontario, California, understanding the local conditions and safety factors is essential for all motorists. How safe is it to navigate the roads in this region, and what are the key factors affecting your driving experience? Let's delve into the driving conditions in Ontario, California.
How Many Fatal Accidents Happen in Ontario?
In 2021, Ontario experienced 23 fatal accidents, underscoring the importance of maintaining a heightened focus on road safety in the region. These incidents, while tragic, represent a relatively low number compared to some other areas. 
Factors contributing to such accidents included speeding, distracted driving, impaired driving (due to alcohol or drugs), and a lack of seatbelt usage. Understanding these key contributors to fatal accidents emphasizes the need for responsible and cautious driving practices, making it essential for all Ontario motorists to prioritize road safety. 
This awareness can not only save lives but also have a positive impact on auto insurance rates, as safe driving records are often rewarded by insurance providers.
How Are the Road Infrastructure and Bridges in Ontario?
Ontario places a strong emphasis on the development and maintenance of its road infrastructure and bridges, with a significant financial commitment dedicated to these efforts each year. Billions of dollars are invested to expand and enhance the provincial highway network, with ongoing projects outlined for the next four years in various regional transportation plans. 
The province is responsible for the upkeep of approximately 16,900 kilometers of provincial highways and around 2,800 bridges throughout the year, ensuring their safety and functionality. Stringent safety laws mandate frequent inspections, with each of Ontario's 2,800 provincial-owned bridges undergoing thorough assessments at least twice a year, led by trained engineers and technicians. 
Furthermore, through the Connecting Links program, municipalities have the opportunity to secure provincial funding for the repair of specific roads and bridges that connect provincial highways, promoting safer and more efficient travel throughout the province.
Get a Quote for Car Insurance in California Today!
Minimum Car Insurance Requirements in Ontario
We always advise Ontario drivers to get more than the minimum amount of car insurance required. But do you know what the minimum insurance requirement is for the state?
For all California cities, you must have at least liability insurance in the following amounts:
$15,000 for injury/death to one person
$30,000 for injury/death to more than one person
$5,000 for property damage
Because liability only pays out to third parties you injure when you are at fault, we recommend supplementing with collision coverage to help protect your car. The DC-PD system will allow your insurance company to promptly repair your vehicle. If however, it is determined the accident was your fault, you'll be responsible for paying your insurer back in the form of increased premiums.
Factors Allowed in Ontario Car Insurance Rates
When it comes to determining your auto insurance rates in Ontario, California, several factors are taken into account by insurance providers. Understanding these factors is crucial for making informed decisions about your coverage. Here's a breakdown of the factors that may influence your car insurance rates:
Age

: Young drivers and new drivers often face higher rates due to their limited experience on the road. Insurance providers consider age as a key determinant.

Zip Code

: Your location matters. Different areas may have varying levels of risk, and insurers take this into consideration when setting rates.

Marital Status

: Married individuals may receive lower car insurance rates, as statistics suggest they are less likely to engage in risky driving behaviors.

Type of Insurance

: Your choice of coverage, such as comprehensive coverage or optional coverage, can impact your insurance premium.

Driving Record

: A clean driving record with no car accidents or traffic violations can lead to lower rates, while a history of accidents,

DUI

, or traffic violations may result in rate increases.

Car Safety Features

: The

safety features

in your vehicle, like airbags and anti-theft systems, can influence your insurance rates. 

Additional Coverage

: Opting for additional coverage options, like extra liability or medical coverage, can lead to higher rates but provide added protection.

Good Drivers

: Insurance providers often offer discounts for good drivers who maintain a safe driving record over time.

Higher Deductibles

: Choosing higher deductibles can lower your car insurance rate, but it may mean paying more out of pocket in case of a claim.
While these factors play a significant role in determining your auto insurance premiums, it's essential to note that two factors, credit score and gender, are not considered by insurance carriers in California when setting your rates. 
Understanding these influences can help you make informed decisions about your insurance coverage, potentially saving you money on your policy.
How Can I Find the Best Car Insurance Rates in Ontario?
To find the best car insurance rates in Ontario, it's crucial to employ a strategic approach tailored to your specific needs and circumstances. Here are some effective ways to secure a competitive rate and potentially save money on your auto insurance policy:
Compare Multiple Quotes

: Gathering

auto insurance quotes from various insurance providers

is one of the best ways to find the best rate. This allows you to explore different policy options, coverage levels, and premiums.

Understand Your Specific Needs

: Determine the exact coverage requirements for your vehicle. Whether it's basic liability coverage or additional benefits, understanding your specific needs ensures you're not overpaying for unnecessary coverage.

Maintain a Good Driving Record

: Good drivers often qualify for lower car insurance rates and discounts. Avoid accidents and traffic violations to maximize your savings.

Consider Your Deductible

: Opting for a

higher deductible

can lead to a lower car insurance rate, as it means you'll pay more out of pocket in the event of a claim.

Explore Available Discounts

: Insurance providers offer various discounts, such as multi-vehicle or bundled coverage discounts, loyalty discounts, and safety feature discounts. Inquire about these opportunities to reduce your premiums.

Consult an Agent

: Speaking with an insurance agent who understands your specific needs can help you navigate the complexities of auto insurance policies and identify the best deal.

Utilize Online Resources

: Online tools and platforms make it easier than ever to compare rates and policies. Leveraging these resources can save you time and money.

Check the Financial Services Regulatory Authority of Ontario (FSRA) Guidelines

: Ensure that you understand the guidelines and regulations set by the FSRA, as they can impact your insurance rates, especially when it comes to factors like no-fault insurance.

Regularly Review and Update Your Policy

: As your circumstances change, so do your insurance needs. Regularly reviewing and updating your policy can ensure you're getting the best deal and maximizing your savings.
By implementing these strategies and staying informed about insurance products and industry updates, you can increase your chances of finding the cheapest car insurance rates in Ontario while still securing the necessary coverage for your vehicle.
Discounts for Car Insurance in Ontario
Want to lower how much you pay for car insurance in Ontario? All you have to do is contact your insurance carrier and inquire about their special discounts for drivers.
Below, we have a list of common discounts offered by Ontario insurance companies:
To discover which discounts your insurer provides, it's always a good idea to get in touch with them directly. When you're in the process of shopping around for a new car insurance policy, don't forget to inquire about the available discounts. 
This step can be the key to securing the best deal, saving you money on your premiums, and potentially accessing additional benefits that might enhance your coverage. So, remember to reach out to your insurance provider and explore these cost-saving opportunities when evaluating your options for a new car insurance policy.
What Are the Penalties for Driving Without Insurance in Ontario?
You need the minimum level of car insurance required in Ontario, or you may be left facing legal trouble and bills for unpaid damages. But what happens if you are driving around without any insurance at all?
If that happens, a first-time offender may pay a fine between $100-$200. The court may potentially add other fees and penalties beyond that.
If there is a second offense within three years of the original offense, the fine increases and will range between $200-$500. The court retains the discretion needed to add additional penalties and fees.
Get an Ontario Insurance Quote Today!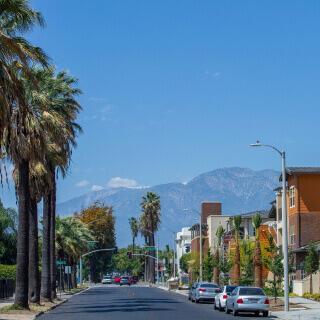 Now you know all the most important details about car insurance in Ontario, California. But do you know where to find the California insurance carrier you've been dreaming of?
Here at Freeway Insurance, we are proud to offer the best insurance plans in Ontario. Get started with a quote online, or visit us at a local office near you. You can also call us at (800) 777-5620 for a quote.