How Much Does Car Insurance Cost in Los Angeles?
You will pay an average of $2,422 for full coverage car insurance in the Los Angeles area. When compared with other major cities in California, Los Angeles is the most expensive, surpassing premium costs of other areas in the state by an average of $450. Due to the amount of time drivers spend on the highways, consumer protection laws and California car insurance provide some of the best coverage in the U.S.
| City | Average Annual Premium |
| --- | --- |
| Los Angeles | $2,422 |
| San Francisco | $2,169 |
| Fresno | $1,791 |
| San Diego | $1,692 |
| San Jose | $1,645 |
Get Low-Cost California Auto Insurance
Quick Facts
Los Angeles's average annual car insurance premium is $2,422.
Los Angeles's traffic fatalities were lower than the state average at 6.82 deaths per 100,000 people.
Hollywood, the beaches, and horrendous traffic are all defining characteristics of Los Angeles, which in 2019 ranked 31st in the world for worst traffic congestion. Thanks in large part to the events of 2020, its ranking has improved to the 85th spot. The ranking reports say that in 2019 drivers lost 167 hours waiting in rush hour traffic, or 6 days, 23 hours. In that time, you could have watched an entire 82 game season of basketball. Time lost in traffic decreased in 2020 to approximately 101 hours. But Angelenos love going out. So, traffic will pick back up, and drivers should be sure to cover themselves with the proper insurance.
Your zip code and your age are two factors that insurers use to determine your car insurance rates. Statistics from the zip code area, which may include the average number of accidents, average income, population, and crime rates, will also be considered. Younger drivers, who have not had much time on the road, will pay more for coverage. They are considered high-risk drivers.
Los Angeles Car Insurance Rates by Zip Code
Los Angeles has 98 zip codes. Zip code 90019, the Mid-Wilshire area, has the highest average premiums at $2,813, while 90022, the East Los Angeles area, is nearly $1,200 less than that at $1,460.
Average rates are based on zip code statistics. Though population density between these two zip codes, 90019 and 90022, is similar, 16,578 ppl/sq mi and 15,334 ppl/sq mi, respectively, other zip code statistics play significant factors. For instance, the median home value in 90019 is over $320,000 higher than 90022, indicating that residents might also purchase more expensive vehicles, like luxury cars, contributing to higher premiums.
The table below lists a number of zip codes in the Los Angeles area and the average insurance rates drivers will pay:
| ZIP Code | Average Premium |
| --- | --- |
| 92345 | $1,897 |
| 92683 | $1,595 |
| 90650 | $1,832 |
| 93535 | $2,045 |
| 91801 | $1,796 |
| 91342 | $2,396 |
| 92880 | $1,891 |
| 92335 | $1,998 |
Los Angeles Car Insurance Rates by Age
Marital status and gender have shown minimal influence on premium costs. As discussed, zip code and age play a larger part in calculating premium rates.
Younger drivers will pay more for their car insurance until they have spent more time on the road and have gained experience. Once a young adult moves into their 20's, insurance rates will begin to drop.
| Age | Average Annual Premium |
| --- | --- |
| Teenagers | $9,767 |
| 20s | $3,905 |
| 30s | $2,559 |
| 40s | $2,476 |
| 50s | $2,364 |
| 60s | $2,358 |
| 70s | $2,747 |
A driving record with no accidents or tickets will keep your rates low.
Driving Conditions in Los Angeles
How Many Fatal Accidents Happen in Los Angeles?
In 2019, California recorded 9.13 accident deaths per 100,000 people. Los Angeles had a better average than the statewide numbers. Statistics for this metropolitan area show 6.82 fatalities per 100,000 people.
Los Angeles had a total of 685 traffic deaths in 2019, with a 22% fatality rate (154) due to driving with blood-alcohol levels above the legal limits. In addition, 74 of the 685 individuals were not wearing seatbelts.
How Are the Road Infrastructure and Bridges in Los Angeles?
Los Angeles has over 6,500 centerline roads that are affected by heavy traffic and the elements. Roads deteriorate, forming potholes, worn surfaces, and aging bridges and guardrails. The Los Angeles Department of Public Works takes care of repairs, filling the potholes and placing signs, as well as the major work, including maintaining bridges, repairing traffic and streetlights, and keeping highways clear of debris.
In 2019, the American Society of Civil Engineers (ASCE) released their report card for the infrastructures across the U.S. California received an overall grade of C+ in this 2019 report. California overall received a D grade, a poor rating. Bridges were a little better at a C-. "Major repair and rehabilitation" were recommended for some bridges that lay along Highway 101 in Los Angeles.
Local agencies that maintain the roads and major infrastructures in California work with limited resources, so their focus turns to where repairs and maintenance will have the most impact. The ASCE reports that the grades are not a reflection of the performance of those responsible for the roadways. With California's large population, substantial use, wear, and tear of roadways is expected.
Minimum Car Insurance Requirements in Los Angeles
In California, drivers are held responsible for accidents they may be involved in, being "at-fault." States across the U.S. are either "fault states" or "no-fault states." California is an "at-fault" state. Los Angeles has some of the most stringent auto insurance laws. Per California Insurance Code §11580.1b, drivers must carry the minimum liability insurance. The minimum limits are listed as 15/30/5, meaning the following:
$15,000 for injury/death to one person
$30,000 for injury/death to more than one person
$5,000 for property damage
Liability insurance compensates a person other than the policyholder for personal injury or property damage. Comprehensive or collision insurance does not meet vehicle financial responsibility requirements.
Factors Allowed in Los Angeles Car Insurance Rates
Across the country, there are criteria insurers use to determine your car insurance rates. In Los Angeles, California, the criteria used are:
Age
Zip code
Education & occupation
Marital status
California cannot use the following criteria in calculating your auto insurance premium costs:
Discounts for Car Insurance in Los Angeles
Taking advantage of discounts available through your auto insurance carrier can save Los Angeles drivers money. Discounts might include:
Good driver discount
Multi-car discount
Anti-theft discount
Student discount
Military discount
Multi-policy discount
Mature, retired, or senior discount
What Are the Penalties for Driving Without Insurance in Los Angeles?
Auto insurance is not an option in Los Angeles. Drivers must carry the minimum amount of coverage or pay penalties, especially those found driving without coverage. First offense uninsured drivers will pay fines of $100-$200, with possible additional consequences. Fines for second offenders within three years of an initial offense will cost upwards of $200-$500, again with other potential implications.
Get a Quote for Car Insurance in Los Angeles Today!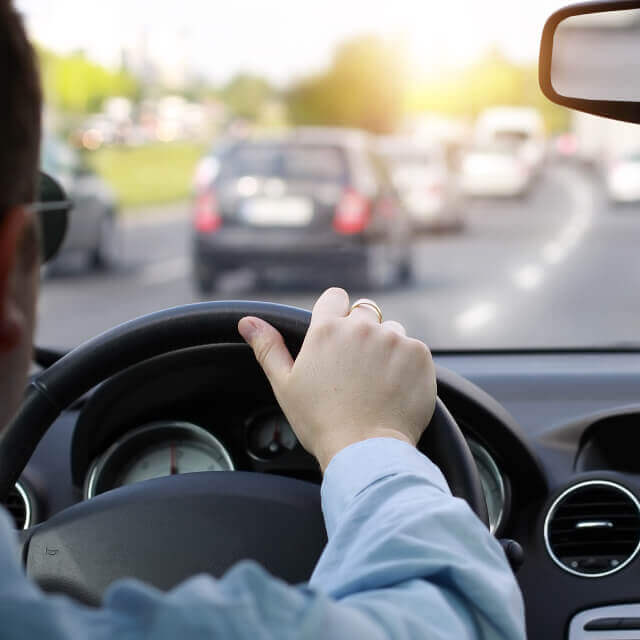 It's more than just a legal requirement. Insurance is an inexpensive way to protect yourself from the tremendous risks of daily driving in Los Angeles. Don't let yourself be bogged down with substantial medical expenses and car repair bills that often result from collisions. Get started with a quote online, visit us at a Los Angeles office near you, or call us at (800) 777-5620 for a quote.