As a city, Lakewood, California, exists largely in the shadow of Los Angeles. However, this city has managed to carve out its own niche and offers a variety of entertainment and culture for residents and visitors alike.
For example, you can soak up the culture that comes from this planned, post-World War II community by attending the annual Lollipop Lane artisan show or the Summer Stampede Car Show. Lakewood, CA has a quirky history, including being home to the country's very first Denny's restaurant.
If you're raising a family, you'll enjoy this quiet town and its robust educational system. But quiet or not, you will still be facing other drivers on the road, so it's important to keep your family protected with the right car insurance*.
Quick Facts
The average cost of car insurance in Lakewood is $63 per month.
In 2019, there were only three traffic-related fatalities in the city.
* We use the following methodology to arrive at our average cost: male, age 30, lowest possible legal coverage allowed by state. Your rates will be determined by several factors, including your age, your gender and the amount of coverage you want to purchase.
How Much Is Car Insurance in Lakewood?
There is a lot to learn before moving to a new area, and drivers should especially pay attention to how much their car insurance in California will cost. And it's a good thing to explore, because costs can vary from state to state and even city to city.
In Lakewood, the average car insurance cost per year is $63 per month. This is actually a bit higher than the national average for car insurance, which is approximately $39 per month.
Lakewood Car Insurance Rates by Zip Code
Remember when we said that car insurance rates could vary by city? In addition, the average cost of car insurance can vary within the city from zip code to zip code.
To help you navigate the confusing world of car insurance, we have a breakdown below of different Lakewood car insurance rates by zip code.
| | |
| --- | --- |
| 90712 | $58 |
| 90713 | $53 |
| 90714 | $63 |
| 90715 | $63 |
Lakewood Car Insurance Rates by Age
There are many different factors that car insurance carriers are allowed to factor in when determining your monthly premium. And one of those factors is age: in Lakewood, as in other cities, you can expect to pay different car insurance rates based on how old you are.
Below, we have info on the average car insurance rates in Lakewood for different age ranges.
| Age | Average Monthly Car Insurance Rate |
| --- | --- |
| Teenagers | $257 |
| 20s | $140 |
| 30s | $63 |
| 40s | $61 |
| 50s | $56 |
| 60s | $54 |
| 70s | $59 |
Driving Conditions in Lakewood
How Many Fatal Accidents Happen in Lakewood?
Relative to other cities in California, it is relatively safe to drive throughout Lakewood. In 2019, three car accidents resulted in a total of three fatalities.
How Are the Road Infrastructure and Bridges in Lakewood?
For the most part, the road infrastructure and bridges in Lakewood are pretty solid. The town was only founded in 1954, making it younger than many cities. Because of this, much of the infrastructure is still in good condition.
Additionally, the infrastructure is undergoing some improvements in the coming years. This includes improving the irrigation system at Bolivar Park and installing a stormwater capture system at Mayfair Park. Such projects show the city's commitment to improving the quality of life for those who live within the city.
Minimum Car Insurance Requirements in Lakewood
For most drivers, we recommend getting more than the minimum required amount of car insurance, which in Lakewood is the same as the rest of California. You will need to get liability insurance with the following minimum coverage limits:
$15,000 for injury or death to one person
$30,000 for injury or death to more than one person
$5,000 for property damage
On top of these requirements, you should be aware that California is an at-fault state. In other words, you will be held legally responsible for any injuries or property damage you cause. Because of this, getting a really low level of liability coverage may mean you are stuck with a large bill if you are at fault for an accident that causes some major damage.
Get a Quote for Car Insurance in California Today!
Factors Allowed in Lakewood Car Insurance Rates
Previously, we reviewed two of the biggest factors that car insurance carriers in Lakewood may consider before determining your premium: your age and your zip code. However, you may be understandably curious what other factors the state allows carriers to use (and, interestingly, the factors the state does not allow carriers to use).
Below are the factors insurance carriers may consider in Lakewood before setting your rate:
Age
Zip code
Education & occupation
Marital status
Interestingly, California puts more restrictions on the factors insurance carriers can use to cite rates. Because of those restrictions, carriers in the state are not allowed to use the following information before determining your rate:
Discounts for Car Insurance in Lakewood
Drivers across the country have very different personalities and temperaments. But they all have one thing in common: wanting to save money on their monthly insurance premium!
One of the most reliable ways to save money on your premium is to contact your carrier and ask about possible discounts. Below, we have a list of common car insurance discounts available in Lakewood:
Discount for safe driving

Discount for installing anti-theft devices

Discount for being a college student

Discount for military service

Discount for having multiple policies with the same carrier

Discounts for being mature, retired, or a senior citizen
It's important to emphasize that these are only common discounts. You will not know exactly which discounts are available through your carrier until you contact them.
What Are the Penalties for Driving Without Insurance in Lakewood?
Still not sure why it's important to have proper car insurance when driving through Lakewood? In that case, we should review what the penalties are if you are busted for driving without car insurance.
First-time offenders may expect to pay a fine between $100 and $200. And the court can always add other fees and penalties beyond that.
Keep in mind that if you have a second offense within three years of the first offense, the fine increases to a range of $200 to $500. Once more, the court may assign additional fees and penalties beyond this initial range.
Get a Lakewood Car Insurance Quote Today!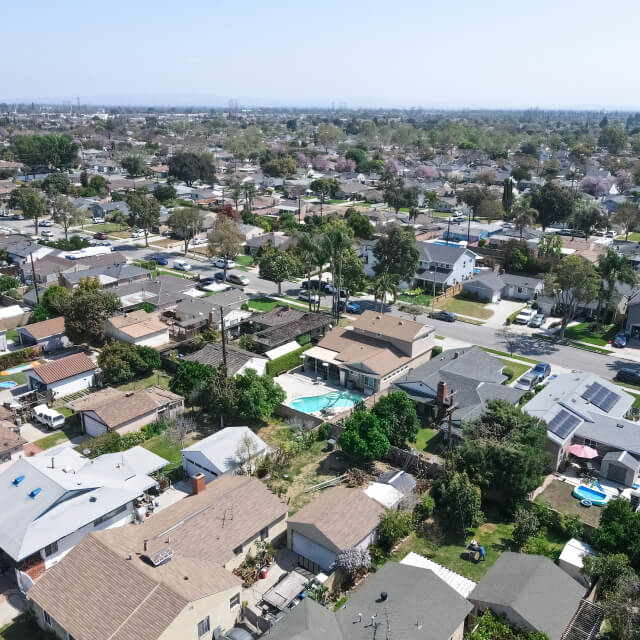 Now you know more about Lakewood, CA., including the importance of having the right car insurance coverage. But do you know who can provide the exact coverage you need, exactly when you need it?
Here at Freeway Insurance, we have made it easy for you to get an insurance quote in a variety of convenient ways. You can get started with a quote online. Or you can come and visit us at a local office near you. And don't forget, you can always pick up a phone and call us at (800) 777-5620 for a quote!