They just do things bigger in California, and that certainly includes cities like Oakland. In fact, Oakland has the distinction of being the eighth most-populated city in all of California!
Local residents love this sprawling city because it often seems like an adventure is around every corner. But if you're not careful, what might be waiting around the corner is an unexpected car wreck!
It's essential to protect you and your vehicle, so it is important to have the correct levels of auto insurance coverage. Keep reading to learn everything you need to know about car insurance in Oakland!
Quick Facts
The average cost of full coverage car insurance is $2,380.
In 2019, there were 32 car accident fatalities from 29 fatal accidents.
How Much Does Car Insurance Cost in Oakland
To keep themselves protected, Oakland drivers need to understand the complexities of California car insurance. Fortunately, you don't have to learn everything all at once!
The most important information to know is how much your car insurance is likely to cost. In Oakland, the average cost of full coverage car insurance (as opposed to minimum insurance requirements) is $2,380.
Below, we have a breakdown that shows how Oakland car insurance costs stack up to other major cities throughout California.
Oakland Car Insurance Rates by Zip Code
If you have friends in different parts of Anaheim, you may discover they are paying less (or more) in car insurance than you are. While there are many different factors that may affect your insurance premium, one of the major ones is your zip code.
Even within the same city, there may be a lot of variation between car insurance costs based on where you live. Our table below has information on the average car insurance costs in different zip codes within Oakland.
Zip Code
Average for full coverage
Average for
minimum coverage
94601
$2,449
$719
94602
$1,920
$608
94603
$2,349
$673
94605
$2,049
$607
94606
$2,325
$714
94607
$2,324
$712
94608
$2,117
$662
94609
$1,984
$643
94610
$1,823
$604
94611
$1,857
$605
94612
$2,285
$751
94613
$2,159
$682
Oakland Car Insurance Rates by Age
Another insurance factor to consider is your age. While you can't change how old you are, your age can play a big role in how much your car insurance costs.
Below, we have information on how much you can expect to pay for your Oakland car insurance based on your age.
| Age | Average Cost of Insurance |
| --- | --- |
| Teens | $8,421 |
| 20s | $3,350 |
| 30s | $2,182 |
| 40s | $2,108 |
| 50s | $2,014 |
| 60s | $2,009 |
| 70s | $2,334 |
Driving Conditions in Oakland
The driving conditions in every city are different. In order to stay safe while driving through Oakland, you need to know more about the annual traffic fatalities as well as investments in road infrastructure.
How Many Fatal Accidents Happen in Oakland?
It's important to know how safe it is to drive in any given city. The number of car accidents and fatalities affects the cost of your car insurance premium and the general safety of driving around in the city.
In Oakland, it's important to have enough insurance coverage because the roads are getting more dangerous for drivers. Between 2012 and 2016, there was a 76% increase in severe or fatal injuries. And in 2019, there were 32 car accident fatalities from 29 fatal accidents.
How Are the Road Infrastructure and Bridges in Oakland?
Obviously, other drivers play a big role in how safe any city is. But another factor you need to consider is the city's commitment to improving infrastructure.
Fortunately, Oakland is highly committed to improving and expanding existing infrastructure. And this has resulted in several exciting projects that local residents will benefit from.
These projects include building mixed-use development spaces, the Fruitvale Transit Village, the Brooklyn Basin project. And this is on top of an ongoing remediation and redevelopment plan to demolish contaminated buildings and remediate the affected areas.
Minimum Car Insurance Requirements in Oakland
So far, our guide has touched on both full coverage car insurance and minimum car insurance requirements. While full coverage insurance includes liability, collision, and comprehensive coverage, minimum coverage only provides liability insurance.
Before driving in the state, make sure you memorize these minimum insurance coverage requirements:
$15,000 for injury/death to one person
$30,000 for injury/death to more than one person
$5,000 for property damage
Factors Allowed in Oakland Car Insurance Rates
You now know that your zip code and even your age can affect the cost of your car insurance. But do you know what other factors may play a role in how much you pay?
Throughout the state, insurance carriers are allowed to consider the following factors when pricing your insurance:
Age
Zipcode
Education occupation
Marital status
While that may seem like a lot, there is some good news. Unlike many other states, insurance companies in California cannot factor the following qualities into the cost of your premium:
Discounts for Car Insurance in Oakland
Want to save money on your car insurance payment? You can take a few steps that range from bundling insurance plans or paying annually up to switching to a new carrier. But the easiest way to lower your payment is to contact your carrier about car insurance discounts.
Different carriers have their own discounts for safe drivers and drivers who take extra measures to protect their car. Below is a partial list of possible discounts. You will need to call your insurance carrier to see which specific deals they have to offer.
Discount for safe driving
Discount for installing anti-theft devices
Discount for being a college student
Discount for military service
Discount for having multiple policies with the same carrier
Discounts for being mature, retired, or a senior citizen
What Are the Penalties for Driving Without Insurance in Oakland?
It is legally required for California drivers to have the minimum insurance coverage. But what if you don't have enough coverage or don't even have insurance?
In that case, a first-time offender may pay a fine between $100-$200. There may be other fees and penalties beyond that, depending on the discretion of the court.
Suppose you have a second offense within three years of the original offense, the fine increases and will range between $200 and $500. Once more, the court may assign additional penalties and fees as they see fit.
Get an Oakland Car Insurance Quote Today!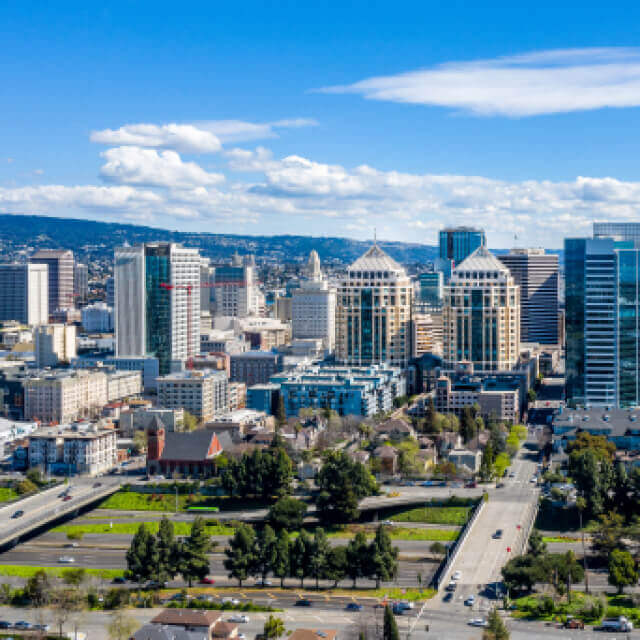 Now you know about Oakland car insurance and why it is so important. But do you know where you can get the coverage you need and the competitive rates you've always wanted?
We've made it very easy for you to get a quote today. You can simply get started with a quote online. Alternatively, you can come and visit us at a local office near you. If you don't like those methods, though, you can always call us at (800) 777-5620 for a quote!