Known as the capital of Silicon Valley, San Jose is the largest city in Northern California with one of the country's highest living costs. People are drawn there because of the area's beautiful mild weather and abundance of job opportunities.
If you know the way to San Jose, make sure you have the proper car insurance to get you there.
Quick Facts
The average cost of car insurance in San Jose is $1,645.
Insurance companies can't consider gender or credit scores when determining your rate for auto insurance in San Jose.
How Much Does Car Insurance Cost in San Jose?
Car insurance is more affordable in San Jose than it is in the rest of the state of California. Drivers pay an average of $1,645 per year for car insurance in San Jose. That's over 16% less than the state average of $1,974 and about 6% above the national average of $1,548.
| City | Average Car Insurance Cost |
| --- | --- |
| Los Angeles | $2,422 |
| Sacramento | $2,004 |
| San Diego | $1,692 |
| San Francisco | $2,169 |
San Jose Car Insurance Rates by Zip Code
The zip code you live in can impact how much your car insurance will cost. There are 59 different zip codes in San Jose, and each one can be subject to different auto insurance rates. Other factors about the zip code area, such as the number of accidents or car thefts, also affect the car insurance rates.
| Zipcode | Average Premium |
| --- | --- |
| 95112 | $2,065 |
| 95101 | $1,916 |
| 95120 | $1,718 |
| 95110 | $1,925 |
| 95113 | $2,125 |
| 95132 | $1,863 |
| 95139 | $1,699 |
San Jose Car Insurance Rates by Age
Your age is a significant determining factor in how much you'll pay for car insurance in San Jose. Teenagers who've just gotten their driver's license will have to pay almost three times as much as drivers in their 20s, 30s, 40s, and 50s. Drivers older than 70 will also have to pay about $279 more for car insurance than they did when they were in their 60s.
| Age | Average Premium |
| --- | --- |
| Teenagers | $6,922 |
| 20s | $2,764 |
| 30s | $1,812 |
| 40s | $1,754 |
| 50s | $1,678 |
| 60s | $1,677 |
| 70s | $1,956 |
Driving Conditions in San Jose
How Many Fatal Accidents Happen in San Jose?
In San Jose, 60 people died in traffic accidents in 2019, and 45 died in 2020. Most of the deaths occurred on six streets that the city deemed dangerous and needed improvement.
In 2015, San Jose adopted its Vision Zero policy to eliminate traffic death on city streets by 2024. The city's plan includes redesigning 56 miles of roads known as the "high injury network."
How Are the Road Infrastructure and Bridges in San Jose?
According to the American Society of Civil Engineers (ASCE), California roads are among the worst in the nation. The ASCE gives California a D grade on its street and roadway infrastructure. Although the state's Road and Repair Accountability Act (SB 1) provided $52 billion in funds for local and state roads from 2017-2027, the organization estimates that more than $130 billion is needed to bring the system back to a state of good repair.
Minimum Car Insurance Requirements in San Jose
$15,000 for Bodily Injury Liability per person
$30,000 for Total Bodily Injury Liability
$5,000 for Property Damage Liability
California doesn't require drivers to carry comprehensive or collision insurance. The state also allows drivers to forgo standard insurance from an insurance company if they have any of the following:
A cash deposit of $35,000 with DMV
DMV-issued self-insurance certificate
Surety bond for $35,000 from a company licensed to do business in California
Factors Allowed in San Jose Car Insurance Rates
Your gender can not be a factor in determining your rates for car insurance in San Jose or the rest of California. Insurance companies also can't consider your credit score when determining your rate.
Things that can affect your car insurance rates in San Jose include:
Age
Driving history
Car type
Zipcode
Marital status
Education
Occupation
Discounts for Car Insurance in San Jose
If you're a good driver, then you're in luck. California law mandates that good drivers receive a 20% discount on car insurance rates. The qualifications for the Good Driver Discount are:
You've been a licensed driver for the past three years.
You have no more than one driving point on your record in the last three years.
You haven't taken traffic school because of traffic violations.
You haven't had an at-fault accident that caused injury or death.
You don't have any DUIs or other alcohol-related convictions.
What Are the Penalties for Driving Without Insurance in San Jose?
Driving without car insurance anywhere in California can lead to some steep fines. Even if you have it but don't have proof when you get pulled over can face a fine of about $900. You can get that fine knocked down to $25 by going to traffic court and showing proof of insurance.
High fines aren't the only issue you'll have if you are an uninsured motorist in California. Under the state's "No-pay, No-play" comparative negligence system, uninsured motorists can't receive any non-economic damages like pain and suffering if they are involved in an accident.
Uninsured motorists face $100-$200 fines and penalties for a first offense if driving without insurance. Getting caught without car insurance will also bump your insurance premiums up about 35% when you get coverage. Within three years of your first offense, other offenses will mean fines of $200-$500 and other penalties.
Get a Quote for Car Insurance in San Jose Today!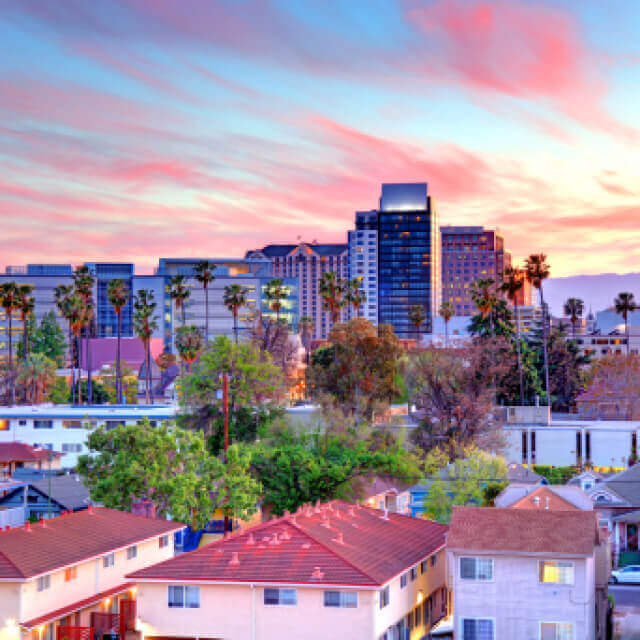 With the lower cost of car insurance premiums in San Jose, it's a good idea to make sure you at least have the minimum liability coverage required by the state of California.
Get started with a quote online, visit us at a San Jose office near you, or call us at (800) 777-5620 for a quote.