Stockton residents know the value of having proper car insurance. In fact, paying for coverage is the best way to protect your finances overall—especially if you take frequent drives to nearby San Francisco or Sacramento. And because your seaport serves as a gateway to other areas of California, there are a lot of vehicles and trucks passing through, increasing the risk of accidents on the road and making it imperative to get Stockton car insurance.
Quick Facts
Stockton's average annual car insurance premium is $1,978.
86% of Stockton residents drive to and from work on a regular basis.
How Much Does Car Insurance Cost in Stockton?
California car insurance is more expensive than the national average, with Golden State residents paying over $300 more per year than the national average of $1,548. Stockton car insurance tends to be even higher, at $1,978 per year, on average. However, that rate depends on various factors that include age, gender, marital status, and even your occupation. That doesn't mean you can't afford car insurance in Stockton, however. But knowing how much you can expect to spend can certainly help influence which insurance company you choose.
| City | Average Annual Premium |
| --- | --- |
| Stockton | $1,978 |
| San Francisco | $2,169 |
| Sacramento | $2,121 |
| Chico | $1,579 |
| San Jose | $1,645 |
Although the average annual premium (yearly payment) for car insurance in Stockton is $1,978, that doesn't mean that you'll necessarily pay that price. Among other factors, your marital status will determine how much you pay, so don't be surprised when you see that question asked as you obtain a personal quote.
Typically, single drivers are more likely to file car insurance claims, according to most data. Therefore, single drivers are considered to be more costly for car insurance companies to insure. For that reason, they tend to charge single drivers higher premiums. In fact, you'll pay approximately $82 more than married drivers for auto insurance in Stockton if you're single.
Regardless of marital status, gender also plays a part in determining your car insurance premium. A female in Stockton will typically pay $1 more per year than male drivers, although age, marital status, and other factors might allow her to spend less.
As you can see, there are many different factors at play when insurance underwriters determine how much of a risk you are considered to be and how much you should pay for car insurance.
Stockton Car Insurance Rates by Zip Code
The table below indicates the 11 zip codes within Stockton and the average car insurance premium in each. The zip code with the least expensive car insurance was closest to the border of Stockton, where the population was less dense. Where the density increased, insurance premiums did as well.
| ZIP | Price |
| --- | --- |
| 95219 | $1,581 |
| 95212 | $1,626 |
| 95205 | $1,650 |
| 95203 | $1,652 |
| 95209 | $1,655 |
| 95204 | $1,669 |
| 95231 | $1,691 |
| 95202 | $1,702 |
| 95207 | $1,704 |
| 95206 | $1,721 |
| 95210 | $1,740 |
Stockton Car Insurance Rates by Age
Drivers who are in their 60s pay less than any other age group for car insurance in Stockton. At that age, you can expect to pay about $1,761 per year. That's not much more than drivers in their 50s, who can expect to pay $1,772 per year.
Like in most other cities, teenagers in Stockton pay more than any other age group, at an average of $7,205 per year. This is because they're considered to be more of a risk due to their brief driving history. That price is slashed by more than half as soon as a driver enters their 20s.
| Age | Average Annual Premium |
| --- | --- |
| Teenagers | $7,205 |
| 20s | $2,929 |
| 30s | $1,925 |
| 40s | $1,858 |
| 50s | $1,772 |
| 60s | $1,761 |
| 70s | $2,040 |
Keep in mind that driving history will also influence these rates. The longer you're accident-free, the lower your premiums will be.
Driving Conditions in Stockton
How Many Fatal Accidents Happen in Stockton?
Unfortunately, no city in California is immune from car accidents, including fatal accidents. The most recent data from Stockton in regard to fatal car crashes is from 2019, when 38 fatal accidents were reported. Of those accidents, 40 people were killed — 26 of which were pedestrians.
How Are the Road Infrastructure and Bridges in Stockton?
Stockton has over 100 bridges, according to Bridge Reports. The Stockton Department of Public Works maintains those bridges and takes care of any road repairs in general throughout the city. Because most people drive in Stockton, as opposed to walking, biking or taking public transit, the roads need regular repair and maintenance.
California, in general, has a low rating for infrastructure altogether, having received a grade of D by the American Society of Civil Engineers in 2019. That is because of limited resources as well as its high population. Since Stockton is a seaport city, it naturally has excessive wear and tear from transportation, whether drivers are headed to nearby Sacramento or any other part of the country.
Minimum Car Insurance Requirements in Stockton
California is considered an "at-fault" state, meaning that you are responsible for the payments of other parties if an accident is considered by authorities to be your fault. If you live in Stockton, you must abide by the requirement from the California Department of Insurance that requires that all drivers registered in California meet its minimum coverage requirements:
Bodily injury: $15,000 per person/$30,000 per accident
Uninsured motorist bodily injury: $15,000 per person/$30,000 per accident
Property damage: $5,000
Factors Allowed in Stockton Car Insurance Rates
While factors such as gender, age, and driving record all affect Stockton car insurance rates, zip code is likely the most influential factor. That is because the amount of crime and number of uninsured motorists are actually measurable by zip code, so it gives underwriters some solid factual references to consider when determining your rate. As an example, if you live in the 95219 zip code, you'll pay an average of $159 less than if you live in the 95210 zip code.
Discounts for Car Insurance in Stockton
When speaking with your car insurance agent or seeking a quote on your own, it's important to inquire about potential discounts that can lower your premium. Stockton drivers can qualify for a variety of discounts, including the following:
A good driving record
Having more than one vehicle insured by the same company
Good grades if you're a student
Being in the military
Bundling multiple policies with the insurance company (such as by purchasing renters insurance and auto insurance)
What Are the Penalties for Driving Without Insurance in Stockton?
While there are different types of car insurance, liability insurance is the one you should be the most concerned with. This is primarily because liability insurance is mandatory in California. When you have liability insurance, your car insurance company will pay for damages to the other party if you're involved in an accident and considered to be at fault. You may be able to get away with avoiding paying for comprehensive insurance if you have an older car and want to lower your premiums. Still, liability is the one type of coverage you definitely need.
Without liability insurance, you could pay fines between $100 and $200 if you're caught driving without coverage. But if you're caught again without coverage within three years of your first offense, you could end up paying as much as $500. That is just the cost of the ticket, not considering the cost of towing, legal repercussions and payments for accident victims if you're found guilty of causing the crash.
Get a Quote for Car Insurance in Stockton Today!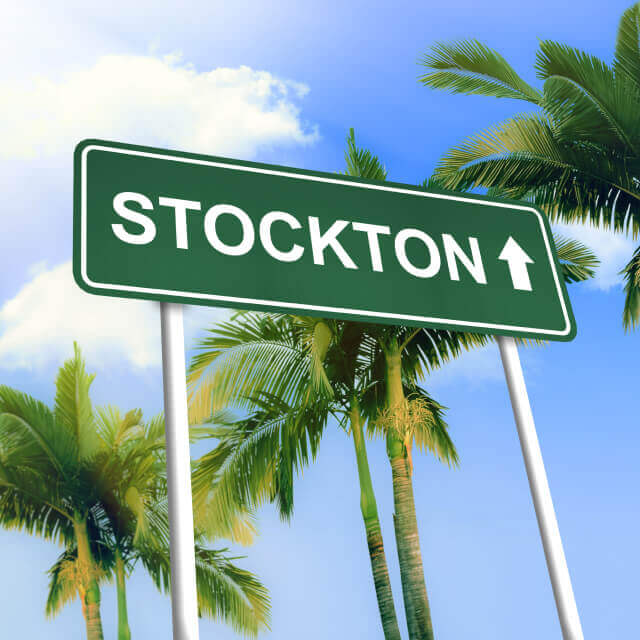 Don't make the mistake of putting off getting car insurance in an effort to save money. The fact of the matter is that you won't be saving money at all, and could instead get hit with severe penalties for not having car insurance. That's on top of the cost of repairing your vehicle or others with which you get into an accident. Add on any medical bills, and you can see why car insurance is so important. Don't waste any more time. Get a quick quote online, visit a Stockton office near you, or call (800) 777-5620 for a quote.