How Much Is Auto Insurance for a Toyota Highlander?
The average yearly premium for a Toyota Highlander depends on the type of auto insurance coverage you choose. On average, you will pay $789 for minimum coverage and $1,577 for full coverage.
Full coverage is insurance that not only pays for damage that you cause to other drivers but also reimburses you for your own losses. These optional policies include collision, liability, and comprehensive insurance coverage. Most states have minimum insurance requirements. However, drivers are typically only required to carry liability.
If you need coverage for your Toyota Highlander, now is the time to get help. Freeway Insurance can advise you of your options and help you select the perfect auto policy for your needs.
Getting a Free Auto Insurance quote with Freeway is easy!
Comparing Insurance Costs for Your Highlander to Other Vehicles
If you drive a Toyota Highlander, you can expect to pay different premiums compared to the owners of similar vehicles like a Kia Telluride or a Jeep Grand Cherokee. Insurance companies take into account many factors related to each make and model when setting their premium rates.
Types of Car Insurance Coverage for Your Highlander
When you insure your Toyota Highlander, you have some choices to make. Not every policy is the same, and the type of coverage you select for your vehicle is important. You could choose to purchase a full coverage policy that protects you in most situations. Or you could go with the state-mandated minimum and pay less each month.
The lower premiums that come with liability-only insurance are tempting. While you might save money in the short run, you also face the risk of paying out of pocket after an accident. Having full coverage protects you against the claims of other drivers while also paying for your own losses.
The difference between these types of policies is only one of the factors that influence the cost of your car insurance. An experienced agent can help you understand what to expect to pay each month.
Full Coverage
The primary reason to select full coverage auto insurance is to avoid the risk of paying out of pocket if you are in an accident. This type of policy can pay for your own losses as well as for any damage you do to other drivers. Full coverage car insurance offers liability, comprehensive, and collision coverage.
Liability insurance protects you from third-party claims. In other words, it pays for any damage you cause to other drivers when you are at fault for a crash. Liability insurance generally covers bodily injuries and property damage.
Collision insurance is used to pay property damage claims following a collision. This could be a collision with another driver, a pedestrian, or a fixed object. Collision insurance is different than comprehensive coverage, which pays for your other property damage claims. This coverage includes things like hail damage or vandalism.
State Minimum Liability
On the opposite end of the spectrum is state minimum liability insurance. This is the least amount of car insurance you can purchase and lawfully drive on public roads. Minimum insurance is generally only liability coverage.
Each state sets its own minimum insurance requirements. For example, Missouri requires drivers to carry at least $25,000 for bodily injuries per person, $50,000 for bodily injuries per accident, and $25,000 for property damage per accident.
Missouri also requires uninsured motorist coverage, which is a good deal regardless of whether your state requires it or not.
Individual Factors That Influence Pricing for the Toyota Highlander
There are many different factors that impact the cost of car insurance, and some of those factors relate directly to you as an individual and the type of vehicle you drive. Some of the factors that impact the cost of insuring a Toyota SUV include the following.
Driver History
Your history as a driver will impact the cost of insuring your Toyota Highlander. If you have had multiple accidents or traffic citations in recent years, you can count on the cost of your insurance to be higher. Alternatively, a clean driving record could qualify you for discounts.
Risk of Theft
Some vehicles are more likely than others to be stolen from the legal owner. Because of the cost of replacing a stolen vehicle, it should come as no surprise that insurance for these models is higher. The Toyota Highlander is not on the top of the list of most-stolen vehicles, which includes the Honda Civic and the Toyota Camry.
Age
Your age is a major factor in determining what it will cost to insure your vehicle. Teenagers and drivers in their 20s pay much more for coverage, given that statistically, they are more likely to be in an accident. For older drivers, these costs will go down over time.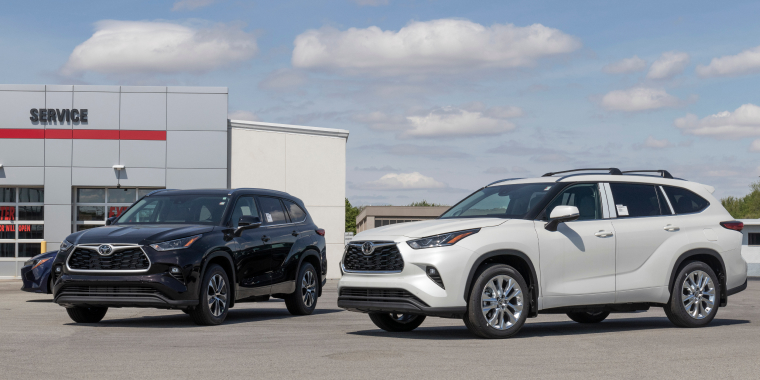 How Does a DUI Affect Insurance Rates for a Highlander?
There are always consequences that come with a DUI conviction, and an increase in the cost of your car insurance is one of them. Drivers can expect their monthly premiums to increase due to a DUI.
The amount of this increase can vary. In some cases, the insurance company might even cancel your policy entirely. The end result if you hope to drive again is usually obtaining an SR-22 certification. Drivers are required to comply with SR-22 requirements to prove that—as high-risk drivers—they are financially able to pay for any damage they cause in an accident.
After a DUI conviction, you'll need to shop around to find cheap DUI insurance.
What Are Some Auto Insurance Discounts?
Most insurers provide you with ways to save money through a wide range of available discounts. For example, you could secure a discount by avoiding accidents and tickets. This good driver discount could make a major difference in your monthly premiums. Other popular discounts include the following:
Another way to save on your car insurance costs is by bundling your auto insurance with other policies. For example, you could pay less if the same carrier provides you with auto as well as homeowners coverage.
Find an office near you to help with your auto insurance
What Are Some of the Characteristics of the Highlander?
The Highlander is Toyota's mid-size crossover SUV. Produced since the year 2000, the Highlander is one of the most popular three-row options available. There have been three generations of the Highlander over the years, with the vehicle getting a significant visual facelift in 2016.
In 2016, the National Highway Traffic Safety Administration rated the Highlander a five-star safety rating. It received good marks for most categories, with the only "acceptable" ratings in the category of "small overlap frontal offset." It is widely considered to be one of the safest vehicles on the road.
Find the Best Car Insurance Rates Online for Toyota Highlander Today
Freeway Insurance is prepared to help you get the cheapest coverage at a great rate for your Toyota Highlander. Talk to us today to find cheap car insurance matching your coverage needs.
We are ready to help you review your insurance options for your Toyota Highlander. Call us at (800) 777-5620, come get a fast and free quote for car insurance online or stop by one of our locations.