How Much Is Auto Insurance for a Hyundai Elantra?
The average annual premium for a Hyundai Elantra is $367 for minimum coverage and $1,661 for full coverage. Owners of these vehicles are looking for cheap car insurance so they can comply with their state's regulations.
Depending on where you live, your required car insurance may include liability to protect yourself and others in case of an accident. This may consist of bodily injury liability and property damage liability. Your rates will depend on individual factors, such as age and gender, and most importantly, driving record.
Some states require additional minimum coverage for things like Personal Injury Protection (PIP) to help pay for medical costs and uninsured motorist coverage to help pay for repairs if you are hit by someone with no – or not enough – insurance.
Some people choose full coverage. This is the state-required minimum, plus comprehensive and collision. If you are financing your vehicle, you will be required to carry this type of policy, however, some owners upgrade to it for better protection on the road.
Freeway agents can help you navigate the choices you have and make the best selection that fits your budget and your needs. We'll present you with several options to choose from and save you time and money by researching many different insurers.
Getting a Free Auto Insurance quote with Freeway is easy!
Comparing Insurance Costs for Your Elantra to Other Vehicles
Elantra drivers can expect to pay lower or higher premiums than drivers of competing vehicles like the Honda Civic, Mazda3, Toyota Corolla, and Nissan Sentra. Standard safety features, and the cost of parts and labor.
| Make/Model | Annual Premium |
| --- | --- |
| Hyundai Elantra | $1,661 |
| Honda Civic | $1,773 |
| Mazda3 | $1,668 |
| Toyota Corolla | $1,695 |
| Nissan Sentra | $1,745 |
Types of Car Coverage for Hyundai Sedans
There are many cheap car insurance options available. Once you've decided on your needs and your budget, you can choose from a variety of basic packages and add on specifics to suit your situation.
Full Coverage
Full coverage offers a mix of required liability and other coverages, with the most popular options being collision and comprehensive coverage.
Collision pays for repairs to your vehicle (minus your deductible) due to damage in a covered event, such as a crash. Comprehensive coverage pays for damages outside your control, such as falling tree branches, vandalism, inclement weather, and theft.
Almost all leasing companies require that you enroll in a full coverage policy to preserve their vehicle's residual value and lower depreciation rates. They may also enforce 100/300/100 in minimum liability.
Full coverage does not usually include optional selections like:
State Minimum Liability
Every state has its own minimum liability requirements for bodily injury and property damage.
For example, California requires that all drivers carry a minimum of $15,000 in bodily injury per person, $30,000 in total bodily injury per accident, and $5,000 in property damage liability per accident.
In turn, Texas requires $30,000 in bodily injury per person, $60,000 in total bodily injury per accident, and $25,000 in property damage per accident.
We recommend choosing higher liability limits of at least 100/300/100. This is because a single at-fault accident could exceed minimum property damage liability, forcing you to pay for damages and injuries out of pocket.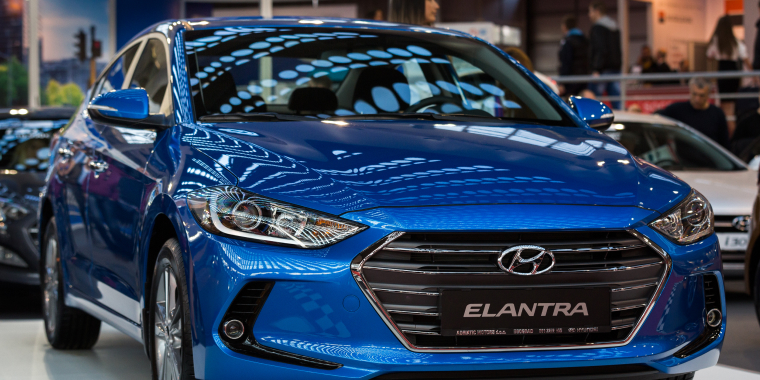 How Does a DUI Affect Insurance Rates for an Elantra Sedan?
A DUI conviction will cause your rates to double and sometimes even triple. The cost of a DUI depends on several factors, such as whether this is a first offense or a subsequent one and if there was an accident involved and people were hurt or killed.
A DUI's effect on rates varies depending on the state and insurer. Rates can skyrocket up to five times as much as a standard policy. These do not include court fines, lawyer fees, and potential alcohol treatment program costs.
You may also be required to file an SR-22 — a document that insurance companies submit to your state's DMV to confirm a driver is adhering to the state's minimum requirements. However, it is not an actual policy.
On top of an SR-22, expect your rates to stay elevated for a minimum of three years before gradually lowering over time with a clean driving record. After that, only think of driving with a policy or face the risk of additional fines, restitution fees, or outright cancellation of your policy.
What Are Some Auto Insurance Discounts?
One of the most popular policy savings is the accident-free discount. Also known as a safe driver reward, it is awarded to drivers with at least three straight years of no claims and moving violations.
Other premium reductions are available for structuring your policy in a certain way. For example:
Enrolling in auto-pay/paperless billing or renewing your current policy before it expires may all qualify for discounts.
Others available include multi-vehicle, bundling (purchasing two or more insurance types from the same insurer), and paid-in-full discounts, awarded for paying your entire premium upfront instead of monthly.
Keep in mind affiliation-based discounts as well. Current/former military members, students, and professionals from select trade organizations may qualify for additional discounts.
We recommend calling your provider every six months to see if you qualify for any new discounts – or if your circumstances change. Not all are automatically applied, so it doesn't hurt to call.
Find an office near you to help with your auto insurance
What Are Some of the Characteristics of the Elantra?
This is a vehicle in the compact sedan segment.
It comes in five trims — SE, SEL, Limited, N Line, and N, and the choice of a base 147-horsepower and 276-horsepower turbocharged 2.0-liter four-cylinder engine.
Its base SE trim comes with wireless Apple Carplay/Android Auto integration, 15-inch alloy wheels, front-wheel-drive, continuously variable automatic transmission, and driver assistance features such as blind spot monitoring and pedestrian detection.
Main competitors are the Honda Civic, Mazda Mazda3, Toyota Corolla, and Nissan Sentra.
Find the Best Car Insurance Rates Online Today
We'll be more than glad to review your policy options. All drivers are required to carry car insurance. Freeway can help you get there with a full or state minimum liability policy. Ready to request a quote? You can visit us online, call us at 800-777-5620, or stop by one of our offices. Contact us today!