How Much Is Car Insurance for a Chevrolet Avalanche?
The average annual premium for a Chevrolet Avalanche is $1,302 for full coverage and $674 for minimum coverage.
Purchasing full coverage car insurance over state minimum liability offers a greater number of protections through first-party benefits including collision and comprehensive coverages.
Need more guidance on how to structure your next policy? Freeway Insurance is ready to help you explore affordable policy options.
Getting a Free Auto Insurance quote with Freeway is easy!
Comparing Insurance Costs for a Chevrolet Avalanche to Other Vehicles
If you drive a Chevrolet Avalanche, your premium will be different than those who drive similar trucks. Premiums are based on a variety of factors such as cost of repairs or replacement, vehicle theft rate, number of safety features, model year, and hundreds of other variables insurers use to determine the risk of future claims payouts.
Types of Car Insurance Coverage for a Chevrolet Truck
There are several types of auto insurance options  for all Chevy drivers, including state-required minimum liability and full coverage.
State minimum liability offers third-party benefits, paying for the cost of damages and injury sustained by others in an at-fault accident. In turn, full coverage offers first and third party benefits with liability, collision, and comprehensive.
Full Coverage
Full coverage offers better protection than the state minimum liability policy by combining liability, collision, and comprehensive coverage.
Liability covers damages and injury sustained by others if you are determined to be at fault in an accident. In turn, collision pays for repairs or replacement of vehicles or objects if damaged in a crash, whether it's your fault or the other driver's. Comprehensive coverage acts the same; only it covers non-collision-related incidents like theft, natural disasters, and vandalism.
With collision and comprehensive coverage, your vehicle will be covered up to its actual cash value minus your chosen deductible.
In many cases, drivers will receive roadside assistance as part of their full coverage package. However, rental car reimbursement and other options are extra add-ons.
State Minimum Liability
State minimum liability refers to the minimum amount of coverage you must carry to drive legally wherever you live. It generally consists of two types of coverage: bodily injury and property damage, with providers paying up to specified limits.
Every state has minimum limits for bodily injury and property damage. For example, all Indiana drivers must carry a minimum 25/50/25 policy, or $25,000 in bodily injury per person, $50,000 in bodily injury per accident, and $25,000 in property damage liability per accident.
Nowadays, the average cost of a new vehicle is more than $40,000, so a total loss will easily eclipse Indiana's $25,000 minimum property damage liability. For greater peace of mind, go for a 100/300/100 policy.
Individual Factors That Influence Pricing for the Chevrolet Pickup
Outside of your driving record and location, many factors influence auto insurance pricing.
Vehicle Make/Model
One of the main ones is your vehicle's make and model. High-cost, performance-oriented, or luxury vehicles generally have higher premiums thanks to the higher cost of repair or replacement parts. Additionally, older vehicles can command lower premiums thanks to a lower market value. Auto insurance companies even have access to historical data that advise on the likelihood of theft, the cost of repairs, and hundreds of other variables that guide underwriting.
Vehicle Usage
The geographical location must also be considered, with high population density, crime rate, and claims rate areas seeing higher premiums. That's why drivers from densely populated cities like New York City and Chicago pay more than drivers in sparsely populated suburban and rural areas.
Vehicle Type and Usage
If you drive more than the average number of miles per year (e.g., 15,000), then you can expect to pay significantly higher premiums than those who drive 7,500 or fewer miles a year.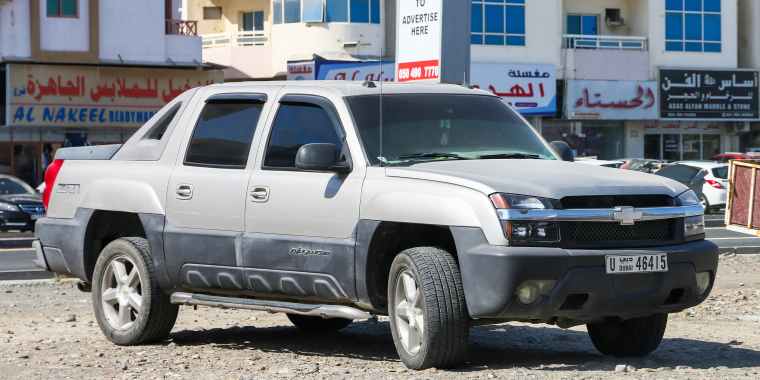 How Does a DUI Affect Insurance Rates for a Chevrolet Avalanche?
One of the worst things you can do as a driver is to be convicted of a DUI.
There are numerous ways DUI can affect your insurance rates. On average, you can expect them to rise anywhere from 30% to 100% based on the severity of the offense and remain elevated for a minimum of 3-10 years (depending on your provider's policies and your state's look-back window). Additionally, you will be placed in a different insurance category or have your policy canceled or rejected outright, forcing you to go to a specialized high-risk insurance provider.
Along with increased premiums and reclassification as a high-risk driver, you may also be required to file an SR-22 or an FR44, a certificate of financial responsibility that lets the state know you are carrying the minimum auto insurance coverage.
What Are Some Car Insurance Discounts for a Chevy Truck Driver?
Drivers can take advantage of many auto insurance discounts . You'll often hear about good driver and multi-policy discounts. Good driver discounts reward you for keeping a safe driving record free of claims; at-fault accidents or moving violations, whereas multi-policy discounts offer savings for purchasing two or more policies with the same company.
Other discounts you may be able to enjoy include:
Defensive Driver Discount. Awarded for completing a recognized defensive driving course that teaches various driving techniques, from maintaining healthy stopping distances to dealing with problematic drivers.
Safety Features. If you install airbags, electronic stability control, or other safety-oriented features in your vehicle, expect a small discount. This discount is subject to change based on the insurer and the installed safety feature.
Loyalty Discounts. If you remain a policyholder with your insurer for a specific period, they may incentivize you to stay with a loyalty discount.
If you want to stay on top of all discounts, we recommend contacting your insurance provider several times yearly. You never know when you can save $10 or $20 off your next monthly premium.
Find an office near you to help with your auto insurance
What Are Some of the Characteristics of the Chevrolet Avalanche?
This is a full-size pickup truck, discontinued after the 2013 model year.
Its 2013 model year vehicle is available in three trims: LS, LT, and LTZ, as well as a 20-horsepower V8 engine with the option for all-wheel drive or rear-wheel drive.
Standard features include a USB port, Bluetooth capability, an optional rear-seat DVD system, Bose sound system, and a sunroof. Unlike the latest models, it does not have Apple CarPlay or Android Auto compatibility.
Main competitors are the RAM 1500, Toyota Tundra, GMC Sierra, and Nissan Titan.
Find Affordable Car Insurance Online for the Chevrolet Avalanche Today
If you are ready to return to the market for a new and affordable auto insurance policy, then Freeway Insurance is prepared to help.
If you're ready to explore your options, please visit the Freeway Insurance website and request a quote online, call 800-777-5620 or stop by one of our locations to speak with one of our friendly service agents. Contact us and hit the road with a cheaper policy today!