How Much Is Auto Insurance for a Toyota Tundra?
The average annual premium for a Toyota Tundra is $508 for minimum coverage and $1,716 for full coverage. Since every state requires car insurance, Toyota trucks owners will need to decide if they want the protection full coverage offers or if they are content with the state minimum liability.
Getting a Free Auto Insurance quote with Freeway is easy!
Comparing Insurance Costs for Your Tundra to Other Vehicles
Not all drivers pay the same premiums. For example, pickup drivers pay higher or lower premiums than Ford F-150 and Chevrolet 1500 drivers thanks to a combination of safety features, cost of labor/replacement parts, recall record, body style, and hundreds of other variables insurance underwriters calculate when setting premiums.
| Make/Model | Annual Full Coverage Insurance |
| --- | --- |
| Toyota Tundra | $1,716 |
| Ford F-150 | $1,442 |
| RAM 1500 | $1,697 |
| GMC Sierra 1500 | $1,555 |
| Chevrolet Silverado 1500 | $1,682 |
Types of Car Insurance Coverage for Your Tundra
Drivers can take advantage of all options, including state minimum liability and full coverage. In addition, there are many optional coverages available to help you protect your truck, including roadside assistance.
Full Coverage
Full coverage includes a combination of liability, collision, and comprehensive.
Liability provides third-party benefits, paying for damages and injuries sustained by third parties. In turn, collision pays for damages due to a wreck, regardless of who is at fault. Comprehensive pays for damages related to events such as falling tree limbs, vandalism, theft, and natural disasters.
Other optional selections include rental car reimbursement.
Expect to pay several hundred dollars more annually to receive greater peace of mind knowing you are covered against a broader range of scenarios.
State Minimum Liability
State minimum liability refers to the minimum coverage required by state law. In addition, they provide third-party benefits, covering the cost of damages or injuries sustained by other drivers who are not responsible for an accident.
Every state sets its minimum liability requirements. For example, all California private passenger vehicles must carry $15,000 in bodily injury liability per person, $30,000 in bodily injury liability per accident, and $5,000 in property damage liability. In turn, Texas drivers need much higher limits (30/60/25).
Keep in mind that these are only minimums. Most insurers recommend purchasing additional liability with a 100/300/100 policy, an excellent starting point when the average cost of a new vehicle is over $40,000. A single accident can easily blow past a $5,000 property damage liability, forcing out-of-pocket cost with the ever-looming threat of lawsuits by third parties due to lack of protection.
Some states, especially no-fault states, require their drivers to carry some form of medical coverage, such as medical payments (MedPay) and Personal Injury Protection (PIP). If your state does not require underinsured/uninsured motorist coverage (UIM/UM), you should consider adding it to your policy. Given all the uninsured motorists driving around, this coverage is cheap for the protection it offers.
Remember that state minimum liability does not include optional selections such as collision and comprehensive, providing first-party benefits.
If you can afford it, go for higher liability limits. A single at-fault accident today quickly results in $55,000 worth of medical expenses and $34,000 of property damage, all of which would blow past California's minimums, forcing opposing drivers to file lawsuits to recover the rest. Garnished wages and other ways of fund recovery are not out of the question. Consider a 100/300/100 policy for greater peace of mind.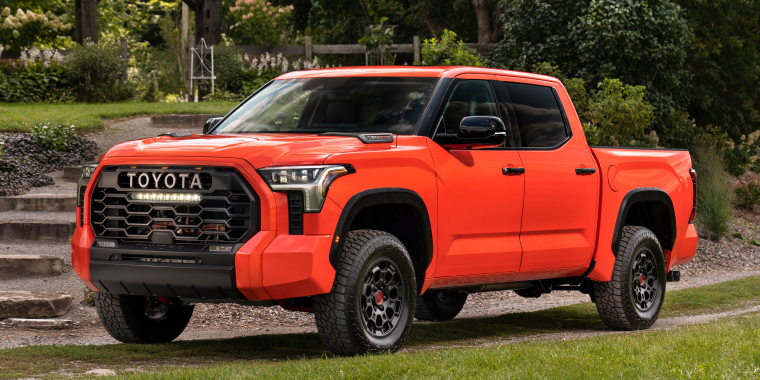 How Does a DUI Affect Insurance Rates for a Toyota Truck?
Driving under the influence (DUI) is one of the worst decisions you can make as a driver.
For starters, DUI convictions reclassify you as a higher-risk driver. As a result, expect your premium to double or triple, depending on the severity of the offense. Outside of higher premiums, expect to file an SR-22, a proof of financial responsibility that lets the state know you're carrying the minimum required liability limits. Note this is not a new policy but an add-on to your existing policy.
A DUI conviction's other effects on drivers include license suspension/revocation and difficulty finding a policy. Some auto insurance companies may even outright deny or cancel your policy. Thankfully, now providers treat DUI convictions the same way.
Tips on finding lower rates for DUI insurance include shopping around, enrolling in defensive driving courses, installing an ignition interlock device, and maintaining a clean driving record for the next three to five years.
What Are Some Auto Insurance Discounts?
There are plenty of auto discounts drivers can apply for.
Some popular discounts include safe driver, multi-vehicle, multi-policy, and low-mileage discounts. Safe driver discounts are extended to drivers with no claims, at-fault accidents, or traffic violations within the past three to five years.
Multi-vehicle discounts reward drivers for insuring multiple vehicles under the same policy. Expect savings from 10% to 25% off your policy's premium. It operates similarly to multi-policy discounts, where you can save by purchasing two or more policies under the same insurer. Also known as bundling, it's much more cost-effective than purchasing each policy individually.
Low mileage discounts are awarded to drivers who drive between 7,500 to 10,000 miles a year. Depending on the insurer, annual mileage may be higher or lower. In the eyes of insurers, drivers are considered less risky when they drive less.
Do not forget safety-related discounts. Installing anti-lock brakes, anti-theft devices, daytime running lights, airbags, and other safety features may qualify for extra savings.
Find an office near you to help with your auto insurance
What Are Some of the Characteristics Of the Tundra?
This is a vehicle in the full-size pickup truck segment.
It comes with the choice of seven trims — SR, SR5, Limited, Platinum, 1794 Edition, TRD Pro, and Capstone, as well as two engines, a twin-turbocharged 3.5-liter V6 and i-Force Ma V6 with 10-speed automatic transmission and rear-wheel drive.
Standard features include an 8-inch touch screen, a "Hey Toyota" virtual assistant suite, a six-speaker stereo, and three USB ports. Upgrading to higher-level trims increases the screen size to 14 inches, including wireless charging and two more USB ports.
This truck seats five people and comes in two body styles, Double Cab and Crew Cab.
Main competitors are the Ford F-150, RAM 1500, GMC Sierra 1500, and Chevrolet Silverado 1500.
Find the Best Car Insurance Rates for Your Tundra Online Today
Freeway Insurance specializes in all policies, including state minimum liability and full coverage insurance.
Getting started with Freeway Insurance is easy. Request a quote online, call 800-777-5620, or visit one of our offices to speak with one of our knowledgeable agents. We look forward to hearing from you.