How Much Is Auto Insurance for a Jeep Wrangler?
The yearly premiums for insuring a Jeep Wrangler vary depending on the type of auto insurance coverage you choose. The average you will pay is $560 for minimum coverage and $1,459 for full coverage.
If you choose full coverage auto insurance, you get three different types of coverage in one. This includes liability, comprehensive, and collision insurance. The purpose of full coverage is to not only pay for your own losses in a crash but protect you from claims made by other drivers against you.
If you are in the market for insurance for your Jeep Wrangler, we are here to help. Reach out to Freeway Insurance to find the best possible policy for your budget.
Getting a Free Auto Insurance quote with Freeway is easy!
Comparing Insurance Costs for Your Wrangler to Other Vehicles
The cost of insuring a Jeep Wrangler can differ significantly from similar makes and models. These costs of coverage for competitors to the Wrangler include:
Types of Car Insurance Coverage for Your Wrangler
The law in every state requires motorists to carry some degree of liability insurance. While the amount of coverage required varies across state lines, these policies must include protection against claims for bodily injuries and property damage.
However, some drivers choose insurance policies that go beyond what is required by law. This includes full coverage policies that help pay for your losses as well as the damage you cause to other drivers.
Full Coverage
This type of car insurance offers the most protection available following a car wreck. Full coverage car insurance does more than just cover you against claims made by other drivers after an accident. These policies also pay for your own losses.
Full coverage is broken down into three categories: collision, comprehensive, and liability coverage. Collision coverage pays for your damages when you are involved in a collision with another vehicle, a fixed object, or even a pedestrian. Comprehensive coverage pays for your losses in other situations outside of a collision, like hail damage or vandalism. Liability policies pay for claims made against you by other drivers when you are at fault for a crash.
State Minimum Liability
You are under no obligation to purchase full coverage policies. However, you are required by law to have at least a minimum amount of liability coverage in case you are liable for an accident. These requirements set a minimum amount of coverage for three different types of claims: bodily injuries per person, bodily injuries per accident, and property damage per accident.
Individual Facts that Influence Pricing for the Jeep Wrangler
The type of auto insurance you purchase can have a major impact on what you pay in premiums. However, other factors can also determine what you can expect to pay each year. Some of these factors include the following:
Vehicle Cost
The value of your vehicle is an important factor in determining how much you will pay for auto insurance. If your car is more expensive, you can expect your policy payments to be higher compared to a less expensive model.
Driving History
You can expect to pay more or less based on your driving history. This starts with the number of accidents you were involved in during the past few years. More accidents will generally mean higher premiums. Likewise, more traffic tickets can also increase the cost of your policy.
Age
Your age will play a major role in the cost of your insurance. Younger drivers—specifically teens and those in their 20s—pay far more due to the increased rate they are involved in accidents. As you age, your cost of insurance only goes down with a good record.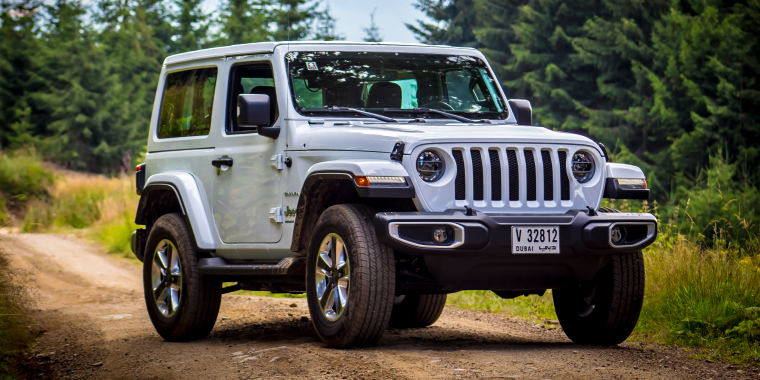 How Does a DUI Affect Insurance Rates for Your Jeep?
You can face a range of consequences for a DUI conviction, including jail time and fines. Another one of the consequences that are not discussed as frequently is the increased cost of DUI insurance.
Not only will your policy go up due to a DUI, but you will also have to comply with SR-22 requirements. These requirements mean you will need to provide a form to the government that shows you have a minimum amount of insurance coverage. This is necessary given that you are considered to be a high-risk driver due to your conviction.
What Are Some Auto Insurance Discounts?
There is no doubt that the cost of car insurance can seem overwhelming at first. The good news is that there are ways to bring those costs down. The best option available to you is the series of discounts offered by your insurance company. For example, you could get a good driver discount if you have not been in an accident recently. Some other examples of available discounts include the following:
Another great way to save money is by bundling your auto policy with different types of coverage. One example is bundling your auto insurance with your homeowner policy from the same insurance company.
Find an office near you to help with your auto insurance
What Are Some of the Characteristics of the Wrangler?
The Jeep Wrangler is a compact SUV. First manufactured in 1986, the Wrangler has taken different forms in the past—including as a mid-size SUV. The Wrangler is known for its boxy body and comes with either two or four doors depending on the vehicle class.
The Wrangler is known not only for its iconic look but also for the ability to customize the vehicle. It comes in several configurations that are either fully covered or open-air.
The Jeep Wrangler was first brought to market in 2006 and has been in continuous production ever since. However, the Wrangler began its life as a full-size crossover SUV for its first decade. In 2017, GMC adjusted the design, shifting the Wrangler to serve in the role of a mid-size crossover SUV. The Wrangler has also long been known for its high safety rating.
Find the Best Car Insurance Rates Online Today for Jeep Wrangler
Now is the best possible time to seek out coverage for your Jeep Wrangler. If you need help finding the right policy at a fair price, Freeway Insurance is ready to help. Contact an agent to discuss cheap car insurance today.
Call us to talk about your coverage options for your Jeep Wrangler at (800) 777-5620, come get a fast and free quote for car insurance online or stop by one of our locations.