How Much Is Auto Insurance for a Ford Escape?
The Ford Escape has an average annual full coverage premium of $1,430 and an average annual minimum coverage premium of $370. Your car insurance cost will rely on many factors and some decisions that you make.
Many drivers who own their vehicles choose somewhere in between the state-required minimum liability and the full coverage that those who finance or lease must carry.
If you are unsure about your choices and the impact they could have on your peace of mind, let a Freeway agent help you sort out what's best for your needs and budget. We do the research for you so you have the ability to pick from several options.
Getting a Free Auto Insurance quote with Freeway is easy!
Comparing Insurance Costs for Your Escape to Other Vehicles
Every vehicle in the compact SUV segment pays an average lower or higher premium depending on several factors. These factors include your vehicle's number of safety features, fuel economy, residual value, and much more.
Here is the average full insurance cost for the Escape versus competitors Mazda CX-5, Hyundai Tucson, Subaru Forester, and Honda CR-V.
| Make/Model | Annual Full Coverage Insurance |
| --- | --- |
| Ford Escape | $1,430 |
| Mazda CX-5 | $1,522 |
| Hyundai Tucson | $1,455 |
| Subaru Forester | $1,064 |
| Honda CR-V | $1,369 |
Types of Car Insurance for Ford Compact SUVs
There are many auto insurance policies Freeway Insurance customers can choose, including liability, as well as optional ones like roadside assistance.
Full Coverage
Full coverage for your Ford Escape offers greater protections versus a state minimum liability policy. For starters, it includes comprehensive and collision policies, which cover the cost of damages to your vehicle due to collisions and non-collision-related events, such as falling tree limbs.
This type of policy typically does not include miscellaneous coverage, such as rental car reimbursement, gap and uninsured/underinsured motorist coverage. Some states require uninsured motorist coverage, but even if they don't, it's well worth the relatively small amount to add it to your policy.
On top of full coverage, we strongly recommend carrying higher liability limits. Even a single-car accident can exceed your minimum liability, forcing you to go out of pocket to pay for the remaining expenses not covered under your policy. We recommend a 100/300/100 policy, consisting of $100,000 in bodily injury per person, $300,000 in bodily injury per accident, and $100,000 in property damage.
State Minimum Liability
State minimum liability coverage provides third-party benefits, such as the cost of injuries and property damage to non-at-fault drivers. How much liability you are required to carry depends on the state.
For example, California drivers must have $15,000 in bodily injury liability per person, $30,000 in bodily injury liability per accident, and $5,000 in property damage liability per accident.
If you can afford it, we recommend opting for a full policy over a state minimum liability policy since it provides more benefits. For example, a full policy includes comprehensive and collision, which covers a broader range of scenarios, such as rollover collisions and falling tree limbs. The more comprehensive the coverage, the greater the peace of mind you can have when on the road.
Plus, the average cost of new vehicles has exceeded $40,000. Many states cap their minimum property damage liability policy to $25,000 (or less) annually, barely enough to scratch the surface. So expect out-of-pocket costs if you are at fault in an accident while carrying the state minimum.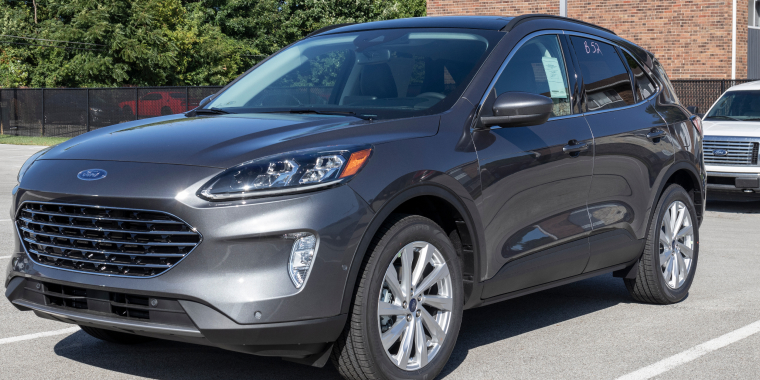 How Does a DUI Affect Insurance Rates for Compact SUVs?
There are severe consequences that affect insurance rates after a DUI conviction for all drivers.
Remember, every state has BAC limits determining legal intoxication for drivers pulled over at a traffic stop. For example, Georgia requires BAC limits of .08% for drivers 21 or older and 0.02% for drivers under 21.
DUIs will remain on your record for up to 10 years. After a conviction, expect your premiums to double or even triple, depending on the severity of the offense. Plus, your state may require you to file an SR-22, a proof of financial responsibility that lets the state know you carry the minimum required liability.
If you are convicted of a DUI, we highly encourage you to shop around and compare a minimum of three auto insurance companies for affordable DUI insurance. Unfortunately, not every company will offer coverage to high-risk drivers.
Find Discounts for a Lower Premium
If you drive an SUV, you may be eligible for many discounts to bring your monthly premium down a couple of dollars a month.
One of the more popular discounts is a "Good Driver" discount, given to drivers with a claims-free history for the past three to five years. Ways to earn good driver status can include enrolling in defensive driving courses, installing anti-lock brakes, and adding daytime running lights.
Another popular discount is the usage-based Drivers who drive less than 7,500 or 12,000 miles a year could benefit from low mileage discounts, since they pose less risk to the insurer. Opting into a telematics program to monitor your driving behavior for small discounts may also work for you.
Bundling policies will probably get you the biggest discount, so if you have a home insurance, renters or RV policy, combine that with your auto coverage.
Remember to stay in touch with your auto insurance provider by calling them every couple of months to see if you qualify for any new discounts. Not all discounts are awarded automatically.
Find an office near you to help with your auto insurance
What Are Some of the Characteristics of the Escape?
This is a vehicle in the compact SUV segment that has four available trims — S, SE, SEL, and Titanium.
Standard features include a 4.2-inch display, several USB ports, and a six-speaker stereo. Higher-level trims come with an 8-inch touch screen and a ten-speaker Bang & Olufsen Studio sound system.
It also comes with a choice of two engines — a 181-horsepower turbocharged three-cylinder and a 250-horsepower turbocharged four-cylinder.
Main competitors are the Mazda CX-5, Hyundai Tucson, Subaru Forester, and Honda CR-V.
Find the Best Car Insurance Rates Online Today
All drivers can benefit from various types of policies, including full coverage and state minimum liability.
Let Freeway help you find the right policy for you and your family. You may contact us by requesting a quote online, visiting a Freeway office near you, or calling 800-777-5620 to speak with one of our friendly agents. We look forward to your call!