How Much Is Auto Insurance for Nissan Rogue?
Nissan Rogue drivers pay an average annual premium of $507 for minimum coverage and $1,560 for full coverage.
Every state requires drivers to carry some type of car insurance. Drivers need to decide how much they need and can afford. If you are financing or leasing, you'll likely be carrying full coverage. However, if your auto is paid off, you may be able to get by with the state-required minimum liability.
If you are working on understanding what's available, how much you need and how to save money on cheap car insurance, reach out to a Freeway agent for some help.
Getting a Free Auto Insurance quote with Freeway is easy!
Comparing Costs for Your Rogue to Other Vehicles
If you drive a Nissan Rogue, expect to pay different premiums than drivers of competing vehicles like the Hyundai Tucson. Different makes and models pay different premiums for many reasons, such as the cost of parts of labor and the number of safety features included with the vehicle.
| Make/Model | Annual Full Premium |
| --- | --- |
| Nissan Rogue | $1,560 |
| Mazda CX-5 | $1,522 |
| Hyundai Tucson | $1,455 |
| Subaru Forester | $1,064 |
| Honda CR-V | $1,369 |
Types of Car Insurance Coverage for Compact SUVs
Freeway Insurance has several options, including full coverage and state minimum liability.
Full Coverage
Full coverage includes comprehensive and collision. Along with these two protections that help you out financially, regardless of whether an event was your fault or not, it includes liability to protect you against the claims of others if you cause an accident.
If you are concerned about full coverage costing significantly more than a minimum liability policy, we recommend adjusting your liability limits or lowering your deductible to compensate. However, we recommend a baseline liability policy of 100/300/100, covering up to $100,000 per person, $300,000 per accident (bodily injury), plus up to $100,000 in property damage liability per accident.
Even a single-car accident can easily blow past any state minimums, so we encourage high liability limits to reduce the chances of going out of pocket to cover expenses.
State Minimum Liability
All states require drivers to carry minimum liability limits on their auto policy. This is to help cover the cost of injuries or damage in at-fault accidents.
Every state has its required minimum liability limits. For example, California requires $15,000 in bodily injury per person, $30,000 in bodily injury per accident, and $5,000 in property damage liability.
Note that this does not include various optional items such as roadside assistance and rental car reimbursement. These types of add-ons are purchased separately. Some states require uninsured motorist coverage, but it's a great thing to have, regardless. You may also be required to carry some form of additional medical coverage, such as personal injury protection, depending on where you live. Find out what your state requires here.
We recommend you opt for full coverage over minimum liability if you can afford it. Then, for several hundred dollars more a year, you can benefit from first-party benefits such as collision and comprehensive.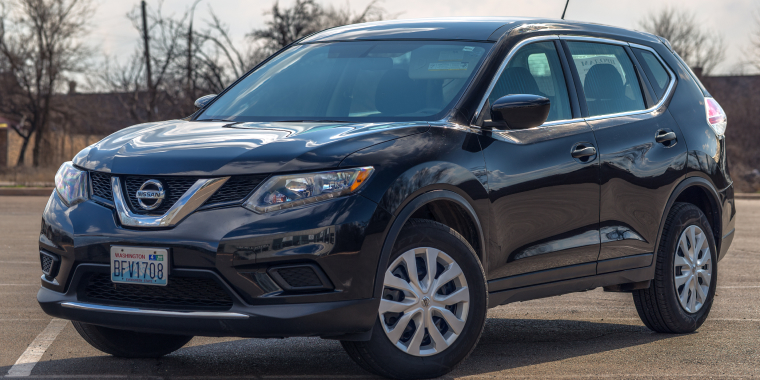 How Does a DUI Affect Insurance Rates for a Nissan Rogue?
DUI convictions can wreak havoc on your insurance premiums.
How a DUI will affect your premium depends on several factors, such as your driving record and your state's laws. Drivers with second and subsequent DUI offenses can expect rates to double/ triple or have their policies canceled altogether.
Hiked premiums after a DUI come in the form of surcharges, comprising a specific percentage of your base policy rate. It's not uncommon for insurance companies to assess a 45% surcharge in the first year, followed by lower percentage surcharges in the second and third years (assuming a clean driving record). You may have to shop around to find affordable DUI insurance.
In addition, some states require that DUI-convicted drivers file an SR-22, a document that lets the state know you carry the minimum required liability limits to drive legally in the state.
What Are Some Auto Insurance Discounts?
Most insurers offer a number of discounts.
One of the most popular types of discounts are policy-related discounts, which cut a few dollars off your monthly premium in exchange for paying your entire annual bill up front, enrolling in autopay/paperless billing, and renewing your policy early.
Another popular discount is the "Good Driver" discount, extended to drivers with a clean driving record free of traffic violations and claims for the past three to five years. Some insurance companies require that you reach closer to the five-year mark to be eligible.
Remember, not all discounts are awarded automatically. Therefore, establishing an open line of communication with your auto insurance company is essential. Do not be afraid to call them every six months to see if you qualify for any new discounts.
Find an office near you to help with your auto insurance
What are Some Characteristics of the Rogue?
This is a vehicle in the compact SUV segment available in four trims — S, SV, SL, and Platinum.
It comes with a single 201-horsepower three-cylinder engine. The base S trim has an 8-inch touch screen, four stereo speakers, and active safety features such as pedestrian and cyclist detection, lane departure warning, and rear parking sensors. Upgrading to the highest level trim, Platinum, offers drivers a large 9-inch touch screen, 10-speaker Bose audio system, and tri-zone automatic climate control. In addition, higher-level trims enjoy 36.5 cubic feet of cargo space on the SL and Platinum trims versus 31.6 cubic feet on lower trims.
Regarding safety ratings, the NHTSA awarded a five-star rating for side crash/overall safety and a four-star rating for frontal crash and rollover tests.
Main competitors are the Mazda CX-5, Hyundai Tucson, Subaru Forester, and Honda CR-V.
Find the Best Car Insurance Rates Online Today
Freeway Insurance is ready to help any driver looking for the policy they deserve at affordable rates.
To get started, request a quote online, stop by a Freeway insurance office, or call 800-777-5620 to review your coverage options with one of our friendly agents. Contact us today!