How Much is Car Insurance for the Jeep Compass?
If you own or plan to buy or lease one of these rugged SUVs, you can expect to pay an annual auto premium of around $1,224 for minimum liability insurance and around $2,088 for full coverage. The age of your SUV may influence those numbers, though, with older models likely costing a little more or a little less, depending on certain factors.
Freeway Insurance can help you get an affordable policy for this SUV crossover with a rate that best fits your needs and budget. Contact us today so we can get you the best plan at a reasonable rate.
Getting a Free Auto Insurance quote with Freeway is easy!
Comparing Insurance Costs for the Compass to Other Vehicles
If you're in the market for an SUV but don't want to pay too much for auto coverage, vehicles like the Subaru Crosstrek and the Jeep Liberty may be better options.
| Make/Model | Annual Full Coverage Insurance |
| --- | --- |
| Jeep Compass | $2,088 |
| Jeep Patriot | $1,932 |
| Jeep Renegade | $2,004 |
| Jeep Liberty | $1,860 |
| Ford Escape | $1,848 |
| Mazda CX-5 | $1,932 |
| Subaru Crosstrek | $1,728 |
| Hyundai Kona | $2,016 |
| Kia Sportage | $1,920 |
Types of Car Insurance Coverage
When it comes to insuring a vehicle, all drivers have multiple auto policy options, including the required state minimum liability or a combination of other coverages plus liability. With a minimum liability policy, you'll be on the road in your SUV with the basic requirements your state legally mandates.
For example, California requires $15,000 in bodily injury/death for one person, $30,000 for two or more people and $5,000 in property damage. When you think about how much damage your Compass could do to a smaller vehicle in a wreck, you may understand why some drivers choose to increase their levels of minimum liability insurance.
A full coverage policy provides liability, collision, and comprehensive protection. Full coverage helps pay for bodily injuries and property damages costs if you cause an accident or someone crashes into you. Full coverage also helps pay for repairs or replacement of your vehicle if it is damaged during a storm or if it is stolen, for example.
Minimum liability policies pay out for the other parties' injuries and damages if you cause an accident, not yours. A basic policy won't protect your SUV if it's vandalized or damaged during a weather event.
Full Coverage
A full coverage policy protects you from financial obligations that arise if you're responsible for a crash or are involved in one that someone else caused. It also takes care of repairs if your SUV gets damaged by vandals or by a storm or other weather event.
That's because this type of policy offers three layers of protection: liability, collision, and comprehensive.
The liability part takes care of anyone who gets hurt in a crash you cause, along with any property damage that results from it. It won't cover any losses you experience, but the collision aspect of the policy will.
Whether you cause a crash or someone else does, the collision part protects you in any kind of accident — no matter if the other vehicle was a sedan, an SUV, a commercial truck, or property like a fence or a building.
The comprehensive part pays for damages that aren't related to a crash. If a tree lands on your SUV crossover during a tornado or a hurricane and damages it, for example, comprehensive will pay for repairs or replacement.
State Minimum Liability
All states require drivers to have some form of basic auto coverage. Mandates vary by state, though. In the case of New Hampshire, for example, drivers must prove that they can pay for all crash-related costs if an accident happens.
A minimum liability policy covers crash-related costs involving bodily injuries caused to others and damage to property. Even though this kind of policy costs less than full coverage, drivers with a minimum liability policy often have to pay costs and damages out of pocket for their own repairs and medical costs.
Individual Factors That Influence Pricing for the Jeep Compass
If you're looking to insure your SUV crossover, several factors are considered to determine how much you'll have to pay. Here's a look at what they are.
Loss Probability
Insurers calculate loss probability based on how often vehicles of the same make and model as the one you drive have been involved in crashes where you live, including the extent of damage they usually experience. Traffic congestion and proximity to highways or other high-risk driving areas also play an important role in this calculation.
Vehicle Safety Features and Ratings
The Compass has several safety features, including advanced radar sensors that alert you to brake if you're approaching the vehicle ahead too quickly, lane change management, blind spot monitoring, and rear cross-path detection. This SUV hasn't received a star rating from the National Highway Traffic Safety Administration, but the agency has logged several recalls for past models and consumer complaints involving suspension, engine, fuel and propulsion, and powertrain-related issues.
Vehicle Value
With this SUV, some trims — like the Latitude Lux or the Trailhawk — are more expensive to insure than the standard or Sport models. That's because repair and replacement costs are generally higher for premium trims.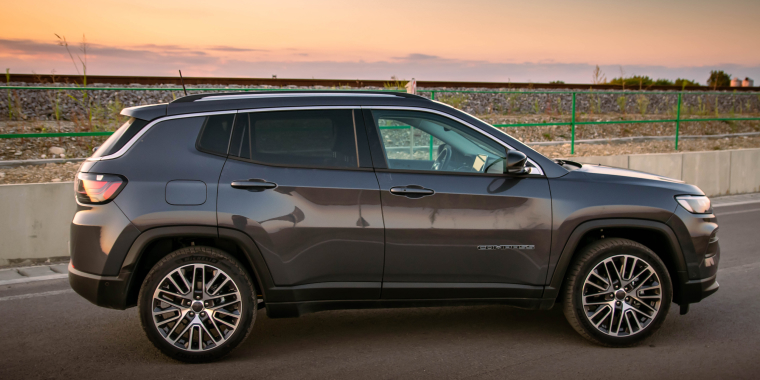 How Does a DUI Affect Insurance Rates for a Jeep Compass?
DUI arrests always impact premiums, no matter the type of vehicle you drive.
If you're arrested and convicted of a DUI charge, you're considered a high-risk driver, and your auto coverage premium will reflect that. That means you'll pay higher auto premiums, and that new rate will remain that way for at least five to 10 years, depending on your state's look-back window.
You may also be required to carry SR-22 insurance, which is always higher. Some insurers will not offer coverage to high-risk drivers, so you may need to look around for an affordable DUI insurance solution.
What Are Some Car Insurance Discounts for a Jeep?
If you've never caused a crash or been issued a ticket, or even if you have, but it was many years ago, insurers consider you a good driver. Good drivers are safe drivers, and insurers reward them by applying a 10% to 30% discount on the annual premiums these drivers pay.
Drivers who bundle their auto coverage with their homeowners or renters insurance are rewarded with multi-policy rates, receiving a 5% to 25% discount.
You may also be eligible for:
A 10% to 15% new car discount if your vehicle is less than three years old.
An 8% to 25% multi-car discount if you insure more than one vehicle on the same policy.
Up to 40% off in a vehicle safety discount because the Compass has several built-in safety features, like forward collision alerts and blind spot monitoring with rear cross-path detection.
Freeway offers drivers several discounts that can significantly decrease the amount they pay for coverage. If you're looking to insure your SUV at an affordable rate, contact us today.
Find an office near you to help with your auto insurance
What Are Some of the Characteristics of the Jeep Compass?
This model hit the market alongside the Patriot in 2006 — both among the first compact crossover SUVs produced by this American manufacturer. The manufacturer discontinued the Patriot in 2016, but the production of the Compass keeps going strong.
This SUV is designed to suit city drivers and outdoor enthusiasts alike. It's easy to navigate along city streets and has off-road capabilities that can easily maneuver through rough and rugged terrain — a staple of the Jeep brand.
The 2023 model received several updates and refreshes compared to past model years. Only available in all-wheel drive, this five-door SUV now brings a 23-horsepower, turbocharged engine and several standard safety features that previous models lack.
Find the Best Car Insurance Rates Online for the Jeep Compass Today
Freeway Insurance has got the cheap coverage you want at a great rate. Contact us today and talk to us today to find an affordable policy for your SUV.
We can hook you up with the best policy at a great rate, ensuring that you and your family are protected on the road. Call us at (800) 777-5620, get a fast and free online quote, or stop by one of our locations.