How Much Is Auto Insurance for a Jeep Cherokee?
The yearly insurance premium for a Jeep Cherokee depends on the type of auto insurance coverage you select. The average you will pay is $762 for minimum coverage and $1,568 for full coverage.
Full coverage offers drivers three types of insurance: collision, comprehensive, and liability. These policies pay for your losses and any damage you cause to other drivers. The minimum insurance required by each state typically encompasses only liability.
Are you looking for the best policy for a Jeep Cherokee? The team at Freeway Insurance is ready to help. Reach out today to learn about your best coverage options.
Comparing Insurance Costs for Your Cherokee to Other Vehicles
The premium you pay to insure your Jeep Cherokee each month will differ from what other motorists pay for different makes and models. Some of the average rates of vehicles that are similar to the Cherokee include:
Types of Car Insurance Coverage for Your Cherokee
There are different options available to you when it comes time to purchase insurance. By law, you must carry a minimum amount of liability insurance. And many drivers opt to purchase the minimum. However, you can pay for full coverage, which costs more but provides more protection.
What you pay for your can insurance will depend on a few factors. While the type of vehicle you are insuring is important, it is only part of what determines your costs.
Full Coverage
When you purchase full coverage car insurance, your policy provides you with protection from an accident. Not only will your insurance policy pay for your losses in the crash, but it will also cover any third-party claims in situations where you damaged someone else in an accident.
Full coverage insurance is actually three different types of coverage rolled into one. When you buy one of these policies, you get a combination of liability, comprehensive, and collision coverage.
Liability insurance is the most basic kind of car insurance. It ensures that you are protected from the claims of other drivers when you cause an accident. However, it will not pay for any of your losses in a crash.
Collision insurance pays for your damages when you collide with another vehicle, structure, or fixed object. Any accident that occurs when you strike something while driving is covered by collision insurance.
Other types of damage to your vehicle are included in your comprehensive coverage. This type of insurance essentially pays for any damage that is not related to a collision. It could include things like vandalism or hail damage.
State Minimum Liability
Each state requires drivers to purchase a minimum level of liability insurance in order to drive legally. Other types of coverage, like collision and comprehensive, are optional and not mandated by the government.
Each state has its own approach to this minimum coverage. Some states require drivers to carry more, while others must carry less. For example, Missouri requires drivers to have $25,000 for bodily injury coverage per person, $50,000 for bodily injury coverage per accident, and $25,000 for property damage coverage per accident. This state also requires uninsured motorist coverage, which is cheap for the protection it provides. If your state does not require it, you should consider it anyway in case you get hit by someone who does not have insurance or a hit and run.
Individual Factors That Influence Pricing for the Jeep Small SUV
Many factors can combine to determine what you will ultimately pay for your car insurance. These factors go beyond the type of car that you drive. Some of these factors include the following:
Driving History
Your driving history is an important factor in the cost of insuring your Jeep Cherokee. If you have multiple accidents or tickets on your record, expect to pay more. If your record is clean, you might qualify for a safe driver discount.
Age
One of the most important factors when it comes to the cost of car insurance is a driver's age. Drivers in their teens and 20s generally pay more due to an increased risk of accidents.
Zip Code
It might seem hard to believe, but your zip code can impact what you pay for car insurance. Insurance companies keep track of accident and vehicle crime statistics down to the zip code, meaning drivers that live in areas with more accidents will usually pay more.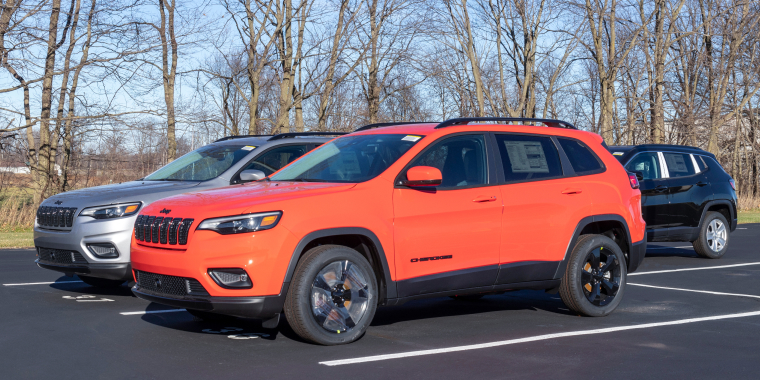 How Does a DUI Affect Insurance Rates for a Jeep Cherokee?
Being arrested and convicted of a DUI can have a major negative impact on the cost of your car insurance. Insurance companies consider anyone convicted of this offense to be a high-risk driver, and that status leads to higher premium costs.
In addition to paying more for insurance, you might also have your policy canceled. There is also the need to meet SR-22 requirements set out by the state. These requirements provide proof that you have enough insurance coverage to pay for an accident.
You may have to shop around to find some cheap DUI insurance.
What Are Some Auto Insurance Discounts?
Discounts are a great way to save money on your insurance premiums. There are countless discounts, and taking advantage of as many as possible is important. For example, you could be entitled to a good driver discount if you have a clean driving record. Other possible discounts include the following:
What's more, you could also save money by bundling your insurance policies. Bundling involves purchasing your auto policy from the same carrier as your other insurance, like your homeowner's policy.
Find an office near you to help with your auto insurance
What Are Some of the Characteristics of the Cherokee?
The Jeep Cherokee is one of the oldest American-made vehicles still in production. First released in 1974, the Cherokee has undergone countless facelifts. Once a full-size SUV, the Cherokee has transitioned to a compact SUV and then a crossover.
The Cherokee received high marks for safety from the Insurance Institute for Highway Safety (IIHS). The vehicle was awarded a good rating in nearly every area it was rated in.
Find the Best Car Insurance Rates Online for Jeep Cherokee Today
Now is the best time to find an insurance policy for your Jeep Cherokee. When you speak to Freeway Insurance, you have the opportunity to find the best possible policy in your budget. Call today to talk about how we can help you find cheap car insurance.
Call us at (800) 777-5620, come get a fast and free quote for car insurance online, or stop by one of our locations.