How Much Is Auto Insurance for a Hyundai Santa Fe?
The annual cost of insurance for a Hyundai Santa Fe depends on the type of auto insurance coverage you select. The average you will pay is $760 for minimum coverage and $1,527 for full coverage.
Full coverage insurance includes three types of coverage: comprehensive, collision, and liability. These policies protect you in a crash while also paying for any damage you cause. State minimum insurance requirements only include liability coverage.
If you are ready for a new policy for your Hyundai Santa Fe, Freeway Insurance is here to help. Reach out as soon as possible to learn about the best policies within your budget.
Getting a Free Auto Insurance quote with Freeway is easy!
Comparing Insurance Costs for Your Santa Fe to Other Vehicles
Your monthly insurance premium for a Hyundai Santa Fe can look very different from what it costs to insure other vehicles. The cost of coverage for competitors to the Santa Fe includes:
Types of Car Insurance Coverage for Your Santa Fe
You have to make a decision about the type of coverage you want for your Santa Fe. While you are obligated to carry a minimum level of liability insurance, you could opt for full coverage that provides additional protections. The downside is that full coverage costs more.
You can expect your monthly premium to vary based on a few factors. However, the type of vehicle you are insuring will play a major role in determining what your policy costs.
Full Coverage
The benefit of full coverage car insurance is that it shields you from liability when you cause an accident and pays your damage claims following a crash. Full coverage includes liability, collision, and comprehensive coverage.
Liability insurance is a basic type of policy that only pays for the damage you cause to other drivers. It does not include the cost of your own losses.
In order to get compensation for your own losses in an accident, you will need something more than liability coverage. This could include collision coverage, which pays for your damage when you are in any kind of collision. You could also secure comprehensive insurance that pays for your damages that result from something other than collision. This could include things like weather damage or vandalism.
State Minimum Liability
Every state mandates drivers to purchase a certain amount of liability insurance. These policies ensure that drivers have a path to compensation when they are in an accident through no fault of their own.
The amount each state requires drivers to carry can vary. Typically, these laws require drivers to have a minimum amount of bodily injury coverage per person, bodily injury coverage per crash, and property damage coverage per accident.
Individual Factors That Influence Pricing for the Hyundai Santa Fe
There could be an array of factors that impacts the cost of insuring your compact SUV. While the vehicle you chose is one factor, other issues could include:
Driving History
Your driving history is a major factor in the cost of your auto insurance. If you have not had any tickets or accidents in recent years, your bill will be less. Expect to pay more without a clean record, however.
Zip Code
The zip code that you live in can also impact your premiums. If you live in a zip code where accidents and vehicle crime are more common, it could result in higher rates each month.
Credit Score
Your credit score could also impact the cost of insuring your vehicle. A higher credit score could mean a lower bill from your insurance carrier each month.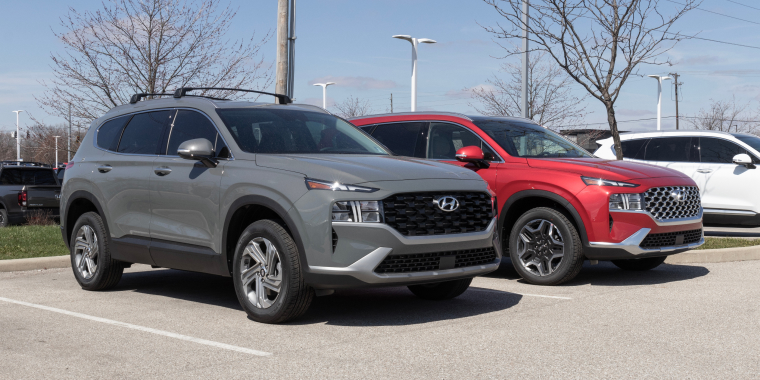 How Does a DUI Affect Insurance Rates for a Hyundai SUV?
Having a DUI conviction on your record will negatively impact the cost of your car insurance. Because you are now considered a high-risk driver, you can expect your annual premiums to increase for the next few years at least.
In addition to higher premiums, you will also need to obtain an SR-22 certificate. These SR-22 requirements are set by state law and prove to the government that you are financially responsible in the case of an accident.
What Are Some Auto Insurance Discounts?
One of the best ways to save money on auto insurance is by taking advantage of available discounts. You might be entitled to a range of cost-saving discounts, including a good driver discount. A good driver discount reduces your premiums due to the lack of accidents or tickets on your record. Other possible discounts include the following:
Another way you might be able to save is by bundling your auto policy with other types of coverage, like your homeowner's policy. When you have multiple policies through the same insurance company, you could get a discount on each of them.
Find an office near you to help with your auto insurance
What Are Some of the Characteristics of the Santa Fe?
It was first manufactured in 2000. In fact, it is the first sports utility vehicle (SUV) ever released by Hyundai. This popular model was a major factor in Hyundai's expansion into the United States.
In early generations, the Santa Fe had a longer wheelbase and was more of a full-size SUV. By the time the third generation of this vehicle was designed, it had shrunk substantially to compete with other popular crossover SUVs.
Find the Best Car Insurance Rates Online for a Hyundai Santa Fe Today
Now is a great time to find an insurance policy for your Hyundai Santa Fe. When you talk to a Freeway Insurance agent, you have the chance to find the best possible policy in your budget. Reach out today to talk about how we can help you find cheap car insurance.
Contact us to discuss your insurance policy options at (800) 777-5620, come get a fast and free quote for car insurance online or stop by one of our locations.