How Much Is Auto Insurance for a GMC Yukon?
The average annual premium for minimum auto insurance coverage is $494 and $1,682 for full coverage. Minimum is how much liability your state requires, while full adds comprehensive and collision to the minimum liability.
 In most states, the minimum consists of liability that offers financial help to other parties if you are at fault in a covered event. In no-fault states, this liability is extended to you, regardless of who caused the accident. However, no-fault states (and some at-fault) require additional coverage in the form of uninsured motorist coverage and personal injury protection (PIP) for additional financial help. Your rates will depend heavily on your driving history, your age and where you live.
Full coverage is an enhanced level of protection. In many cases, drivers choose to add this additional financial security, however, those who finance or lease may be required to carry it. It typically consists of liability, plus comprehensive and collision.
Don't pay too much for your car insurance. Freeway can help you research all of your options based on your needs and budget to find the best coverage for you.
Getting a Free Auto Insurance quote with Freeway is easy!
Comparing Insurance Costs for Your Yukon to Other Vehicles
Your premiums could be different from drivers who own similar vehicles such as the Jeep Wagoneer, Chevrolet Suburban, Chevrolet Tahoe, and the Ford Explorer. Every make and model has its own unique characteristics, including safety features, recall history, and cost of replacement parts that raise or lower its risk profile in the eyes of insurers.
Here is the Yukon's annual full coverage insurance costs compared to other vehicles:
| Make/Model | Annual Full Premium |
| --- | --- |
| GMC Yukon | $1,682 |
| Jeep Wagoneer | $2,072 |
| Chevrolet Suburban | $1,398 |
| Chevrolet Traverse | $1,444 |
| Ford Explorer | $1,536 |
Types of Car Insurance Coverage for Your GMC SUV
Freeway is ready to provide you with various options, including state minimum required liability and full coverage. Some optional protection you can add to your policy include benefits such as:
These are good to have but most states do not require them.
Full Coverage
Full coverage consists of your state's mandatory minimum coverage, as well as collision and comprehensive. Collision pays for the cost of damages due to hits with other vehicles and objects, while comprehensive covers the cost of damages due to things outside of your control, such as falling tree limbs, theft, and vandalism.
This type of coverage costs several hundred dollars more per year over state minimum liability, thanks to the greater protections they provide. However, you can adjust the cost of your coverage by increasing or decreasing deductibles and liability limits.
State Minimum
State minimum policies cover damages caused to third parties. It is comprised of bodily injury and property damage liability.
Every state has its minimum liability requirements. For example, Texas requires that all drivers carry a minimum of $30,000 in bodily injury liability per person, $60,000 in bodily injury liability for accidents, and $25,000 in property damage liability per accident.
In turn, California minimums are slightly more relaxed, requiring only a minimum of $15,000 in bodily injury liability per person, $30,000 in bodily injury liability per accident, and $5,000 in property damage liability per accident.
No-Fault State
If you live in a no-fault state, such as Kansas, your minimum package requirement is likely to include more. In Kansas, the liability is 25/50/25, plus 25/50 for uninsured motorist coverage, as well as $4,500 for PIP.
We highly recommend a full coverage policy, which provides first-party benefits such as collision and comprehensive insurance for greater peace of mind.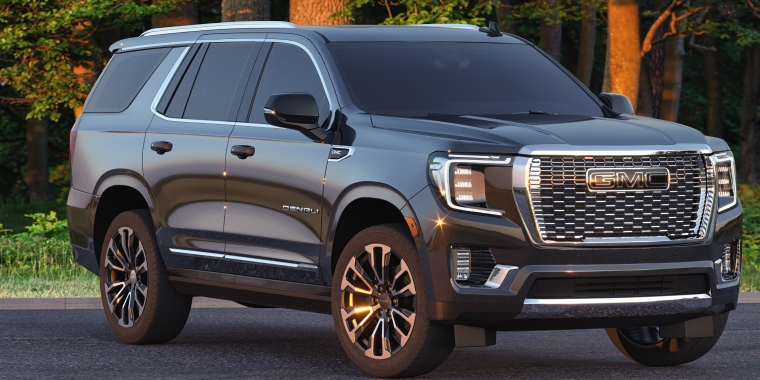 How Does a DUI Affect Insurance Rates for My SUV?
As you can imagine, DUI convictions negatively affect your premiums.
The National Highway Transportation Safety Administration (NHTSA) reports that roughly 32 people in the United States die from drunk driving-related crashes daily. Drunk driving is a significant societal problem.
If you are a Yukon driver convicted of a DUI, expect your premiums to rise. How many premiums increase after a DUI conviction depends on your driving record, the time since your last offense, and similar factors. Second and subsequent offenses can even force companies to deny a policy altogether. However, you can expect to see a significant increase, maybe double or even triple.
Fines paid for DUI convictions vary by state. For example, first-time DUI drivers in California can pay up to $6,600 in fines.
Expect your premiums to stay elevated for a minimum of three years. Depending on the state, you may also be required to file an SR-22, a proof of financial responsibility that lets the state know you carry the minimum required liability coverage.
Fortunately, there are some ways DUI drivers can minimize the effects of rising rates. One option is to shop around, comparing quotes for multiple providers to find affordable DUI insurance.
What Are Some Auto Insurance Discounts for Yukon Drivers?
If you drive a large GMC SUV, there are many auto insurance discounts available.
These discounts are generally classified in one of four categories: policy-based, driver behavior-based, vehicle-based, and usage-based discounts.
You can also take advantage of some demographic price reductions, including for military members and senior citizens. As a best practice, we recommend calling your insurance company every six months to learn if you qualify for any new discounts. Remember, many discounts are not awarded automatically and require a little leg work to obtain.
Find an office near you to help with your auto insurance
What Are Some of the Characteristics Of the Yukon?
The GMC Yukon is a vehicle in the large SUV segment. It is available in five trims — SLE, SLT, AT4, Denali, and Denali Ultimate.
Engine options include a 355-horsepower V8, 420-horsepower V8, and a 277-horsepower turbocharged six-cylinder diesel. Standard features include a 10.2-inch touchscreen, Apple Carplay/Android Auto compatibility, and six USB ports. Upgrading to higher trims rewards drivers with a dual-screen rear seat entertainment system, Bose audio system, and a panoramic sunroof.
Main competitors are the Jeep Wagoneer, Chevrolet Suburban, Chevrolet Traverse, and Ford Explorer.
Find the Best Car Insurance Rates Online for GMC Yukon Today
Freeway Insurance can help you find the right policy to keep you and your family protected on the road. We have several policy types available, including state minimum liability and full coverage with comprehensive and collision. Either one can be a great fit for your coverage needs.
Ready to consult with us on all of your options? Request a quote online, stop by one of our offices or call 800-777-5620 for a free consultation with one of our agents. We look forward to hearing from you!