How Much Is Auto Insurance for a Chevrolet Tahoe?
The average annual premium for a Chevrolet Tahoe is $560 for minimum coverage and $1,398 for full coverage. Minimum is how much liability your state requires, while full adds comprehensive and collision to the minimum liability.
Drivers who own their rides may opt for the cheaper option, whereas those who are financing or leasing will most likely be required to carry a more extensive policy.
If you need help deciding how much car insurance you need and can afford, reach out to a Freeway agent to receive several options.
Getting a Free Auto Insurance quote with Freeway is easy!
Comparing Insurance Costs for Your Tahoe to Other Vehicles
Premiums vary based on factors such as a vehicle's reliability record, cost of parts/labor, safety features, and recall history. Don't forget that your own driving record plays a large part in your premium, as well.
| Make/Model | Annual Full Premium |
| --- | --- |
| Chevrolet Tahoe | $1,398 |
| Jeep Wagoneer | $1,820 |
| Ford Expedition | $1,622 |
| Toyota Sequoia | $1,586 |
| Nissan Armada | $1,690 |
Types of Car Coverage for the Chevy SUVs
Besides full and state minimum liability coverage, motorists can choose from a variety of options. Liability is typically composed of bodily injury and property damage, although some states require the addition of uninsured motorist coverage, as well as some sort of medical.
Full Coverage
Full coverage is a collection of policies comprising liability (bodily injury/death coverage/property damage), plus comprehensive, and collision coverage.
You may also include other coverages like gap insurance, roadside assistance, and uninsured/underinsured motorist coverage.
Enrolling in a full policy offers substantially greater protections than a liability-only plan, covering the cost of first-party injuries and property damage. For example, adding collision coverage protects against property damage, regardless of who is at fault. In contrast, comprehensive pays for damages caused by events outside of your control, like theft, hail, and vandalism.
Although full coverage costs several hundreds of dollars more a year than state minimum liability, the greater peace of mind it offers is well worth it.
State Minimum Liability
State minimum liability covers the cost of injuries and damages to third parties if you are determined to be at fault in an accident.
It consists of two parts: bodily injury liability and property damage liability.
Every state has its minimum limit requirements. For example, Louisiana drivers must carry liability limits of $15,000 for bodily injury (per person), $30,000 for bodily injury (per accident), and $25,000 for property damage.
In turn, Texas drivers must meet liability limits of $30,000 for bodily injury (per person), $60,000 for bodily injury (per accident), and $25,000 in property damage liability per accident.
We highly recommend full over a state minimum liability policy. With the average cost of new vehicles exceeding $40,000 (as of November 2022), most states' property damage minimums will undoubtedly result in hefty out-of-pocket costs.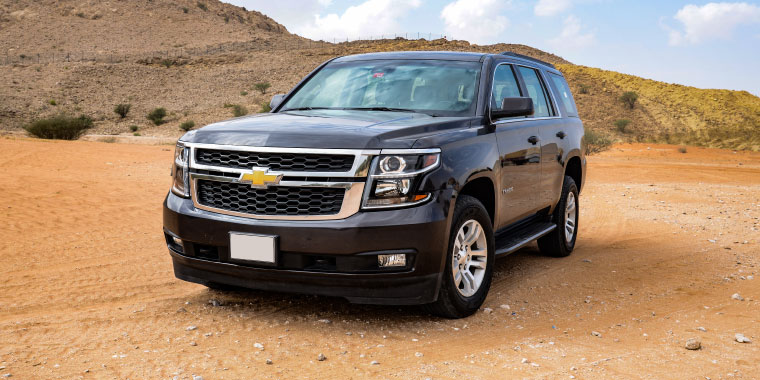 How Does a DUI Affect Insurance Rates for My SUV
Depending on your state, DUI rates could increase your rates by as little as 20% and upwards of 300%. Someone paying $1,200 yearly for their policy could see their rates skyrocket to $3,600.
Some insurers may even cancel your policy if you collect two or more DUI convictions within a short period.
On top of increased premiums, expect your driver's license and registration to be suspended until you meet the state's reinstatement requirements. In addition, many states require filing an SR-22, a Certificate of Financial Responsibility that lets the state know you carry the minimum required insurance.
Fortunately, there are many ways drivers with a DUI can save on policies. You may need to shop around for an insurer that offers cheap DUI quotes.
Find an office near you to help with your auto insurance
What Are Some Auto Insurance Discounts for Tahoe Drivers?
There are many types of auto insurance discounts for drivers of these Chevy SUVs.
These generally fall into three categories: driver-based, vehicle based, and loyalty-based discounts.
Driver-based savings are for certain age groups or trade organization members, as well as students and active/retired military members. In turn, vehicle-based decreases are extended to policyholders with specific safety features, such as anti-lock brakes and anti-theft devices.
Lastly, loyalty-based discounts are awarded for staying with the same carrier and using it for all of your needs. For example, some insurers offer large savings on bundling (multi-car or multi-policy) and for being a continuous policyholder.
What Are Some of the Characteristics of the Tahoe?
This is a three-row vehicle in the large SUV segment. Depending on the configuration, it can seat seven to nine people.
It comes in six trim levels — LS, LT, RST, Z71, Premier, and High Country — and three engine options — a 355-horsepower V8, 420-horsepower V8, and a 277-horsepower turbodiesel engine.
Standard features include an 8-inch touch screen, Apple CarPlay/Android Auto integration, and six USB ports. Higher trims upgrade to upper Cruise partially autonomous driving system, a 10.2-inch touch screen, wireless device charging, and a 10-speaker Bose audio system.
Main competitors are the Jeep Wagoneer, Chevrolet Suburban, Ford Expedition, Toyota Sequoia, and Nissan Armada.
Find the Best Car Insurance Rates Online for Chevrolet Tahoe Today
To protect yourself and your family on the road, we recommend carrying a state minimum liability or full coverage policy with comprehensive and collision insurance.
Ready to take the next step? Getting a quote from Freeway Insurance is easy. Visit us online, stop by one of our offices, or call us at 800-777-5620. Contact us today!