How Much Is Auto Insurance for a Ford Edge?
The average annual premium for a Ford Edge depends on the kind of auto insurance coverage you select. On average, you will pay $519 for minimum coverage and $1,296 for full coverage.
Full coverage includes three types of insurance: collision, liability, and comprehensive. These policies not only pay for your losses in an accident but also for any damage you cause. This differs from the minimum coverage required under state law, which is typically only a liability policy.
If you have questions about the cost of insuring your Ford Edge, Freeway Insurance is here to help. We can provide you with all the information you need to get the best policy at a fair price.
Getting a Free Auto Insurance quote with Freeway is easy!
Comparing Insurance Costs for Your Edge to Other Vehicles
If you drive a Ford Edge, the premiums you pay will differ compared to the drivers of other vehicles like the Mazda CX-5 and Hyundai Tucson. This is because the cost of insuring every make and model varies, even when vehicles are somewhat similar. Vehicles that are considered to be more "risk proof" than others will typically be cheaper to insure.
| Make/Model | Annual Full Coverage Insurance |
| --- | --- |
| Ford Edge | $1,296 |
| Mazda CX-5 | $1,455 |
| Hyundai Tucson | $1,453 |
| Ford Explorer | $1,575 |
| Subaru Forester | $1,464 |
Types of Car Insurance Coverage for Your Edge
You have options when it comes to purchasing car insurance. You could choose the minimum amount of liability insurance required under state law, or you could protect yourself with a policy that offers full coverage. There are different factors that impact the cost of these policies outside of the amount of coverage offered.
Full Coverage
The purpose of full coverage car insurance is to protect you from liability claims from other drivers while also covering your damages in a crash. This type of policy is a combination of liability, comprehensive, and collision insurance.
Liability insurance protects you from damage claims made by third parties after an accident. In other words, this insurance pays for the damage you cause when you are at fault in a collision.
Collision insurance—as the name suggests—covers damage to your car that occurs in a collision. This includes a collision with other drivers, fixed objects, or even animals. This coverage differs from comprehensive coverage, which covers non-accident damage to your car, like when a tree limb falls on it.
Full coverage provides you with compensation in all of these situations. When you file a claim, you will be entitled to recover compensation up to the limits that are on your policy. While minimum coverage might be cheaper each month, there are serious financial risks that come with those policies.
State Minimum Liability
Every state in the nation requires drivers to carry a minimum level of liability insurance. This is to ensure that drivers that cause accidents have the means to cover those financial losses.
Minimum coverage is cheaper than full coverage, but there is a reason for that. These policies generally only offer liability coverage, which means you will be responsible for your own bills if you are in a collision.
Each state sets its own minimum amount of coverage. Typically, these requirements include minimum coverage for bodily injuries per person, bodily injuries per accident, and property damage per accident. For example, the State of Texas requires $30,000 for bodily injuries per person, $60,000 for bodily injuries per accident, and $25,000 for property damage per accident. This is often written in the format of 30/60/25.
Individual Factors That Influence Pricing for the Ford Edge
There are a number of factors that impacts what it costs to insure your Ford Edge.
Loss Probability
Insurance companies will look at something known as "loss probability," which is the chances of an accident in an Edge compared to other vehicles. Some vehicles are more likely to be in accidents than others, based on vehicle collision statistics. What's more, the financial loss stemming from these accidents can also vary. Vehicles that are more likely to result in higher insurance claims will generally cost more to insure.
Vehicle Value
The underlying value of a vehicle is also important. It should come as no surprise that the cost of insuring more expensive vehicles is typically more each month than the premiums for cheaper models. Insuring a new vehicle is also generally more costly than insuring a used one.
Vehicle Safety
Car insurance companies will also take into account how safe a vehicle is when insuring it. This involves a careful look at the safety features of each vehicle. The Ford Edge offers standard safety features like traction control, brake assist, and child safety locks. Insurance companies will also consider a vehicle's safety rating, as it reflects the severity of potential injuries in a crash. The Ford Edge received a five-star safety rating from the National Highway Transportation Safety Administration (NHTSA).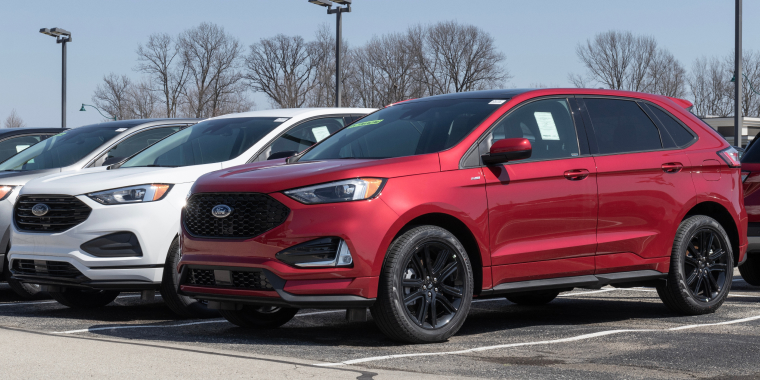 How Does a DUI Affect Insurance Rates for a Ford SUV?
A conviction for DUI will impact the price you pay each month for your insurance. Every state treats DUI laws differently, but what they have in common is the high likelihood of increased insurance costs after a DUI.
How long a DUI impacts the cost of your insurance can vary from one state to another. Some states allow insurance companies to take into account DUIs that occurred years prior, while others have a shorter lookback period. Insurance companies take di9fferent approaches to insuring a driver who has been convicted of DUI so you may ne3ed to look around for some cheap DUI solutions.
If you are found guilty of a DUI, you might also need to comply with SR-22 requirements when insuring your Ford Edge. The SR-22 is a certification of financial responsibility that shows the state that you are carrying the necessary insurance for a high-risk driver.
What Are Some Auto Insurance Discounts?
The good news is that there are ways to keep your costs down. The best way to save money on your car insurance is by taking advantage of all car insurance discounts available from your insurance provider.
For starters, you could be entitled to a discount if you are a mature driver. Many carriers offer a senior discount to anyone who is 55 and older. You deserve to be rewarded for using your experience to make good decisions when behind the wheel.
You could also be entitled to a discount based on your clean driving record. The Good Driver discount is available if you have been accident-free in recent years. Some other discounts include the following:
One of the most important ways you can save money is by bundling policies. Bundling involves getting a discount from purchasing your auto policy from the same insurer that provides other coverage, including your homeowner's policy.
Find an office near you to help with your auto insurance
What Are Some of the Characteristics of the Edge?
The Ford Edge is a crossover SUV first produced in 2006. It is a five-door SUV that comes in both front-wheel and all-wheel drive. In the Ford line of vehicles, it is positioned between the Escape and Explorer in size.
The Ford Edge has won a number of awards. In 2007, it was recognized as one of the "Best Family Cars" by Parents Magazine. It was also awarded the APEAL Award from J.D. Power and Associates the same year. Some of the benefits of the Ford Edge include the following:
7L EcoBoost Engine
Wireless phone charging
Zauto start-stop technology
Co-Pilot 360 technology
Find the Best Car Insurance Rates Online Today for Ford Edge
Freeway Insurance is here to help you get cheap coverage at a great rate for your Ford Edge. Talk to us today to find cheap car insurance matching your coverage needs.
We can hook you up with the cheapest car insurance for the Ford Edge so that you and your family are protected. Call us at (800) 777-5620, come get a fast and free quote for car insurance online or stop by one of our locations.