How Much Is Auto Insurance for a Dodge Challenger?
The average monthly insurance premium you will pay on this performance coupe depends on the type of auto insurance coverage you choose. The average you will pay is $1,232 for minimum coverage and $2,501 for full coverage.
Full coverage auto policies protect you in an accident while also offering coverage to the other driver if you are at fault. These policies include comprehensive, liability, and collision coverage. Full coverage offers much more robust protection than the minimum liability policies required under state law.
Need help finding the right policy for your Dodge Challenger? Freeway Insurance is ready to help you weigh your options and provide you with the coverage you need.
Getting a Free Auto Insurance quote with Freeway is easy!
Comparing Insurance Costs for Your Challenger to Other Vehicles
If you have purchased a Dodge Challenger, you can expect to pay higher premiums compared to some other makes and models. The cost of insuring similar vehicles can also vary.
| Make/Model | Annual Full Coverage Insurance |
| --- | --- |
| Dodge Challenger | $2,501 |
| Ford Mustang | $2,188 |
| BMW 5 Series | $2,852 |
| Chevrolet Camaro | $2.101 |
| Toyota Supra | $2,639 |
Types of Car Insurance Coverage for Your Challenger
You have decisions to make when it is time to purchase insurance for your Dodge muscle car. You can often save money by only purchasing the minimum liability insurance required under the law. However, you could also choose to protect yourself even more with full coverage policies.
The type of policy you choose will partially determine what you pay each month for car insurance. However, there are other factors that go into determining what your policy is going to cost each month.
Full Coverage
When you purchase full coverage car insurance, you can expect to pay more each month compared to minimum liability coverage. While this is a notable downside, it is important to understand the major benefits that come with full coverage.
A full coverage policy includes three different types of insurance coverage. This policy not only pays for your losses in an accident, but it can also cover the damage you cause to other motorists when you are at fault for a crash.
In total, three different types of coverage come with these policies: liability, comprehensive, and collision. Liability coverage is what is mandated by the state, and it pays for property damage and bodily injuries for other parties when you are responsible for an accident.
Collision coverage — as the name suggests — pays for your losses when you collide with someone or something. This includes collisions with other vehicles or fixed objects. Finally, comprehensive coverage pays for damage that does not occur in a collision, for example, when a limb falls on your parked vehicle.
State Minimum Liability
Instead of paying for full coverage, you have the option to select the minimum level of liability insurance allowed by law. Every state requires motorists to carry liability insurance to provide compensation for drivers when they are faultless in an accident. While these policies are cheaper than full coverage, they do not provide anything for your own losses in a crash.
Each state has its own approach to liability insurance. Generally, the law requires drivers to have a minimum amount of coverage for bodily injuries per person, bodily injuries per accident, and property damage per accident. For example, Missouri requires drivers to carry $25,000 for injuries per person, $50,000 for injuries per accident, and $25,000 for property damage per accident. This state also requires uninsured motorist coverage, which is a cheap addition you should consider adding if your state does not require it.
Individual Factors That Influence Pricing for this Dodge Muscle Car
Many factors combine to determine what it costs to pay for insurance coverage on a Dodge Challenger. In addition to factors involving the make and model of the vehicle, there are also issues specific to the driver.
Theft Risk
The risk of having your car stolen is one factor to consider. Dodge Challengers don't make the top of the list, but they are one of the most vulnerable to theft. Vehicles with a high theft risk can be more expensive to insure.
Performance Car
The Challenger is a performance car. To an insurer, that means it is more likely to be driven in a fast and unsafe manner. You'll probably pay a little more for that.
Age
Your age is a major factor in determining the cost of your car insurance. Drivers in their teens and 20s can pay far more than individuals in their 30s, 40s, or 50s. This is because, statistically, younger drivers are more likely to be in an accident.
Driving Record
Your past history behind the wheel is an important factor in the cost of your coverage. If your record in recent years is free of accidents or tickets, you could pay less.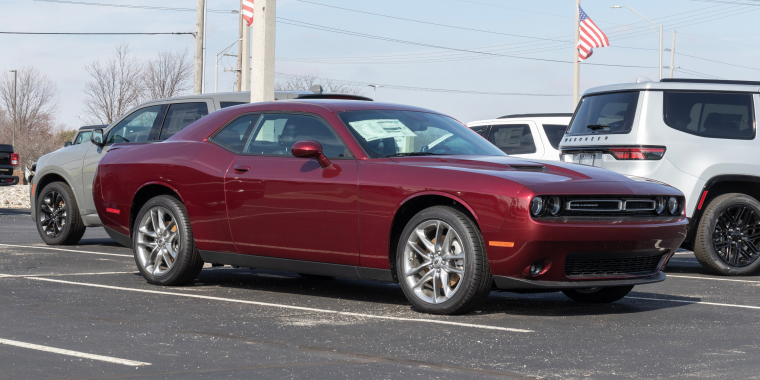 How Does a DUI Affect Insurance Rates for a Dodge Challenger?
One of the factors that can impact the cost of your insurance is having a DUI conviction on your record. You can count on the cost of your insurance going up following this type of incident. You may want to compare different companies to find cheap DUI insurance.
Not only can your rates go up, but you might also have to comply with SR-22 requirements. The SR-22 is a certification to the state that you have enough insurance coverage for a high-risk driver.
What Are Some Auto Insurance Discounts?
The cost of insuring a Dodge Challenger can be high. Thankfully, car insurance discounts could help you bring those monthly costs back down to earth. There are many different discounts available, including good driver discounts for avoiding accidents or tickets. Other discounts include the following:
On top of these discounts, you could also save money when bundling your auto policy. Bundling involves buying an auto policy from the same carrier that provides your homeowners insurance or other policies. You can learn more about bundling during a discussion with one of our agents.
Find an office near you to help with your auto insurance
What Are Some of the Characteristics of the Challenger?
Although it has taken many forms over the years, the Dodge Challenger was first produced in 1969. Initially a popular pony car, the Challenger earned a reputation for being stylish and cool. In its second generation, the vehicle shifted to something more in line with economical compact cars. In the modern day, the Challenger has returned to its roots as a zippy, stylish coupe with a focus on performance.
Find the Best Car Insurance Rates Online Today