How Much is Car Insurance for a Chevrolet Camaro?
The average annual premium for a Chevrolet Camaro is $2,310 for full coverage and $756 per year for liability only.
Depending on which state you live in, you will likely need at least a minimum car insurance liability policy with bodily injury and property damage coverage, paying for medical and damage-related costs to third parties due to an at-fault accident you cause. Every driver pays a different premium thanks to several factors, which include your age, gender, driving record, and enrollment in any discount programs.
Many people decide to go for full coverage. It adds comprehensive and collision, which offers additional first-party protections (e.g. pays for damages to your vehicle). This type of policy offers greater protection on the road.
Freeway Insurance agents are ready to help you find the right policy matching your needs and budget. Expect to have several options to choose from, including the two types of policies mentioned above.
Getting a Free Auto Insurance quote with Freeway is easy!
Comparing Insurance Costs for Camaro to Other Vehicles
The insurance costs for a Chevy Camaro relative to competing makes and models like the Dodge Challenger vary based on several factors, including the cost of parts and labor, safety records, body style, and other variables that make ensuring a vehicle higher or lower risk for an insurance company.
| Make/Model | Annual Full Coverage Insurance |
| --- | --- |
| Chevrolet Camaro | $2,310 |
| Ford Mustang | $1,914 |
| Nissan Z | $1,978 |
| Dodge Challenger | $2,660 |
| Chevrolet Corvette | $2,176 |
Types of Car Insurance Coverage for the Camaro
Chevrolet Camaro drivers can benefit from many types of auto insurance policies, including but not limited to state minimum liability and full coverage.
Full Coverage 
Full coverage refers to policies that include several different types of protections, including liability, collision, and comprehensive policies.
Liability provides third-party benefits (pays for damages and injuries sustained by others in an accident you cause) versus collision and comprehensive, which pay for damages to your vehicle caused by collision and non-collision related events like rollovers, theft, vandalism, and natural disasters.
One may include optional add-ons like uninsured/underinsured motorist, medical payments (MedPay), gap, roadside assistance, and rental car reimbursement. 
State Minimum Liability 
State minimum liability refers to the minimum coverage required for all drivers in your state. It covers bodily injury and property damages sustained by other passengers in an accident you cause.
State minimum liability is expressed as three numbers, e.g., New Jersey's 15/30/5, which translates to $15,000 in bodily injury liability per person, $30,000 in bodily injury liability per accident, and $5,000 in property damage liability per accident.
Remember that state minimum liability is often insufficient to pay for all damages and injuries, even with minor fender benders. For example, a single fender bender can cause $35,000 worth of property damage, well above New Jersey's $5,000 property damage liability minimum, so a higher liability limit policy (e.g., 100/300/100) is recommended.
Individual Factors that Influence Pricing for the Chevrolet Camaro
There are many factors auto insurance companies use to determine price for each driver. These factors include age, driving record, location, annual mileage, and the type of vehicle you drive.
Younger drivers generally pay higher premiums than older drivers thanks to a lack of driving experience, higher likelihood of claims, and propensity for driving higher-risk vehicles. 
Driving record is also a consideration. If you have racked up multiple accidents and traffic violations within a short period, expect your premiums to remain elevated.
Another critical point that determines auto premiums is where you live. Urban areas with heavy populations generally see higher average premiums than sparsely populated or rural areas.
Lastly, remember annual mileage and the type of vehicle you drive. The higher the number of miles you drive annually, the higher your premium. Likewise, car makes and models with low depreciation rates, limited safety features, high cost of parts and labor, and similar variables make them more expensive to insure.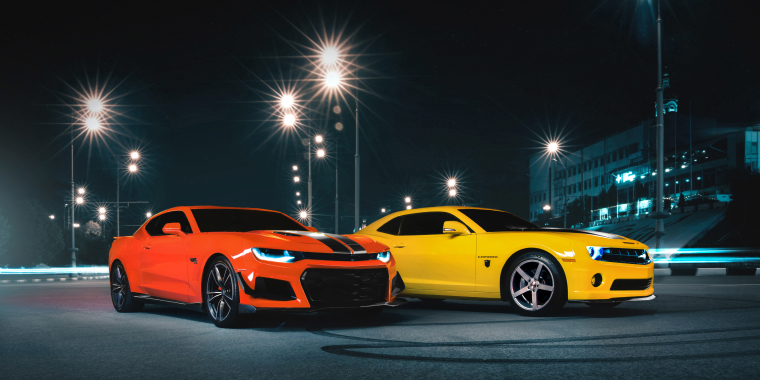 How Does a DUI Affect Insurance Rates for a Chevy?
Being convicted of a DUI is one of the worst things Chevrolet Camaro drivers can do for their premiums.
For starters, expect increased premiums. They can double or triple depending on the severity of the offence, the time since your last conviction, your current driving record, and other variables. On top of that, DUI convicted drivers will likely be required to file an SR-22 or FR-44 form and add to their existing policy that lets the state know they are carrying the minimum liability needed to drive legally.
In the worst cases, insurance companies may cancel or reject your policy outright, especially if you've had a track record of driving violations.
After a DUI conviction, it is highly recommended that you shop around and compare rates from a minimum of three companies. Remember, not all companies treat DUI-convicted drivers the same. Therefore, seeing a 30% lower premium with one provider versus a competing provider would not be surprising.
Find an office near you to help with your auto insurance
What Are Some Car Insurance Discounts for the Chevrolet Camaro?
There are many ways Chevrolet Camaro drivers can save on auto insurance. One of the most popular ways to do it is via discounts.
You may be eligible for the following:
What Are Some of the Characteristics of the Camaro?
This is a vehicle in the sports car segment.
It is available in eight trims: 1LS, 1LT, 2LT, 3LT, LT1, 1SS, 2SS, and ZL1.
Standard features include a 275-horsepower turbocharged four-cylinder engine, automatic climate control, a 7-inch touch screen, a six-speaker stereo, and Apple Carplay/Android Auto compatibility. Upgrading to the highest-level trim, ZL1, upgrades to a supercharged 650-horsepower V8 engine, Brembo performance brakes, and an electronic limited-slip differential.
Main competitors are the Ford Mustang, Nissan Z, Dodge Challenger, and the Chevrolet Corvette.
Find the Best Car Insurance Rates Online for Chevrolet Camaro Today
Freeway Insurance is prepared to step up if you are ready for a new, more affordable auto policy.
To explore your options, request a quote online, visit us in person, or call 800-777-5620 for a no-obligation consultation with one of our friendly agents.