How Much Is Auto Insurance for a Ford Mustang?
The average annual premium for a Ford Mustang is $494 for minimum coverage and $2,188 for full coverage.
The amount you will pay for car insurance depends on many factors, such as how much you purchase, where you live, your age and your driving history. All states but two require at least a minimum, which typically includes liability.
Getting a Free Auto Insurance quote with Freeway is easy!
Driving a Sports Car
If you've chosen the iconic Ford Mustang as your ride, expect your insurer to take notice. Sports cars cost more to insure. This is because, fair or not, those in the insurance business believe that drivers of sports cars are more likely to take risks behind the wheel, by driving faster and more recklessly. Sports car are also stolen at a higher rate than your typical family sedan.
Young drivers already pay more than more mature drivers, and young drivers in a sports car will be even more affected. So while purchasing a beautiful ride like a Mustang is fun, be aware you'll be paying more on your insurance premium.
Comparing Insurance Costs for Your Mustang to Other Vehicles
If you drive a Mustang, you should not expect to pay the same premiums as drivers of vehicles in the same class, such as the Chevrolet Corvette and the Nissan Z. There are many reasons for this, including the varying cost of parts and labor, body style, and similar factors.
| Make/Model | Annual Full Coverage Insurance |
| --- | --- |
| Ford Mustang | $2,188 |
| Chevrolet Corvette | $2,220 |
| Nissan Z | $2,244 |
| Chevrolet Camaro | $2,294 |
| Dodge Challenger | $2,074 |
Types of Car Insurance Coverage for Sports Cars
Freeway Insurance has several auto insurance options, including state minimum liability and full coverage, plus any number of other amounts and options
Full Coverage
Full coverage policies consist of liability, collision, and comprehensive insurance.
They offer a broad range of protections compared to state minimum liability, most notably with first-party benefits covering damages due to collisions. These policies also cover events outside of your control such as theft, vandalism, and falling tree limbs.
One scenario where you may be required to obtain a full coverage policy is through your finance company. If you have an open loan balance, expect to have to pay for full coverage with high liability limits (e.g. 100/300/100). Remember that your finance company technically owns your vehicle until the loan or lease is paid in full, so the higher liability limits help preserve its value.
If you can afford it, go for a full coverage policy with higher liability limits over a state minimum policy. With the average cost of a new vehicle over $40,000, a single-car accident can easily blow past the $5,000 property damage liability limit in California, forcing out-of-pocket expenses that could dent your monthly finances for the months and years to come.
State Minimum Liability
All states require that you carry minimum liability limits.
State minimum liability offers third-party benefits — bodily injury liability coverage and property damage liability coverage. BI coverage pays for medical expenses, pain, suffering, and lost wages up to your policy limits.
The same goes for property damage liability coverage, which covers vehicle repairs, property repairs, and similar instances.
Every state has its minimum liability limits. For example, California drivers must carry liability limits of $15,000 for bodily injury liability per person. $30,000 in bodily injury liability per accident and $5,000 in property damage per accident.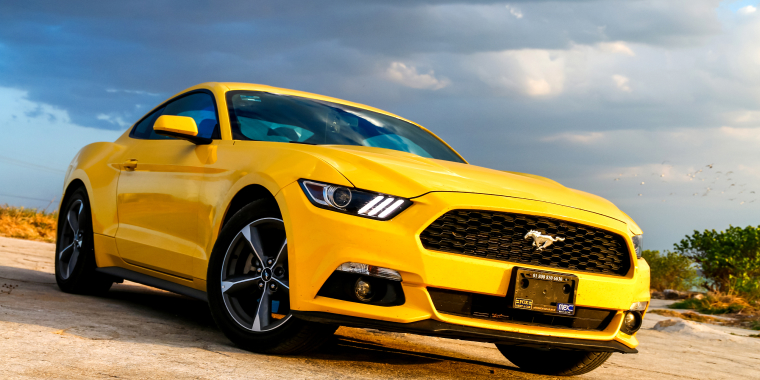 How Does a DUI Affect Insurance Rates for a Mustang?
Being convicted of a DUI will have detrimental effects on your insurance rates.
For starters, expect elevated premiums for a minimum of three years. From there, your monthly payment should gradually decrease over time, assuming a clean driving record with no claims or moving violations. Do not expect to be eligible for any "good driver" discount in the meantime.
Depending on the state, you may also be required to acquire an SR-22 form, a certificate provided by your insurance company that lets the state know you're carrying at least the minimum liability limits. This certificate can only be filed by your insurance company.
If you have been recently convicted of a DUI, remember to shop around and compare cheap DUI quotes from a minimum of three auto insurance providers. One auto insurance provider could offer DUI-convicted drivers more favorable rates than competing providers, as no two insurers have the same underwriting methods.
What Are Some Auto Insurance Discounts?
Drivers can qualify for discounts to lower their monthly premiums.
One of the most popular types of discounts is the multi-policy discount. It can be obtained by ensuring two vehicles together (to pay less per vehicle than purchasing individual policies) or bundling two or more policies (e.g., homeowners and auto insurance).
Another popular type of discount is the safety-related discount, awarded to drivers who risk-proof their vehicles with anti-theft devices, daytime running lights, anti-lock brakes, and other enhancements to lower their risk profile.
Lastly, watch your vehicle usage as well. Insurers generally favors drivers who drive less than 7,500 miles per year. The less you drive, the lower your premiums (assuming your account is in good standing). Low mileage discounts are also offered to people who carpool to work daily.
Also, applying for discounts is not the end-all-be-all to enjoy lower premiums. Structuring your policy to raise your deductible or lower your liability limits all have a greater effect as you become less of a risk to the insurer.
Find an office near you to help with your auto insurance
What Are Some of the Characteristics of the Mustang?
The Ford Mustang is a vehicle in the sports car segment.
It is available in six trims: EcoBoost, EcoBoost Premium, GT, GT Premium, Mach 1, and Mach 1 Premium.
It also comes with several engine options, including a 310-horsepower turbocharged 2.3-liter four-cylinder, turbocharged 2.3-liter four-cylinder, and 450-horsepower or 470-horsepower 5.0-liter V8.
Standard features on the base EcoBoost trim include a 4.2-inch LCD display, six-speaker audio system, and FordPass Connect. This connected services mobility app allows you to operate your vehicle remotely with lock/unlocking, schedule starts, and more. Upgrading to the Mach 1 Premium adds heated front seats and aluminum pedals.
Main competitors are the Mazda MX5, Nissan Z, Chevrolet Camaro, and Dodge Challenger.
Find the Best Car Insurance Rates for Your Mustang Online Today
If you drive a Ford Mustang, we encourage you to shop around and allow Freeway Insurance to help you explore your coverage options. We have several types of policies available, including state minimum liability and full coverage for greater peace of mind.
To get started, get in touch with us today by requesting a quote on our website, visit one of our offices, or call 800-777-5620 for one of our friendly agents to give you a rundown of what Freeway Insurance offers!