How Much is Car Insurance for the Chevrolet Colorado?
If you already own a Chevrolet Colorado or plan to buy or lease one and are looking for auto coverage, you will want to know that annual premiums for this popular midsize pickup are $2,028 and $1,092 for full and minimum liability coverage, respectively.
Freeway Insurance can help you find an auto policy that fits your needs and budget. Our agents are ready to help. Get started today with a free quote.
Getting a Free Auto Insurance quote with Freeway is easy!
Comparing Insurance Costs for the Chevy Colorado to Other Vehicles
Coverage estimates for this pickup are higher than similar midsize pickups but can trend a bit lower, with annual full liability coverage rates dipping as low as $1,222 and minimum liability coverage rates  being as affordable as $490. These lower rates generally depend on various factors, like where you live and drive as well as your age, gender, and road experience.
Here's how this Chevy midsize truck's annual premium stacks up against similar models.
Types of Car Insurance Coverage for a Midsize Truck
All states require drivers to have some form of minimum liability coverage. If you have a basic policy, it should be at least the state-required minimum liability to cover physical injuries and property damage if you cause a crash.
A full coverage policy lists these amounts and also includes comprehensive and collision protection. This covers your costs if your pickup is damaged, even when the wreck is your fault or when you aren't driving, such as hail damage or theft.
Minimum liability policies are cheaper than full coverage but have very specific limitations. If you cause a crash that physically hurts the other driver and any passengers involved, including those riding with you, your policy will pay the up to the amount your policy specifies for medical costs — and that's it. You have to pay for the rest out of pocket.
Full Coverage
A full-coverage auto policy combines liability, comprehensive, and collision. This protects you financially if you cause a crash or if something outside of your control happens to your truck.
Say you're pulling out of a grocery store parking lot in your pickup and accidentally rear-end the SUV ahead of you. Since there was no visible oncoming traffic, you thought the SUV's driver was going to quickly turn onto the avenue, but they didn't, abruptly hitting the brake to avoid crashing into one lone, oncoming car you couldn't see. Now, you're responsible for this fender bender.
The liability part of a full coverage policy helps takes care of any injury or damage claims the SUV's driver files, regardless of whether the crash was a mere tap on the back bumper or a more impactful hit.
Collision coverage would kick in if the circumstances were reversed — the other driver rear-ends you and they have no insurance – or maybe not enough to cover your full repair bill. In that case, your policy covers your costs and losses.
Comprehensive coverage takes care of damages that aren't related to a crash. If your midsize pickup is vandalized, stolen or is damaged in a weather event, your insurer will pay for repairs.
State Minimum Liability
All states require drivers to have minimum liability coverage that meets specific monetary amounts to help cover injuries and damages sustained by others involved in a crash you cause.
Requirements vary by state. Florida, for example, is a no-fault state, so in addition to having $10,000 to cover property damage, a basic policy must include $10,000 in personal injury protection.
Individual Factors That Influence Pricing for the Chevrolet Colorado
Several factors influence how much a driver will pay for auto coverage. Here's a look at some of the most common ones.
Loss Probability
Insurers calculate loss probability based on statistics. These statistics gauge how often the same make and model of your pickup has crashed in the city or region where you live and drive. This includes the extent of damage this vehicle type usually experiences or causes.
Vehicle Safety Features and Ratings
The Colorado does not have a safety rating from the National Highway Traffic Safety Administration. The 2023 model does come with a safety package, though, that includes rear cross-traffic braking and blind zone and rear parking steering assistance, which can help lower coverage rates.
Driver Age and Experience
Age is more than just a number to insurers. The longer you've been driving, the lower your premium will likely be, especially if you're considered a good driver with a clean record — little to no traffic citations, crashes, or claims.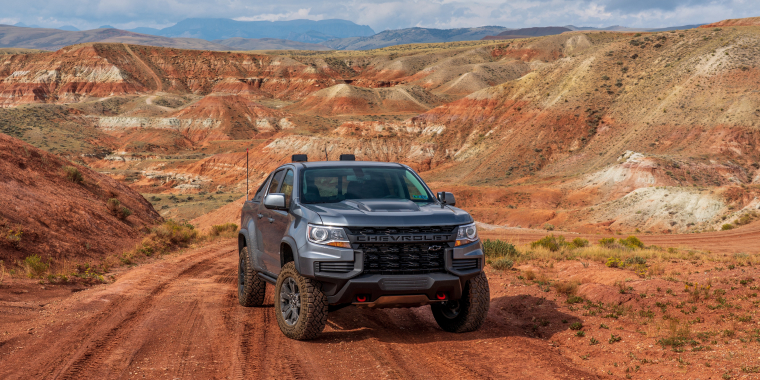 How Does a DUI Affect Insurance Rates for a Chevrolet Colorado?
If you're arrested and convicted for driving under the influence of alcohol or drugs, you'll be paying much more than $2,028 in annual auto premiums. That's because your insurer will consider you a high-risk driver, and this will cause your premium to skyrocket for at least three years — the least amount of time this infraction typically remains on your record.
Many states will also require you to file an SR-22 certificate. This tells the state you are carrying at least the minimum amount of insurance and it is reserved for drivers the state considers more liable to get into an accident or cause other damage. Not all insurers will handle you if you have an SR-22 requirement. You may have to shop around to find some cheap DUI insurance.
What Are Some Car Insurance Discounts for the Chevrolet Colorado?
Good drivers and those who bundle coverage typically secure the best rates. If you have a clean driving record, you can expect to pay 10% to 30% less for coverage annually. Someone who combines home and auto coverage gets an even bigger rate reduction, anywhere between 5% and 25%.
As a Chevy driver, you might also be eligible for:
A 10% to 15% new car discount if your pickup truck is less than three years old.
An 8% to 25% multi-car discount if you insure more than one vehicle on the same policy.
A vehicle safety discount of up to 40% since newer models of this vehicle have a built-in safety package.
Freeway Insurance offers several driver discounts that can benefit you. Our agents can help you find the best ones to lower your premium.
Find an office near you to help with your auto insurance
What Are Some of the Characteristics of the Chevrolet Colorado?
Introduced in 2004 to replace the Chevrolet S-10, the Colorado hit markets alongside the GMC Canyon — both trucks designed by the brands' owners, General Motors and Isuzu.
Designed as a compact pickup available in two- and four-door options, the first-generation Colorado had a 2.8-liter, 175-horsepower, LK5 Inline 4 engine. Its Z71 model had a 3.5-liter, 220-horsepower, L52 Inline 5 engine. In 2012, GM released the second-generation model as a redesigned midsize truck, which came with a 2.5-liter, 200-horsepower, Ecotec Inline 4 engine or a 3.6-liter, 305-horsepower, LFX V6 engine.
The 2023 model is available in five trims (WT, LT, Trail Boss, Z71, and ZR2) and comes with a 2.7-liter turbo engine with horsepower ranging between 237 and 310. Drivers can easily switch driving settings — off-road, terrain, Baja, tow-haul, and normal — to optimize road performance.
Find the Best Car Insurance Rates Online for the Chevrolet Colorado Today
Freeway Insurance can help you get great auto coverage for your compact or midsize pickup at a cheap rate. Contact us today to find an affordable policy that fits your needs and budget.
We can hook you up with the cheapest car insurance for your Chevrolet Colorado so you and your family are protected. Call us at (800) 777-5620, come get a fast and free quote for car insurance online, or stop by one of our locations.