How Much Is Car Insurance for Nissan Frontier?
The average annual premium for a Nissan Frontier is $558 for liability-only coverage and $1,394 for full coverage.
Although an auto policy with full coverage costs several hundred dollars more per year than a liability-only policy, it adds collision and comprehensive, which provides first-party benefits covering the cost of damages and injuries to yourself, your passengers, and your property up to specified limits.
If you are unsure if a liability-only or full coverage policy is right for you, allow Freeway Insurance to help you explore affordable car insurance options with a free, no-obligation consultation.
Getting a Free Auto Insurance quote with Freeway is easy!
Comparing Insurance Costs for Nissan Frontier to Other Vehicles
Nissan Frontier drivers should not expect to pay the same premiums as Honda Ridgeline, Chevrolet Colorado, Hyundai Santa Cruz, and Jeep Gladiator drivers.
Reasons include differing vehicle values, repair costs, safety ratings, theft rates, and even historical data advising your auto insurance company on the frequency and severity of claims associated with a particular vehicle make and model.
| Make/Model | Annual Full Coverage Insurance |
| --- | --- |
| Nissan Frontier | $1,394 |
| Honda Ridgeline | $1,752 |
| Chevrolet Colorado | $1,470 |
| Hyundai Santa Cruz | $1,640 |
| Jeep Gladiator | $1,834 |
Types of Car Insurance Coverage for Your Truck
Freeway Insurance is ready to help you explore several auto insurance options. Two options that immediately come to mind are state minimum liability (liability-only) and full coverage insurance.
Both types of insurance vary in terms of cost and degree of protection offered and are different in that one provides first-party benefits, while the other provides third-party benefits.
Full Coverage
A full coverage policy typically implies a combination of one or more policies, including liability, collision, and comprehensive.
Unlike liability-only (state minimum) policies, full coverage protects drivers better by offering additional first-party benefits to policyholders, their passengers, and the vehicle. It includes collision coverage, which covers the cost of repair or replacement of damages to your car in an accident, no matter who is at fault. It effectively covers vehicle-to-vehicle, vehicle objects, and rollover collisions.
In turn, comprehensive coverage pays out repair or replacement claims related to non-collision-related events such as natural disasters, fire, deer collisions, theft, and vandalism.
Although optional selections like roadside assistance, personal injury protection (PIP), uninsured/underinsured motorist coverage, and rental car reimbursement are helpful, some are not required (depending on the state) and only serve as add-ons for greater peace of mind.
State Minimum Liability
Nissan Frontier drivers can apply for state minimum liability coverage, comprising third-party benefits only with bodily injury and property damage liability.
Bodily injury liability pays for medical expenses incurred by opposing parties in an at-fault accident you are responsible for, up to specific liability limits. In turn, property damage pays for repairing and replacing third-party property such as a vehicle, house, mailbox, or fence — again, up to specified liability limits.
Every state has its minimum required liability limits. For example, Michigan (a no-fault state) requires $50,000 in bodily injury liability per person, $100,000 in bodily injury liability per accident, $10,000 in property damage, and $1 million in property protection insurance (PPI).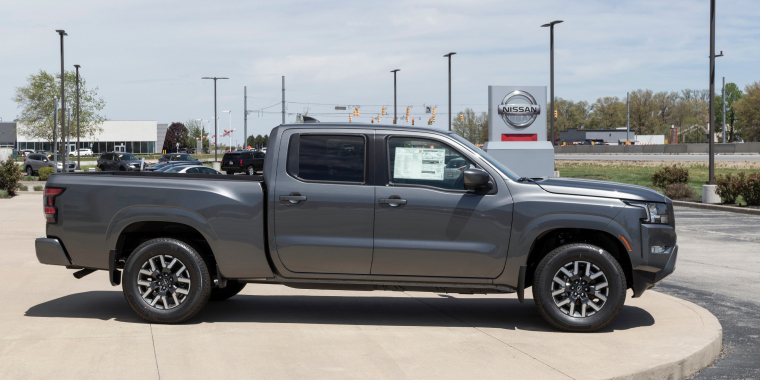 Individual Factors That Influence Pricing for a Nissan Truck
Each Nissan Frontier driver pays a certain rate based on several criteria.
Location
One of the biggest considerations is where you live. If you live in high crime, theft, and vandalism areas, expect to pay higher premiums to compensate for the increased risk auto insurance companies assume when insuring all policyholders in your region.
Trim Level
Another consideration is your vehicle's trim level. For example, the Nissan Frontier's higher-level trims offer a greater degree of complexity than lower-trim models with a more expensive cost of parts and labor, which is reflected in your premiums.
Policy
Lastly, do not forget how your policy is structured. If you have a low deductible and high liability limits (say, a $1,000 deductible and a 100/300/100 policy), then you can expect to pay more than policyholders with a higher deductible and lower liability limits, as more of the risk is passed on to the insurer.
How Does a DUI Affect Insurance Rates for a Frontier?
One of the worst things you can do is to be pulled over at a traffic stop and receive a DUI conviction.
DUI convictions represent massive red flags for any insurance company. A single conviction could reclassify you as a high-risk driver subject to rate increases (doubling or tripling in some cases), high-risk classification, limited insurance, and required filing of an SR-22.
This is a document letting the state know you carry the minimum required liability insurance filed with your state's Department of Motor Vehicles. Expect limited insurance options, with auto insurance companies reserving the right to outright deny or cancel your policy. It will help if you find an alternative insurance provider specializing in cheap DUI solutions.
Remember that the impact of DUIs on insurance rates varies depending on the insurer, state laws, and similar variables. For example, suppose you have recently been convicted of a DUI. In that case, we recommend contacting your insurance provider/agent to determine the estimated/exact rate increase and to work towards alternative options, assuming they want to continue to cover you.
What Are Some Car Insurance Discounts for a Nissan Frontier?
Two of the most popular types of discounts are good driver and multi-policy (bundling) discounts, which reward policyholders with a perfect driving record over the last three to five years and those that purchase two or more policies under the same umbrella (e.g., life, renters, home and auto)
Other discounts available include:
Find an office near you to help with your auto insurance
What Are Some of the Characteristics of the Nissan Frontier?
This is a vehicle in the compact pickup truck segment.
It comes in five trims, S, SV, Midnight Edition, Pro-X, and Pro-4X, powered by a single 310 horsepower and 281 pound-feet of torque 3.8-liter V6 engine with standard rear-wheel drive and available four-wheel drive.
Standard features include an 8-inch touch screen, Android Auto/Apple CarPlay compatibility, forward collision warning, and forward automatic emergency braking. Upgrading to its highest level trim, Pro-4X throws in a surround-view parking camera and a 10-speaker Fender premium stereo.
Main competitors are the Honda Ridgeline, Chevrolet Colorado, Hyundai Santa Cruz, and Jeep Gladiator.
Find the Best Car Insurance Rates Online for Nissan Frontier Today
If you are ready to find a new and affordable auto insurance policy, allow Freeway Insurance to help you explore all your options.
Are you ready to get started? It only takes less than five minutes to receive a quote from Freeway Insurance. Feel free to check out an online quote for auto insurance, call 800-777-5620, or visit one of our offices for a free, no-obligation consultation with one of our friendly agents. So, get in touch with us today!