How Much Is Auto Insurance for a Tacoma?
All states require drivers to buy car insurance. Tacoma owners pay an average annual minimum coverage premium of $486 and an average annual full coverage premium of $1,539.
This is slightly lower than the national average, which comes in at $565 for the state-required minimum liability and $1,771 for full coverage.
Your state may require more than just bodily injury and property damage liability. Some states make uninsured motorist coverage and personal injury protection (PIP) mandatory.
Some drivers choose to purchase full coverage simply for the added security of comprehensive and collision. If you are financing or leasing, however, you will most likely be required to carry this type pf policy, as well.
In many cases, the cheapest auto insurance is the state minimum, but your rates will depend on factors such as your driving history, your age and where you live.
This may or may not be the best insurance for you. Freeway agents are skilled at helping you figure out your most optimal choices.
Getting a Free Auto Insurance quote with Freeway is easy!
Comparing Insurance Costs for Toyota Truck to Other Vehicles
For a variety of reasons, Tacoma premiums may differ from competitors like the Honda Ridgeline, Nissan Titan, Chevrolet Silverado, and the Ford F-150. These reasons include the cost of parts and labor, safety features, and recall records.
| Make/Model | Annual Full Coverage Insurance |
| --- | --- |
| Toyota Tacoma | $1,539 |
| Honda Ridgeline | $1,520 |
| Nissan Titan | $1,867 |
| Chevrolet Silverado | $1,682 |
| Ford F-150 | $1,442 |
Types of Insurance Coverage for Your Pickup
Freeway offers help finding the right type of policy for your truck. We do the research for you and offer you several options to choose from, including state minimum liability, full coverage and more.
Full Coverage
Full coverage is an optional policy that includes comprehensive and collision, all first-party benefits that protect you financially in crashes and damages due to things outside of your control, such as theft, vandalism, and falling objects, regardless of who is at fault.
Full coverage costs more than a liability-only policy by several hundred dollars a year.
Note: full coverage does not include optional coverages, such as rental car reimbursement, loan/lease payoff coverage, roadside assistance, and medical payments coverage.
State Minimum Liability
Drivers must carry a minimum state liability policy, which offers third-party benefits for bodily injury and property damage.
Every state has its own distinct liability requirements. For example, all Louisiana drivers must carry $15,000 for bodily injury (per person), $30,000 for bodily injury (per accident), and $25,000 for property damage.
No-fault states, such as Minnesota, mandate drivers to carry liability in the amounts of 30/60/10, plus 25/50 in uninsured, 25/50 in underinsured and 40 in Personal Injury Protection (PIP).
We recommend full coverage over a state minimum liability policy whenever possible. Although it costs several hundred dollars more per year, you gain additional benefits such as collision and comprehensive insurance.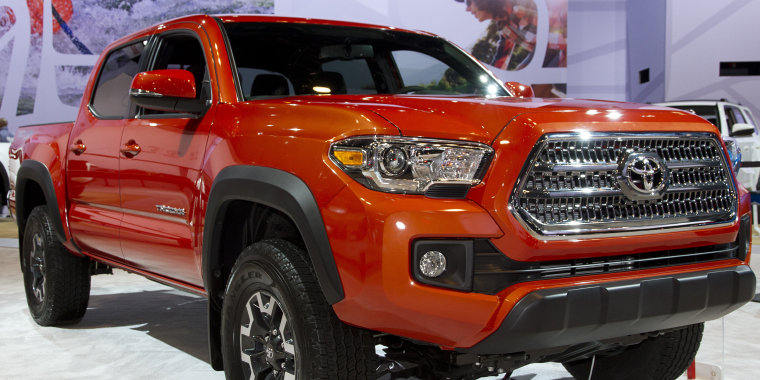 How Does a DUI Affect Insurance Rates for a Tacoma?
DUI convictions have a detrimental effect on premiums.
If you have been convicted of a DUI, expect your rates to skyrocket. Rates can remain elevated for up to 10 years, depending on the insurer and state's look-back window. With second or subsequent offenses, some insurers may cancel your policy outright.
In addition, many states will require you to file an SR-22 form, a proof of financial responsibility that lets the state know you carry the minimum coverage needed. Expect to file after your driver's license suspension ends. Any lapse in your policy will require the insurer to notify your state's DMV, which may result in another suspension, higher rates, and/or outright cancellation of your policy.
We recommend shopping around and comparing quotes from a minimum of three carriers to see if you qualify for lower premiums. Don't worry, not all hope is lost if you have been convicted of a DUI — it just takes a little more legwork to find DUI car insurance.
What Are Some Auto Insurance Discounts?
If you drive a Toyota Tacoma, there are many ways to save on your premiums via discounts.
One of the most popular discounts is the "Good Driver" discount, awarded to drivers who have maintained a clean driving record for the past three to five years. These may also be referred to as accident-free or safe driver discounts.
Other savings apply to drivers who drive less than 7,500 miles a year, bundle two or more insurance types on one policy, and enroll in defensive driving courses to take points off their record.
If your vehicle is equipped with eligible safety features, expect some savings (depending on the insurer). For example, VIN stitching, installing anti-lock brakes, and setting up anti-theft devices may qualify for a small discount.
Remember usage-based discount programs. For example, many auto insurers manage telematics programs that reward drivers for installing in-vehicle devices to monitor driving behavior. Connected to your vehicle's onboard diagnostics port, auto insurers can collect a lot of data, such as top speeds and braking behavior.
Find an office near you to help with your auto insurance
What Are Some of the Characteristics of the Toyota Tacoma?
This truck is considered a compact pickup. It has seven trims: SR, SR5, TRD Sport, TRD Off-Road, Limited, Trail Special Edition, and TRD Pro.
This model offers a choice of two engines — a 2.7-liter four-cylinder with 159 horsepower and a 3.5 L V6 with 278 horsepower, as well as two cab styles: Access Cab and Double Cab, with seating for four and five passengers, respectively.
Standard features on the SR trim include a 7-inch touch-screen infotainment system, Apple Carplay/Android Auto integration, and active safety features like forward automatic emergency braking and adaptive cruise control.
The Tacoma top trim, TRD Pro, includes a multi-terrain monitor, TRD-tuned suspension/exhaust, and a front skid plate for even greater rough terrain protection.
Main competitors are the Honda Ridgeline, Hyundai Santa Cruz, Nissan Frontier, Chevrolet Colorado, and Ford Ranger.
Find the Most Affordable Car Insurance Rates Online Today
All drivers must carry an active auto insurance policy. Whether it's state minimum liability, full coverage, or other options, Freeway is ready to help you find an affordable policy to keep you and your family safe on the road.
Get started by requesting a quote online, calling us at 800-777-5620, or visiting one of our offices. Contact us today!