Honolulu is one of the country's top gems. This Polynesian capital is flush with nature and adventure opportunities. Its must-see attractions include the world-famous Waikiki Beach, Diamond Head, Hanauma Bay, Manoa Falls, Magic Island, and the Aloha Tower.
All Honolulu drivers must have auto insurance. Let's learn more about Hawaii Car Insurance including penalties for driving without insurance, average rates paid by age group, and the types of discounts available to drivers with clean driving records.
Quick Facts
Honolulu is the state capital of Hawaii
The most famous beach in Hawaii is Waikiki Beach
The first foreigner to reach Honolulu was Captain William Brown (Britain)
The Pearl Harbor naval base attack during World War II occurred in Honolulu
Iolani Palace in Honolulu is the only royal palace in the country
Honolulu ranks amongst the top 10 most expensive cities in the United States to live in
How Much Does Car Insurance Cost in Honolulu, HI?
In Honolulu, drivers pay an average monthly rate of $130 for full coverage car insurance. That's close to the national average of $140 and quite a bit higher than Hawaii's overall rate at $94 per month. Honolulu drivers are paying for the congestion and increased likelihood of accidents and vehicle-involved crime, such as car theft. Those who live in more rural areas will pay less car insurance.
Full coverage consists of collision auto insurance, comprehensive car insurance and liability car insurance.
For the cheapest car insurance in Honolulu, the state-required minimum liability car insurance costs on average $43 per month, which is still quite a bit higher than Hawaii overall at $29 but slightly lower than the national average at $47 monthly. Hawaii is a no-fault state, so drivers must add Personal Injury Protection (or no-fault insurance) of $10,000 to the minimum liability car insurance.
Here is a breakdown of average car insurance costs for other cities in Hawaii:
| City | Full Coverage Insurance | Liability Insurance Coverage |
| --- | --- | --- |
| Honolulu | $130 | $43 |
| Hakalau | $148 | $43 |
| Kalaheo | $114 | $31 |
| Pahala | $148 | $43 |
Affordable Car Insurance Rates by Zip Code in Honolulu, Hawaii
Insurance companies factor population density and number of claims due to increased crime rates into insurance premiums. If you live in a zip code that has a higher number of claims, you'll pay more for your car insurance than someone who lives a zip code away that has fewer claims.
By zip code, here are the average monthly premiums paid by Honolulu residents:
| Zip Code | Full Coverage Insurance | Liability Insurance Coverage |
| --- | --- | --- |
| 96706 | $132 | $43 |
| 96813 | $130 | $43 |
| 96814 | $130 | $43 |
| 96815 | $130 | $43 |
| 96816 | $130 | $43 |
| 96817 | $130 | $43 |
| 96818 | $130 | $43 |
| 96819 | $130 | $43 |
| 96821 | $130 | $43 |
| 96822 | $130 | $43 |
| 96825 | $130 | $43 |
| 96826 | $130 | $43 |
Low-Cost Car Insurance Rates by Age in Honolulu, HI
Generally, young drivers pay more for car insurance due to a shorter driving record and increased likelihood of getting into an accident. Therefore, expect rates to decrease after age 25 and increase once you pass 60.
By age, here are the average monthly premiums paid by Honolulu residents:
| Age | Full Coverage Insurance | Liability Insurance Coverage |
| --- | --- | --- |
| Teenagers | $141 | $47 |
| 20s | $130 | $43 |
| 30s | $130 | $43 |
| 40s | $130 | $43 |
| 50s | $130 | $43 |
| 60s | $130 | $43 |
| 70s | $130 | $43 |
Unless otherwise specified, we use the following methodology to arrive at our average cost: male, age 30, lowest possible legal coverage allowed by Hawaii. Your rates will be determined by several factors, including your age, your gender and the amount of coverage you want to purchase.
Get a Quote for Car Insurance in Hawaii Today!
Driving Conditions in Honolulu, Hawaii
How Many Fatal Accidents Happen in Honolulu, HI?
In 2019, Honolulu had 16 fatal road traffic accidents, resulting in 18 fatalities. In total, there were 38 people involved, including 13 pedestrians.
In 2020, there were 8 reported fatal motor crashes in Honolulu.
How Are the Road Infrastructure and Bridges in Honolulu?
The City of Honolulu's Public Works Department has several divisions dedicated to improving roadway health, including the Mechanical/Electrical Division, Facilities Division, and Land Divisions. They are responsible for maintaining the integrity of roads (e.g., upgrading roadway lighting, planning energy conservation projects, refurbishing buildings, and fixing bridges and flood control systems).
For more information on Honolulu Public Works, visit Honolulu – Public Works Division.
Minimum Car Insurance Requirements in Honolulu, Hawaii
All Hawaii drivers must carry the following minimum liability limits required by the state:
Because Hawaii is a no-fault state, each driver's insurance company takes care of their own property damage and medical bills, regardless of who caused the accident. Drivers are required to carry PIP to help pay for medical costs incurred after a wreck, plus lost wages, and funeral costs.
What Are the Penalties for Driving Without Insurance in Honolulu, HI?
Driving without insurance in Honolulu will result in administrative penalties and fees.
First-time offenders face up to a three-month license and registration suspension, $500 in fines, and up to 100 hours of community service. However, penalties can be waived if you show proof of insurance. Second and third offenses will see even steeper fines from $1,500 to $5,000, as well as a bump in community service hours (up to 275 hours) and a year-long license suspension period until proof of insurance is provided.
You could also land a 30-day jail sentence in the most severe cases.
Lastly, Hawaii will require filing an SR-22, proving to the state that you carry the minimum required coverage.
Factors Allowed in Determining Car Insurance Rates in Honolulu, Hawaii
In Honolulu, insurers can consider many factors to determine your rate. These include but are not limited to:
Driving record
Claims history
Zip code of residence
Gender
Marital status
Age
Type of vehicle
Another factor used to determine car insurance rates is the amount of your deductible and liability limits. The lower your deductible and the higher the liability limits, the higher the premiums. Additionally, the cheapest car insurance in Honolulu will always be the state minimum required insurance.
We recommend letting your insurance carrier know if any of these factors change. A big change in one of these factors can result in significant savings.
Discounts for Car Insurance in Honolulu, HI
There are many car insurance discounts available, such as automatic billing discount, senior citizen discounts, and multi-policy discounts. To find out which discounts you may qualify for, be sure to ask your insurance agent. You could be rewarded on everything from bundling your auto and homeowners insurance policy to enrolling in autopay and paperless billing. Even driving an older make and model vehicle could save you hundreds of dollars a year.
Other common car insurance discounts available to Honolulu drivers include:
Get an Online Quote for Low-Cost Car Insurance in Honolulu Today!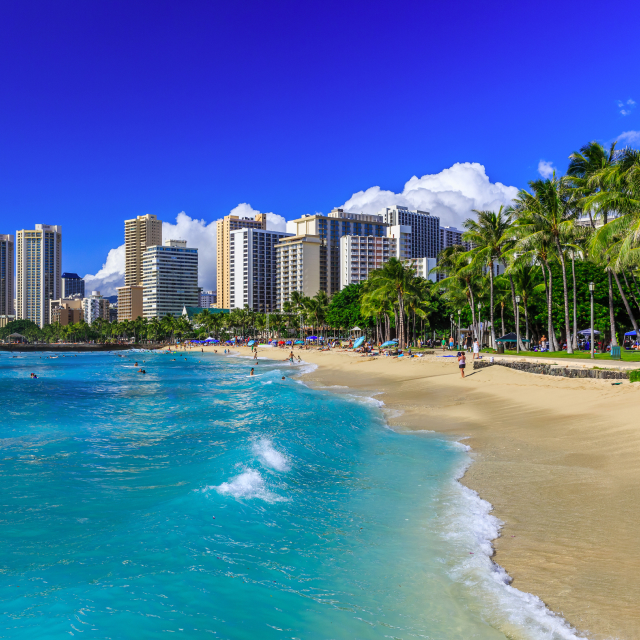 All Honolulu drivers must carry an active auto insurance policy to drive legally in the state. Let Freeway Insurance help you find the right policy at the right price.
To get started, request a free, no-obligation car insurance quote online, visit us at a Honolulu office near you, or call us at 800-777-5620.
Select a Product or Service to request a quote
Ready to Get a Quick Quote?