How Much Is Car Insurance for a Toyota Prius?
The average annual premium for a Toyota Prius is $1,662 a year for full coverage.
Full coverage car insurance offers better protection since it includes third- and first-party benefits in the form of liability, collision, and comprehensive coverage. Your state-required liability typically only offers third-party benefits if you cause an accident.
If you need help choosing which auto insurance policies are right for you, Freeway Insurance is ready to lend a hand with expert-level guidance on affordable policy options for you and your family.
Getting a Free Auto Insurance quote with Freeway is easy!
Comparing Insurance Costs for a Toyota Prius to Other Vehicles
Do not expect to pay the same rate for your Toyota Prius premiums as drivers with comparable vehicles like the Mazda 3 and the Honda Civic. Every make and model pays a different rate depending on several factors, including the cost of repairs, the number of safety features, the likelihood of theft, and hundreds of other variables auto insurance companies use to assess risk and calculate premiums accordingly.
Types of Car Insurance Coverage for a Prius
Freeway Insurance drivers can benefit from many types of policies, including state minimum liability, full coverage and others such as personal injury protection (PIP), although some states require it.
The main difference between state minimum and full coverage is what it covers. State minimum liability provides third-party benefits only (paying for damages and injuries sustained by others up to specified limits). In contrast, full coverage includes first and third-party benefits to you, your vehicle, and your passengers.
Full Coverage
A full coverage policy comprises three primary types: liability, collision, and comprehensive coverage.
Liability pays for injuries or property damages to others in an at-fault accident you cause, whereas collision and comprehensive pay for damages caused by collision and non-collision related events such as theft, vandalism, and falling tree limbs.
Although not a part of full coverage, states may also require that you apply for uninsured or underinsured motorist coverage, which compensates you for injuries and damages caused by drivers that are not covered/inadequately covered. As of this writing, more than 20 states require uninsured motorist, including Illinois and Kansas.
Other add-ons to your policy may include rental reimbursement, roadside assistance, and medical payments (MedPay). Although not required in most states, having greater peace of mind on the road is nice.
State Minimum Liability
State minimum liability is the minimum liability coverage your particular state requires. Liability is expressed as three numbers, indicating limits for bodily injury liability per person, bodily injury liability per accident, and property damage liability.
For example, all Colorado drivers must carry a 25/50/15 policy, which translates to $25,000 in bodily injury liability per person, $50,000 in bodily injury liability per accident, and $15,000 in property damage liability per accident.
Benefits to obtaining state minimum liability include adhering to your state's legal requirements, enhanced financial protection, and greater peace of mind knowing you are adequately covered in case of an accident.
Individual Factors That Influence Pricing for the Toyota Prius
Several factors affect how high or how low your auto insurance premiums are, including but not limited to your vehicle type, amount of coverage/deductibles, and the number of annual miles driven.
Vehicle Type
Premiums vary wildly by vehicle type. Generally, vehicles with a high rate of theft, repair costs, and lack of safety features are more likely to pay higher premiums versus cars with higher safety ratings and a lower cost of parts and labor.
Chosen Coverage and Deductibles
Your selected coverage and deductibles matter. The higher your limits and the lower your deductible, the higher your premium, as greater risk is passed on to the insurer for all future claims payouts.
Number of Annual Miles
Lastly, remember the number of annual miles driven. In the insurer's eyes, the fewer miles you drive per year, the least likely you will be involved in an accident, so your premiums will be adjusted accordingly.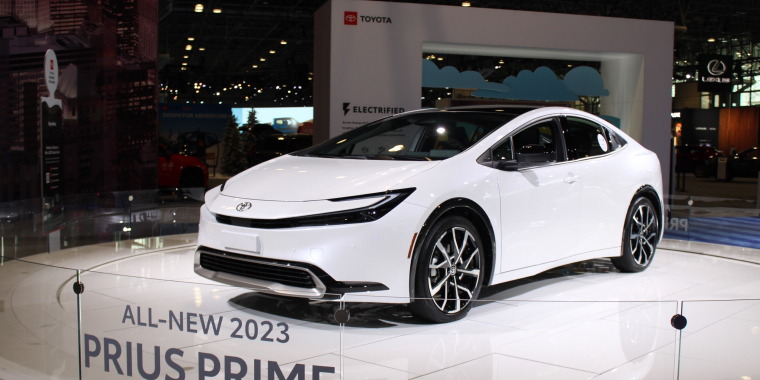 How Does a DUI Affect Insurance Rates for a Toyota?
One of the worst things you can do as a Toyota Prius driver is to be convicted of a DUI.
Even first-time DUI offenders will see their rates rise significantly. Now that you are reclassified as a high-risk driver, expect your premium to double or even triple, depending on the severity of the offense. On top of that, you will also be required to file an SR-22 or an FR-44, a policy add-on that lets your state know you are carrying the necessary liability.
Thirdly, your provider may decide not to renew your policy. If this happens, you may be forced to seek a new policy from providers specializing in DUI car insurance.
What Are Some Car Insurance Discounts for Your Hybrid?
Fortunately, Toyota Prius drivers can benefit from all auto discounts, including safe driver and bundling discounts. These discounts are awarded for maintaining clean driving records and purchasing two or more policies under the same roof, offering savings of about 20% off the annual premiums for each one (depending on the provider).
Other discount offers your insurer may offer include:
Anti-Theft Discount. Expect a small discount if you install anti-theft devices like tracking systems and immobilizers in your vehicle. All of this helps reduce the risk that your vehicle will be stolen, which is a plus sign with insurers.
Low Mileage Discount. If you drive infrequently or less than the average number of miles per year, you may be eligible for a low mileage discount. Typically, this discount is awarded if you drive 7,500 or fewer miles per year.
Good Student Discount. You may be eligible for a good student discount if you earn good grades at a qualifying college or university.
As a best practice, we recommend talking to your provider every time you renew to see if you qualify for new discounts. Switching to an older make/model vehicle, installing a new anti-theft device, or enrolling in a telematics program may save you a few extra dollars every month.
Find an office near you to help with your auto insurance
What Are Some of the Characteristics of the Toyota Prius?
The Toyota Prius is a vehicle in the hybrid car segment.
It is available in three trims: LE, XLE, and Limited, as well as the choice of two power trains, a front-wheel drive model with one electric motor and an all-wheel drive model with two electric motors.
Standard features include an 8-inch touch screen, Apple CarPlay/Android Auto compatibility, six USB ports, a Wi-Fi hotspot, a six-speaker stereo, and 17-inch alloy wheels. Upgrading to the highest level trim, Limited, upgrades screen size to 12.3 inches with an 8-speaker JBL stereo, power liftgate, optional rear camera mirror, and heated rear seats.
Main competitors are the Mazda 3, Honda Civic, Chevrolet Cruze, and Nissan Sentra.
Find the Best Car Insurance Rates Online for the Toyota Prius Today
Everyone can benefit from an affordable minimum liability or full coverage policy from Freeway Insurance.
Freeway Insurance is ready to help if you want to explore your options. There are three ways you can request a quote. The first is by visiting us online, calling 800-777-5620, or stopping by one of our offices to speak with an agent knowledgeable about our auto insurance product.s Get in touch with us today!