How Much Is Auto Insurance for a Chevy Cruze?
The average annual car insurance premium for a Cruze is $527 for minimum coverage and $1,642 for full coverage.
Those who own their vehicle may choose to purchase the state minimum, while those who finance will typically need to buy a full coverage policy. In many cases, the cheapest coverage for a Cruze will be the minimum requirements, although how much you pay depends on your specific circumstances. More mature drivers with a clean driving record who pick a compact car with a good safety record will pay less in premiums than a young person behind the wheel who hasn't had a chance to establish a driving pattern yet.
Getting a Free Auto Insurance quote with Freeway is easy!
Comparing Insurance Costs for Your Cruze to Other Vehicles
Chevrolet Cruze drivers can expect different premiums compared to competing makes and models like the Toyota Corolla and the Honda Civic. This variance is due to safety features, body style, cost of replacement parts, labor, and similar factors that change from vehicle to vehicle.
| Make/Model | Annual Full Coverage Insurance |
| --- | --- |
| Cruze | $1,642 |
| Mazda 3 | $1,668 |
| Honda Civic | $1,733 |
| Toyota Corolla | $1,695 |
| Nissan Sentra | $1,745 |
Types of Coverage for a Cruze
There are many auto policy options, including full coverage and state minimum liability. Your state's required minimum liability is the bare bones policy, while a more robust package offers greater protection.
Full Coverage
Full coverage refers to liability, comprehensive, and collision. In addition, it offers first-party benefits (as opposed to third-party benefits with liability-only policies) that cover a broader range of scenarios such as vehicle-to-vehicle, vehicle-to-object, and rollover collisions. In contrast, comprehensive covers non-collision-related events like falling tree limbs and natural disasters.
Full coverage car insurance combines comprehensive and collision, offering greater protection than a state minimum liability policy. Any non-collision-related accidents are covered by comprehensive, such as flood damage, animal hits, falling objects, and storms. In addition, collision covers out-of-pocket expenses to your vehicle when it hits another car or object.
Thanks to the greater number of protections it provides, full coverage generally costs hundreds of dollars more per year than liability coverage.
Drivers may also include other policies like gap, rental car reimbursement, roadside assistance, and uninsured/underinsured motorist coverage.
Whether you have a state minimum liability or full policy, you can select liability limits (minimum or higher) and a deductible amount as low as $500.
State Minimum Liability
State minimum liability refers to bodily injury and property damage. Every state requires minimum liability limits.
For example, California requires a 15/30/5 policy and Texas has higher mandated liability limits of 30/60/25. The first number stands for bodily injury liability per person, the second for bodily injury liability for accident, and the third represents property damage liability per accident.
If you can afford it, go for higher liability limits. A single at-fault accident today may easily result in $55,000 worth of medical expenses and $34,000 worth of property damage, all of which would blow past California's minimums — forcing opposing drivers to file lawsuits to recover the rest.
Garnished wages, seized assets and other ways of fund recovery are not out of the question. Consider a 100/300/100 policy for greater peace of mind.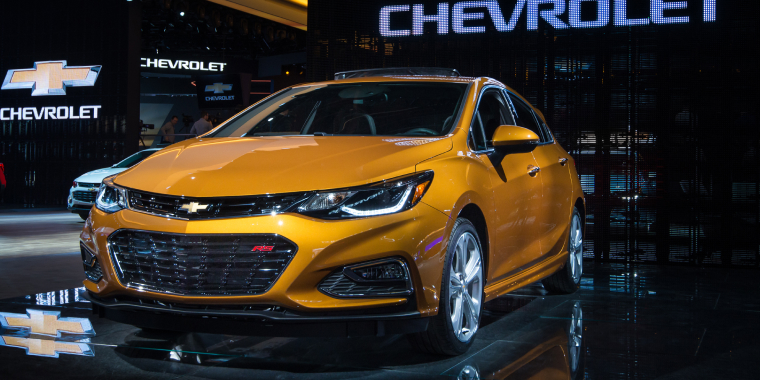 How Does a DUI Affect Insurance Rates for My Chevy Compact
Be warned, DUIs will wreak havoc on your insurance rates.
For starters, it is common for your premiums to hike as much as 100%, depending on the severity of the offense. In addition, some insurance carriers charge higher rates than others for DUIs.
Once your State Department of Motor Vehicles notifies your provider of your DUI conviction, the likely next step is to file an SR-22 form, a proof of financial responsibility that lets the state know you are carrying the minimum required liability. Note — SR-22s are not an actual policy, but a certificate that shows you have insurance.
Other factors that determine how high your premiums get after a DUI conviction include your age, the number of DUIs on record, and the time since your last convention. In certain situations, your carrier may deny you a policy outright, citing you as too high-risk to insure.
Fortunately, not all hope is lost after you've been convicted of a DUI. Our best recommendation is to shop around and compare rates from a minimum of three DUI insurance providers. Fortunately, not all providers treat DUI convictions the same, but you should still expect to pay significantly higher rates than drivers with clean driving records.
What Are Some Auto Insurance Discounts?
There are many discounts Chevrolet Cruze drivers can qualify for as long as they have an account in good standing.
When shopping around, it is essential to know that not all insurers offer the same discounts or apply the same rules. For example, one insurer may require that you maintain a clean driving record for a minimum of five years versus three years with other companies.
Find an office near you to help with your auto insurance
What Are Some of the Characteristics Of the Cruze?
This is a vehicle in the compact car segment.
It is available in five trims: L, LS, LT, Diesel, and Premier, as well as two engine options, a base 153-horsepower turbocharged 1.4-liter four-cylinder and a 137-horsepower turbocharged 1.6-liter four-cylinder diesel engine.
Standard features include a 7-inch touch screen, 4-speaker stereo, and Apple CarPlay/Android Auto capability. Higher-level trims come with a sunroof, keyless entry, and automatic climate control.
It also comes with two cargo space options. The LS and LS trims come with a 14.8 cubic-foot trunk and the LT/Premier trims have a smaller 13.9 cubic-foot trunk.
Main competitors are the Mazda 3, Honda Civic, Toyota Corolla, and Nissan Sentra.
Find the Best Car Insurance Rates for Your Chevy Cruze Online Today
Freeway Insurance is ready to step up to the plate and help you review all your coverage options. Getting started with Freeway Insurance is easy. First, request a quote by visiting our website, making an in-person visit to one of our offices, or calling 800-777-5620 to speak with one of our agents. Contact us today!