How Much Is Auto Insurance for a Toyota 4Runner?
When it comes to the yearly cost of insurance for a Toyota 4Runner, it depends on the type of auto insurance coverage you purchase. The average you will pay is $761 for minimum coverage and $1,585 for full coverage.
When you purchase full coverage insurance, you get different types of coverage under one policy. This includes collision, comprehensive, and liability coverage that pays for your damages while protecting you from negligence claims from other drivers. You could also purchase the minimum coverage required by the state, which is typically liability only.
Are you ready to find the right policy for your Toyota 4Runner? If so, Freeway Insurance is here to help. Call right away to discuss the policies that fit within your budget.
Getting a Free Auto Insurance quote with Freeway is easy!
Comparing Insurance Costs for Your 4Runner to Other Vehicles
Your insurance premiums for your Toyota 4Runner can vary compared to drivers of other similar vehicles. Below is a breakdown of the average cost of coverage for competitors to the 4Runner:
| Make/Model | Annual Full Coverage Insurance |
| --- | --- |
| Toyota 4Runner | $1,527 |
| Kia Telluride | $1,516 |
| Ford Bronco | $1,822 |
| Jeep Grand Cherokee | $1,238 |
| Subaru Outback | $1,378 |
Types of Car Insurance Coverage for Your 4Runner
When it comes time to purchase insurance for your Toyota 4Runner, you have several options to consider. You are required under state law to carry a minimum amount of liability insurance, but you have the right to purchase more coverage than that. While it will cost you higher premiums, it could save you in the long run if you cause an accident.
The type of policy and model of your vehicle are only two of the many factors that determine how much your coverage will cost. Talking to an agent is the best way to learn what to expect.
Full Coverage
There are real benefits that come with paying for full coverage car insurance. This type of coverage not only protects you from third-party claims, but also helps pay for your own damages in a crash.
Your liability insurance pays for the damages of other parties if you are responsible for the accident. While it does not pay for your own losses, your other coverages will.
Collision coverage pays for damages you incur after you collide with another vehicle, pedestrian, motorcycle, or other object. In addition to collision coverage, your comprehensive coverage pays for damages that you incur from things other than collisions. This could include everything from downed tree limbs to vandalism.
State Minimum Liability
The laws of each state require drivers to have a minimum amount of liability insurance for their vehicles. The purpose of this requirement is to make certain that drivers have their losses covered when they are not at fault for a crash.
Each state sets its own minimum requirements. In general, a state will require drivers to carry a minimum amount of liability coverage to help pay for bodily injuries per person, bodily injuries per accident, and property damage per accident.
Individual Factors That Influence Pricing for the Toyota SUV
The cost of insuring a Toyota 4Runner is different from one person to another. While there are many factors that could impact the cost of your policy each year, some major ones to consider include the following:
Driving History
Your driving history is a factor in the cost of your car insurance. Drivers with numerous accidents or speeding tickets can expect to pay more. Having a clean record could save you money on your insurance rates.
Age
Your age is by far one of the most important factors that insurance companies take into account. Young drivers can expect to pay more, given that, statistically, they are more likely to cause a crash. The cost of insurance for older drivers is less expensive.
Zip Code
Where you live is also important. Statistically, accidents are more common in some zip codes than others. If you live in a zip code with a high accident rate, your premiums could go up.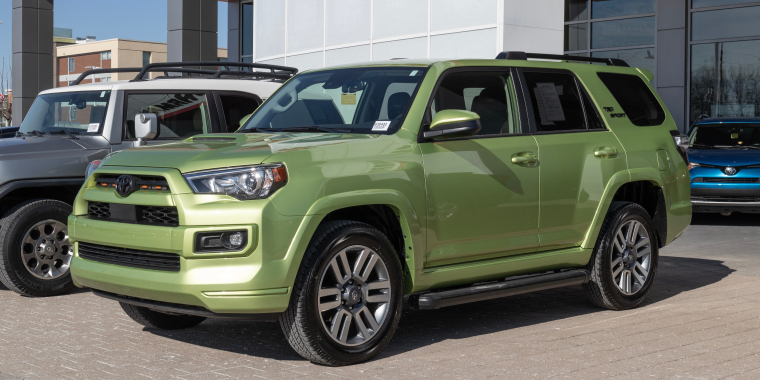 How Does a DUI Affect Insurance Rates for a Toyota?
There are severe consequences if you get a DUI. One such consequence is that your auto insurance premiums will increase. Insurance companies treat anyone with a DUI conviction as a high-risk driver, which can significantly impact premiums.
On top of paying more for car insurance, you might also have to comply with SR-22 requirements. These requirements are put in place so that you can prove to the government you are financially able to pay for any accidents you cause.
If your insurance company drops you after a DUI, you can shop around for cheap DUI insurance.
What Are Some Auto Insurance Discounts?
The cost of auto insurance can be daunting, but the good news is that there are ways to save money. The best way to keep the cost of your policy down is by taking advantage of as many discounts as possible.
One possible discount is the good driver discount. This discount requires a clean driving record over the last few years. Additionally, you could also save with the following discount options:
You might also be able to keep down the price of your auto insurance by bundling your auto policy with other types of coverage. One example involves obtaining your auto policy from the same insurance company that provides your homeowner's coverage.
Find an office near you to help with your auto insurance
What Are Some of the Characteristics of the 4Runner?
This is one of Toyota's oldest and most successful models. First launched in 1983, this SUV has been in constant production ever since across five generations. The original one was a compact SUV that was essentially an extension of a small pickup truck. Over the years, it has shifted to become something between a compact and midsize SUV.
The name of the vehicle is designed to play on the term "forerunner." However, Toyota includes the number "4" in the name to symbolize four-wheel drive. It includes a variety of standard safety equipment, including brake assist, traction control, anti-lock brakes, and side curtain airbags.
Find the Best Car Insurance Rates Online for Toyota 4Runner Today