How Much Is Car Insurance for a Nissan Titan?
The average annual premium for a Nissan Titan auto policy is $1,746 for full and $504 for minimum coverage.
The two main types of policies drivers can purchase are state-required minimum liability and full coverage, which offer a mix of first and third-party benefits that include one or more of liability, collision, and comprehensive.
Have any questions about your next auto insurance policy? If so, Freeway Insurance is ready to step up to the task. Let us help you explore your options and find an affordable policy for you and your family.
Getting a Free Auto Insurance quote with Freeway is easy!
Comparing Insurance Costs for a Nissan Titan to Other Vehicles
Nissan Titan drivers can expect to pay different rates than drivers of comparable vehicles like the Ford F150, Chevrolet 1500, and Toyota Tundra. Every car model differs regarding theft rate, claims rate, cost of parts of labor, body style, engine type, and other variables that auto insurance companies use to evaluate risk.
Types of Car Insurance Coverage for a Nissan Truck
Nissan Titan drivers can benefit from all types of auto insurance options, including state minimum liability and full coverage.
State minimum liability provides third-party benefits, whereas full coverage provides third and first-party benefits through collision, comprehensive, and liability.
Full Coverage
One of the best things Nissan pickup drivers can do is to obtain a full coverage policy that includes liability, comprehensive, and collision coverage. This provides extensive protection and coverage for you and your passengers.
Another reason to choose full coverage is to comply with loan or lease requirements. Your lender or leasing company may require this type of policy to protect their investment in case of damage or a total loss. Failing to carry full coverage at any point may violate your contractual agreement.
Lastly, it's important to note that full coverage includes liability, collision, and comprehensive coverage and probably roadside assistance.
State Minimum Liability
State minimum liability refers to the minimum amount of auto insurance coverage required by your state. It helps protect you in an accident and includes bodily injury and property damage coverage.
State minimum liability is expressed as three numbers, for example, 100/300/100, which represents $100,000 in bodily injury liability per person, $300,000 in bodily injury liability per accident, and $100,000 in property damage liability per accident.
Bodily injury coverage pays for medical expenses and lost wages for third parties injured in an accident where you are deemed responsible. Claims payouts can cover the cost of hospital bills and doctor visits. Property damage liability pays for repairing and replacing third-party property when you are at fault in an accident. Claims payouts can cover vehicle repairs, damaged home siding, fencing, and more.
Individual Factors That Influence Pricing for Your Titan
In addition to age, gender, and location, many other variables affect car insurance pricing.
Three factors that come to mind are prior insurance coverage, selected coverages/deductibles, and vehicle make and model.
Prior Insurance Coverage
Previous lapses in insurance coverage can impact future premiums, as insurers view continuous coverage as a sign of responsible driving behavior.
Selected Coverages & Deductibles
Your choice of coverage limits and deductibles matters. Higher coverage limits and lower deductibles lead to higher premiums.
Vehicle Make/Model
Since each car has different repair/replacement costs, safety ratings, theft risk, historical claims, and other variables, these factors affect your premiums. That's why insuring a late-model Tesla Model X costs significantly more than insuring a 2017 Honda Accord or a 2014 Toyota Camry.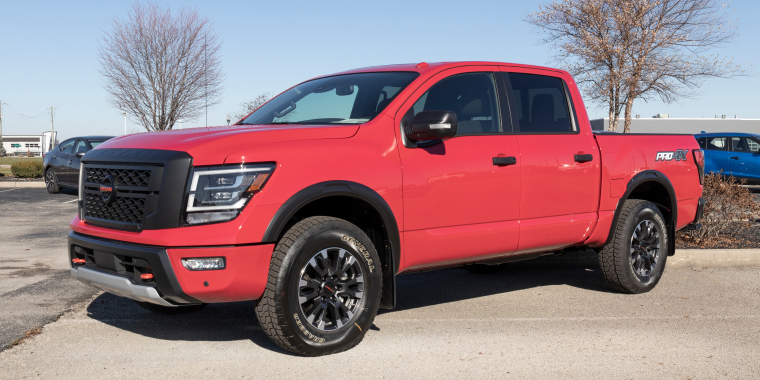 How Does a DUI Affect Insurance Rates for a Pickup Truck?
Unfortunately, any Nissan Titan driver convicted of a DUI will face serious consequences regarding their auto insurance rates and policy.
You can expect increased premiums as you have been reclassified as a high-risk driver. This is to account for the higher likelihood of claims. Additionally, you may be required to file an SR-22, which is a certificate of financial responsibility that informs the state you have the minimum required insurance coverage to drive legally.
Furthermore, you may face non-renewal or cancellation of your policy. In such cases, you might encounter difficulties in finding other insurance companies willing to insure you. You may need to shop around to find cheap DUI insurance.
It's important to note that the impact of a DUI conviction on your insurance rates depends on various factors, including your driving record, location, and the underwriting policies of different providers.
What Are Some Car Insurance Discounts for a Nissan Titan?
Policy discounts can help drivers save a few dollars every month. Two that immediately come to mind are safe driver and multiple policy discounts. Good driver discounts award drivers for no claims and accident-free records (for the past three to five years), whereas multi-policy discounts are awarded if you purchase two or more policies with the same company.
Other discounts include:
Low Mileage Discount. If you do not drive your vehicle often, expect to qualify for a low mileage discount. Tiered low mileage discount programs also award incremental savings based on 7,500, 10,000, and 15,000 miles or fewer miles driven.
Student Discounts. If you're a high school or college student with a minimum qualifying GPA at an eligible school, you might get a good student discount.
Pay in Full Discount. You can enjoy potential savings with a pay-in-full discount if you prefer to pay your entire annual premium upfront instead of monthly installments.
Remember that discounts vary depending on the insurance provider and applicable state laws. Feel free to maintain an open line of communication, calling your insurer every couple of months to see if you qualify for any new discounts.
Find an office near you to help with your auto insurance
What Are Some of the Characteristics of the Nissan Titan?
This is a vehicle in the pickup truck segment.
It has four trims: S, SV, Pro-4X, Platinum Reserve, and a single 400-horsepower 5.6-liter V8 engine.
Standard features include an 8-inch touchscreen display, Apple CarPlay/Android Auto compatibility, a six-speaker audio system, and two USB ports. It also has a suite of driver assistance features like forward collision warning, automatic emergency braking, and automatic high-beam headlights.
Main competitors are the RAM 1500, Ford F150, GMC Sierra 1500, and Chevrolet Silverado 1500.
Find Affordable Car Insurance Rates Online for Nissan Titan Today
Freeway Insurance is dedicated to assisting drivers discover an affordable auto insurance policy that meets all your coverage needs.
To begin your journey with Freeway Insurance, you have three options to reach us. You can request a quote online, give us a call at 800-777-5620, or visit an office for a free, no-obligation discussion with one of our friendly agents. Get in touch with us today!