How Much Is Auto Insurance for a Nissan Murano?
The average annual insurance premium for a Nissan Murano depends on the type of auto insurance coverage you select. The average you will pay is $822 for minimum coverage and $1,680 for full coverage.
Full coverage is the term used to describe policies that include comprehensive, liability, and collision coverage. Full coverage encompasses coverage for not only most of your damages but also the losses of anyone else in an accident if you are at fault. State minimum insurance requirements only include liability coverage, which protects other drivers when you are at fault.
Need help finding the best policy for your Nissan Murano? Freeway Insurance can help. Let our agents help you review your options and select the best possible coverage that fits your budget.
Getting a Free Auto Insurance quote with Freeway is easy!
Comparing Insurance Costs for Your Murano to Other Vehicles
If you drive a Nissan Murano, the cost of your monthly insurance premiums can vary compared to other vehicles. Although there are many factors that can impact the cost of your insurance, the make and model you choose can impact those expenses.
Types of Car Insurance Coverage for Your Murano
When it is time to purchase insurance for your Nissan SUV, there will be different options in front of you. You could choose to go with the minimum amount of liability coverage allowed by law. Alternatively, you could choose a full coverage policy at a higher price that provides greater protection.
The cost associated with your insurance will depend, in part, on what policy you choose. However, this is only one of the factors that could have an impact on the cost of your car insurance.
Full Coverage
The purpose of full coverage car insurance is to ensure you are protected financially in case of an accident. Minimum insurance policies only cover the damage you cause to other drivers. A full coverage policy will protect you from third-party claims and pay for your losses.
Full coverage policies are made up of different types of coverage. In addition to liability coverage, you also receive comprehensive and collision coverage as well. Liability insurance exists to protect you from claims from other parties. If you cause an accident, your liability coverage can pay for the property damages and bodily injuries suffered by the other parties.
Collision insurance covers your losses in a crash. As the name suggests, this insurance covers damages when you collide with something else. This includes collisions with other vehicles, fixed objects, or even cyclists.
Finally, full coverage policies also include comprehensive coverage. Comprehensive covers the property losses that do not stem from a collision. In other words, you could receive compensation based on damage caused by severe weather or vandalism.
State Minimum Liability
On the other end of the spectrum is the state minimum liability insurance coverage. Every state requires motorists to carry a minimum amount of liability insurance before they can drive. This is to provide peace of mind knowing that a motorist who causes an accident has the resources to pay for your losses.
The limits set in one state may be different from those in another. However, each state typically requires a motorist to carry a minimum amount of coverage for bodily injury costs per person, bodily injury costs per accident, and property damage losses per accident. For example, Missouri requires drivers to carry $25,000 in bodily injury per person, $50,000 in bodily injury per accident, and $25,000 for property damage per accident.
Missouri also requires uninsured motorist coverage. This is an inexpensive add-on to your policy that is well worth it if you get hit by a driver with no insurance or a hit and run.
Individual Factors That Influence Pricing for the Murano
Various factors impact the cost of your car insurance. While your choice of a Nissan Murano can impact what you pay, so can other factors, which include:
Theft Risk
Insurance companies take into account statistics related to auto theft. This is because some types of vehicles are more frequently stolen than others. The good news for owners of the Murano is that their vehicle is not on the list.
Zip Code
Your zip code can impact the cost of your car insurance. This is because accidents are more likely to occur in some zip codes than others. Insurance companies will charge more if you live in a zip code with a high accident rate and/or a high crime rate.
Age
Your age is a major factor in the cost of your car insurance. If you are a teenager or in your 20s, you can count on these costs to be significant. If you are older, your costs will continue to drop over time.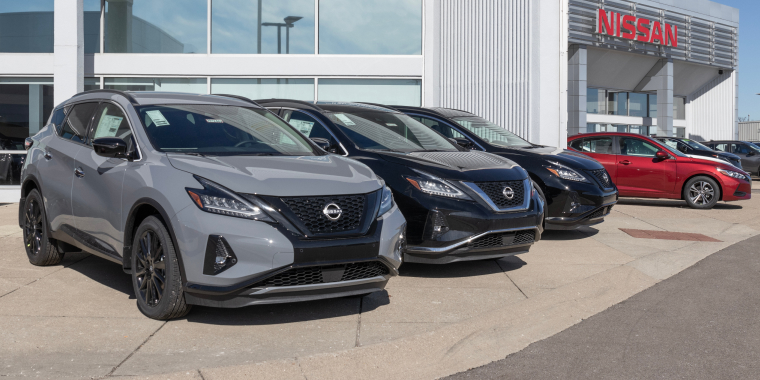 How Does a DUI Affect Insurance Rates for a Nissan SUV?
A conviction for DUI can have a harmful impact on the cost of your car insurance. In some cases, it could result in the cancellation of your policy. In any case, you should expect to pay more for insurance with a DUI on your record. You may need to shop around to find an insurer that carries cheap DUI solutions.
On top of increased costs, you can also expect to comply with SR-22 requirements. These requirements provide proof to the government that high-risk drivers have insurance coverage in case they cause an accident.
What Are Some Auto Insurance Discounts?
If you are concerned about the cost of insuring your Nissan Murano, the good news is that there are ways to bring that price down. The best way to save money on your policy is by qualifying for as many different car insurance discounts as you can.
One of the best discounts is the one offered for safe drivers. To get the good driver discount, you will need to avoid accidents and moving violations for a number of years. Some of the other possible discounts include the following:
In addition to these discounts, there are other ways to save money on your policy. For example, you could start bundling your auto insurance with other types of policies, like your homeowner's policy. Buying multiple types of policies from the same insurer will save you money.
Find an office near you to help with your auto insurance
What Are Some of the Characteristics of the Murano?
The Nissan Murano is a mid-size crossover SUV that is currently in its third generation. First produced in 2002, the Murano offers either front-wheel or all-wheel drive, depending on the model you select.
The Murano was Nissan's first attempt at a crossover SUV in North America. Over time, Nissan added a second crossover of similar size known as the Rogue. The Murano enjoys a five-star safety rating from the National Highway Traffic Safety Administration, with zero recalls issues in 2022.
Find the Best Car Insurance Rates for Your Nissan Murano Online Today