How Much Is Car Insurance for a Dodge Durango?
The average annual premium for a Dodge Durango is $1,713 for full coverage.
Full coverage with collision and comprehensive offers greater protection than state minimum liability coverage, packaging liability, collision, and comprehensive insurance. These offer third-party and first-party benefits with car insurance coverage for the cost of damage or injuries sustained in an accident, regardless of who is at fault.
If you have any questions about affordable policies, then Freeway Insurance is ready to help. We are ready to help you explore all of your options within your budget.
Getting a Free Auto Insurance quote with Freeway is easy!
Comparing Insurance Costs for a Dodge Durango to Other Vehicles
Every Dodge Durango driver should expect to pay a different rate than drivers are competing models like the Ford Explorer, Mazda CX-5, Hyundai Tucson, and Subaru Forester, thanks to several factors. These factors include vehicle value, safety ratings, insurance claims history, driver profile, and dozens of similar variables auto insurance companies use to assess risk.
| Make/Model | Annual Full Coverage Insurance |
| --- | --- |
| Dodge Durango | $1,713 |
| Ford Explorer | $1,536 |
| Mazda CX5 | $1,522 |
| Hyundai Tucson | $1,278 |
| Subaru Forester | $1,064 |
Types of Car Insurance Coverage for the Durango
Freeway Insurance offers a wide range of coverage options for Dodge Durango drivers with every need and budget, including state minimum liability and full coverage.
The main difference between both policies is scope (one provides first-party benefits, and the other offers first/third-party benefits). Full coverage is highly recommended for a greater level of protection as it includes liability, collision, and comprehensive, which covers other drivers and vehicles as well as your own damages due to collision and non-collision-related events like theft, hail, and vandalism.
Full Coverage
A full coverage policy typically implies a combination of liability, collision, and comprehensive coverage. Optional (or mandatory selections depending on the state) include a combination of medical payments (MedPay), personal injury protection (PIP), and uninsured/underinsured motorist policies. Thanks to this enhanced protection beyond the basic state minimum liability requirements, expect to pay several hundred dollars more per year for greater peace of mind.
You may also add optional selections like roadside assistance and rental car reimbursement.
State Minimum Liability
State minimum liability refers to the minimum amount of auto insurance company your state requires. Using Delaware as an example, all drivers must carry a minimum 25/50/10 policy, or $25,000 in bodily injury per person, $50,000 in bodily injury per accident, and $10,000 in property damage liability per accident.
Delaware also requires $15,000/$30,000 PIP for one person/per accident.
Note that state minimum liability has several drawbacks, including insufficient coverage, limited personal protection, and higher out-of-pocket costs. For example, Delaware's requirement of $10,000 in property damage liability per accident falls below the average cost of a new vehicle ($40,000+). Any total loss to another vehicle in an at-fault accident will force you to pay for the remaining expenses out of pocket.
Secondly, state minimum liability only provides third-party benefits and does not include coverage for your own injuries or vehicle damage. That's why we highly recommend full coverage, which adds first-party benefits such as collision and comprehensive.
Individual Factors That Influence Pricing for the Dodge SUV
Several individual factors can impact car insurance pricing. Three factors influencing auto insurance for Dodge Durango drivers are driving record, vehicle characteristics, and personal demographics.
Expect the lowest premiums to be paid by drivers with clean driving records, no at-fault accidents, moving violations, or claims within the last three to five years. Even a single accident can skyrocket your premium by as much as 50% or more.
Secondarily, vehicle characteristics count. Every vehicle make and model pays different premiums thanks to several factors, including theft rates, crash test ratings, advanced safety features, and historical data auto insurance companies have on hand to determine the likelihood of future claims payouts for each make and model.
Lastly, remember personal demographics. Younger drivers under 25 generally pay the highest premiums thanks to a lack of driving experience and a higher likelihood of being involved in accidents.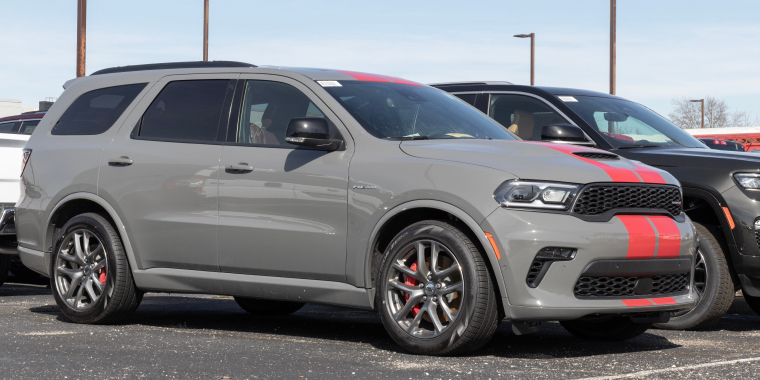 How Does a DUI Affect Insurance Rates for a Durango?
DUI convictions will result in fines, administrative hassles, and plenty of headaches.
For starters, you can expect increased premiums. The exact increase will depend on several factors, such as your state, policy, and the severity of the offense. Don't be surprised to see your premiums increase by as much as 100%.
Another consequence of a DUI conviction is the required filing of an SR-22, a certificate that lets the state know you're carrying the minimum required liability insurance. This requirement alerts insurers that you may be a high-risk driver. But, again, expect it to remain for at least three years with no lapses in coverage.
A third consequence of a DUI conviction is policy non-renewal or outright cancellation; insurance companies reserve the right not to renew your policy, forcing you to seek an alternative provider specializing in cheap DUI insurance.
As for how long convictions remain on your record, they are expected to last anywhere from three to seven years, depending on the state you live in.
What Are Some Car Insurance Discounts for a Dodge Durango?
Fortunately, there are many discount opportunities available. Two of the more popular ones are good driver and multi-policy discounts, which reward drivers for maintaining clean driving records and purchasing two or more policies under one company.
Other discounts available include:
Multi-car discount: Awarded to drivers who insure multiple vehicles under a single policy, with a reduced premium for each car.
Safety feature discount: Awarded to drivers who install safety features in their vehicles, such as anti-lock brakes, lane departure warning systems, and daytime running lights.
Defensive Driving discount: Awarded to drivers who successfully complete a state-approved defensive driving course. Sample lessons include turning in icy/snowy weather conditions and maintaining healthy stopping distances behind each vehicle.
Low mileage discount: Awarded to policyholders who remain with the same insurance company.
We recommend contacting your auto insurance provider every few months to see if you qualify for any new discounts or as your life circumstances change. Switching to an older vehicle or paying your entire annual premium upfront may qualify you for discounts.
Find an office near you to help with your auto insurance
What Are Some of the Characteristics of the Dodge Durango?
This is a vehicle in the midsize SUV segment.
It comes in six trims: SXT, GT, R/T, Citadel, SRT 392, and SRT Hellcat., as well as a choice of three engines, a 3.6-liter V6, 5.7-liter V8, and a supercharged 6.2-liter V8 engine.
Standard features include tri-zone automatic climate control, an 8.4-inch touch screen, Apple CarPlay/Android Auto compatibility, four USB ports, and a rearview camera. Upgrading to the highest-level trim, Hellcat offers a 710-horsepower supercharged 6.2-liter V8 engine.
Main competitors are the Ford Explorer, Mazda CX-5, Hyundai Tucson, and Subaru Forester.
Find the Best Car Insurance Rates Online for Dodge Durango Today
If you're a Dodge Durango driver ready to purchase a new and affordable auto insurance policy, then Freeway Insurance will help you explore your options.
It is effortless to get started with Freeway Insurance. To request a quote, visit us online, call 800-777-5620, or stop by one of our offices for a free, no-obligation consultation with one of our friendly agents. We look forward to hearing from you!