How Much Is Car Insurance for a Chrysler Town & Country?
The average annual premium for a Chrysler Town & Country auto policy is $1,382 for full and $502 for minimum coverage.
Two of the most popular types of policies drivers can are liability-only and full coverage, which provide a combination of liability, collision, and comprehensive coverage.
If you are looking for an affordable policy, Freeway Insurance is more than happy to help. Let one of our agents give you a thorough consultation on all your coverage options tailored to your needs and budget.
Getting a Free Auto Insurance quote with Freeway is easy!
Comparing Insurance Costs for a Chrysler Town & Country to Other Vehicles
If you drive a Chrysler Town and Country, do not expect to pay the same premiums as drivers of competing make and model vehicles like the Toyota Sienna. Every car has its own underwriting results, costing more or less to ensure based on several factors, including recall record, number of safety features, theft/claims rate, engine options, and even body style.
| Make/Model | Annual Full Coverage Insurance |
| --- | --- |
| Chrysler Town & Country | $1,382 |
| Honda Odyssey | $1,176 |
| Dodge Caravan | $1,240 |
| Nissan Quest | $1,334 |
| Kia Sedona | $1,362 |
Types of Car Insurance Coverage for a Chrysler Minivan
There are various auto insurance options available, including state minimum liability and full coverage.
Both state-required minimum liability and full coverage are popular types of coverage that offer first and third-party benefits through liability-only, collision, and comprehensive coverage. However, full coverage is preferred over the state minimum due to the greater number of protections it provides.
Full Coverage
One of the best choices for Chrysler Town & Country drivers is to apply for a full coverage policy, which includes first and third-party benefits through liability, collision, and comprehensive coverage.
Collision and comprehensive coverage protect against a wider range of scenarios, including both collision and non-collision-related events such as theft, rollover collisions, falling tree limbs, and vandalism.
Additionally, while not included in full coverage, Chrysler Town & Country drivers may choose to add optional protections such as medical payments (MedPay) and rental car reimbursement.
State Minimum Liability
If you want to drive legally, you must carry at least the minimum liability requirements, which include coverage for bodily injury and property damage up to specified limits.
Taking Nebraska as an example. All drivers must carry at least 25/50/25 coverage. This means having $25,000 for bodily injury or death per person, $50,000 for bodily injury or death per accident involving multiple people, and $25,000 in property damage liability.
Keep in mind that even a minor at-fault wreck can result in more than $25,000 in property damage, leaving you paying the remaining amount out of pocket – and all of your own costs.
In the case of being found responsible for another vehicle being declared a total loss, your out-of-pocket costs may be even higher. Massachusetts' $5,000 property damage liability barely covers the cost of a new car, let alone major damages on a luxury vehicle like a Tesla Model X or Audi A7.
Individual Factors That Influence Pricing for the Chrysler Town & Country
Many factors influence auto insurance premiums for drivers. Three significant factors that come to mind are age/driving experience, vehicle type/usage, and driving record.
Age/Driving Experience
Age and driving experience are major factors. Younger drivers with less experience are more likely to be involved in at-fault accidents. It's important to note that even a single at-fault accident can cause your premiums to double. With more experience, a longer and cleaner driving record can lead to decreased rates over time.
Vehicle Type/Usage
Vehicle type and usage also play a role. Premiums for expensive or high-performance vehicles are higher than more sedate models like Honda Civics and Accords. The cost of parts and the need for specialized labor are significantly higher, especially for electric or hybrid vehicles. Additionally, annual mileage matters, as more driving increases the likelihood of accidents and leads to higher premiums.
Driving Record
Your driving record is crucial to consider. Drivers with a history of accidents, speeding tickets, and claims can expect to pay significantly higher premiums compared to those with a clean record.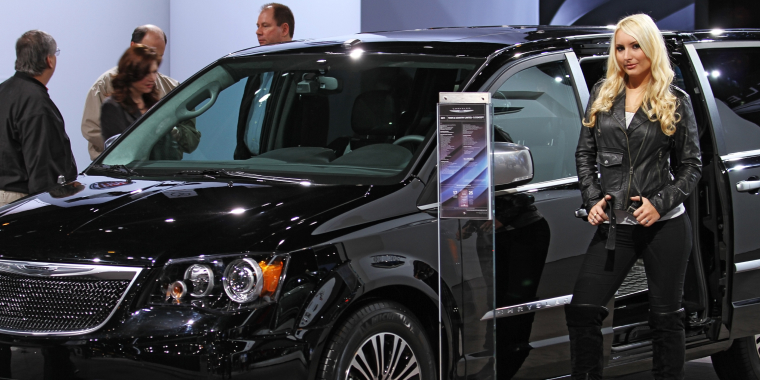 How Does a DUI Affect Insurance Rates for a Chrysler Town & Country?
Being convicted of a DUI is one of the worst things that can happen to drivers.
DUI convictions result in serious consequences. As a high-risk driver, your premiums can double or even triple, depending on the severity of the offense.
Additionally, insurers may reject or deny your policy, which forces you to seek cheap DUI insurance from providers specializing in high-risk drivers. Naturally, higher rates can be expected, and they may remain elevated for several years. However, if you maintain a clean driving record, your rates will gradually decrease.
Fortunately, there are ways for DUI-convicted drivers to save on auto insurance. One option is to restructure policies by increasing your deductible and reducing liability limits. However, it's important to work with high-risk insurance providers who may have specific conditions and requirements.
What Are Some Car Insurance Discounts for a Chrysler Minivan?
One of the best things you can do is apply for discounts. Two highly recommended ones are safe driver and multi-policy discounts, which reward drivers for maintaining clean driving records and purchasing two or more policies under one company (e.g., homeowners, life, and auto).
Here are other discounts you may want to explore:
Telematics Discounts — By installing a Bluetooth Beacon or GPS-enabled device in your vehicle, it allows insurers to monitor your driving behavior, checking for speed, cornering ability, and other variables that help them determine how safe you drive. The higher your score, the higher your discount. Sometimes, insurers will offer automatic discounts just for signing up.
Multi-Vehicle Discount — Like multi-policy discounts, multi-vehicle discounts reward you for ensuring two or more vehicles with the same provider. You can expect to pay a lower premium for each one versus purchasing each policy individually.
Safety Feature Discount — Auto insurers love when you risk-proof your vehicle by installing safety features such as daytime running lights, anti-lock brakes, and anti-theft devices.
One of the best ways to stay on top of all the discounts you may be eligible for is by maintaining an open line of communication with your agent. Feel free to call them every few months (as your life circumstances change, e.g., switching to an older make and model vehicle) to see if you qualify for any new discounts.
Find an office near you to help with your auto insurance
What Are Some of the Characteristics of the Chrysler Town & Country?
This is a vehicle in the minivan segment, discontinued after the 2016 model year.
It comes in six trims: X, Touring, S, Touring-L, Limited, and Limited Platinum, along with a 283-horsepower V6 engine with six-speed automatic transmission.
Standard features include a six-speaker audio system, two USB ports, and a 6.5-inch touch-screen. Thanks to its model year, there is no Apple CarPlay or Android Auto compatibility.
Main competitors are the Honda Odyssey, Toyota Sienna, Nissan Quest, and Kia Sedona.
Find the Most Affordable Car Insurance Online for the Chrysler Town & Country Today
Freeway Insurance specializes in helping people like you find an affordable auto policy that will meets your coverage needs.
If you want to get started with Freeway Insurance, you may contact us in one of three ways. The first is to visit us online, call 800-777-5620, or personally visit one of our locations for a free no-obligation chat with one of our service representatives. We look forward to meeting you!