How Much is Car Insurance for a Honda Odyssey?
The average annual premium is $361 for minimum coverage and $1,454 for full coverage.
Depending on your state's requirements, your car insurance policy may consist of bodily injury and property damage liability. Not all drivers pay the same rates, since premiums are based on individual factors like age, gender, make/model of vehicle, discount eligibility, and how your policy is structured (e.g. high deductibles or high liability limits).
Some policies are much more comprehensive. A full coverage policy will protect you better than your state-required minimum coverage.
Freeway Insurance can help you explore all of your options, saving time and money by comparing multiple auto insurance providers.
Getting a Free Auto Insurance quote with Freeway is easy!
Comparing Insurance Costs for Your Minivan to Other Vehicles
Honda drivers pay a higher or lower premium than drivers of other vehicle makes and models like the Toyota Sienna, thanks to the difference in average cost of repairs/replacement parts, age/vehicle condition, brand, theft rates, safety ratings, and even depreciation rates between the vehicles.
| Make/Model | Annual Full Coverage Insurance |
| --- | --- |
| Honda Odyssey | $1,454 |
| Kia Carnival | $1,768 |
| Toyota Sienna | $1,126 |
| Dodge Caravan | $1,370 |
| Chrysler Pacifica | $1,726 |
Types of Car Insurance Coverage for the Odyssey
Honda Odyssey drivers can benefit from several auto insurance policy types, including but not limited to state minimum liability and full coverage.
Full Coverage 
Full coverage combines different types above and beyond the minimum required by law, including liability and first-party protections such as collision (damage received after a wreck regardless of who's fault it is) and comprehensive (damage your vehicle sustains due to things such as vandalism and storms. 
Generally, collision and comprehensive deductibles start at $250 and increase upwards of $2,000, depending on state law and the insurance company. The lower your deductible and liability limits, the higher your premiums. Choosing to raise your deductible can lower your premium.
State Minimum Liability 
State minimum liability refers to the minimum liability coverage your state requires of all drivers. It generally consists of two types: bodily injury and property damage liability.
Bodily liability helps pay for any costs associated with medical expenses, lost income, and even funeral arrangements incurred by fellow drivers and pedestrians in an at-fault accident. Conversely, property damage liability helps pay for damages to other people's property, such as vehicles, mailboxes, and light posts.
Other coverages required by some states include personal injury protection (PIP), and uninsured /underinsured motorist coverage. Even if your state does not require this coverage, it may be worth considering as an addition to your policy. If someone with no insurance hits you, this could be a game changer for your finances.
In California, all drivers must carry a minimum 15/30/5 policy, which translates to a minimum of $15,000 in bodily injury/death coverage per person, $30,000 in bodily injury/death per accident, and $5,000 in property damage liability per accident. If you cause an accident and total someone's car, your out-of-pocket costs will be your deductible, plus anything over the $5,000 you have in property damage insurance.
Keep in mind that all drivers have the opportunity to purchase higher levels. 
Individual Factors that Influence Pricing for Your Honda Minivan
There are many factors auto insurance companies use to determine your premiums, including vehicle type, location, and limits/deductibles.
The type of vehicle you drive greatly influences premiums thanks to different factors, including repair/replacement cost, safety ratings, age of the car, and even the amount of horsepower. Not to mention, some vehicles have lowered depreciation rates than others.
The zip code of the residence is also a large consideration. For example, one zip code may have triple the amount of thefts, vandalism, and insurance claims than neighboring zip codes, so premiums may be adjusted accordingly.
Remember how policies are structured as well. A policy with a low deductible (e.g., $500) and high liability limits (e.g.,100/300/100) may cost more than a policy with a high deductible and low liability limit. However, high-limit policies are recommended for greater peace of mind, even if it costs several hundred dollars more per year than a state minimum liability policy.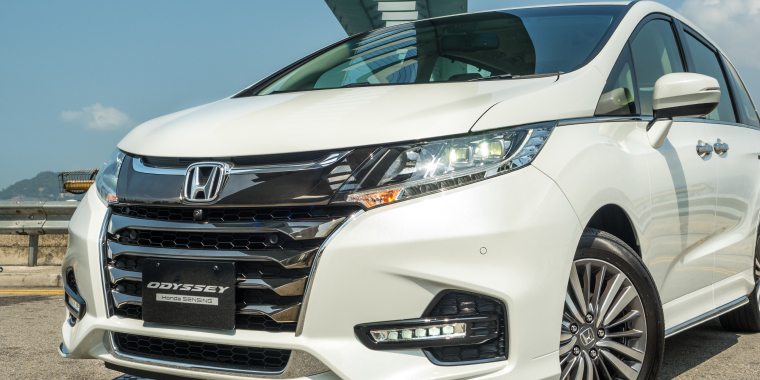 How Does a DUI Affect Insurance Rates?
One of the worst things drivers can do to their premiums is get convicted of a DUI.
A single DUI on your record can double or even triple your premium in some cases, depending on your driving record, the severity of the offense, and if this is a first-time offense.
On top of fines, reinstatement fees, and a suspended driver's license and registration, expect to also file an SR-22 form in some states. This certificate lets your state know you are carrying the minimum required liability to drive legally within their borders.
Worst of all, expect your premiums to remain elevated for at least three years. Then, depending on the state and insurance company, premiums may remain elevated for as high as seven years before rates eventually return to pre-DUI levels (assuming you maintain a clean driving record).
What Are Some Car Insurance Discounts for the Odyssey?
To save on your next policy, drivers have plenty of auto insurance discounts.
The most common and highest-paying discounts available are safe driver and those who choose to bundle their policies, such as putting home insurance with your auto. Other discounts include:
One for those who don't drive as much. Called a

low mileage discount

, it's perfect for those who work from home.

One for those who install or use safety features, such as

anti-theft devices

like a Club.

One for returning customers. Called a

loyalty

discount, insurers like to reward drivers who stick with them.
The safe driving discount, meaning no claims, at-fault accidents, or similar scenarios over a specific period (generally three to five years), can save anywhere from 5% to 25% off your regular premium.
Find an office near you to help with your auto insurance
What Are Some of the Characteristics of the Honda Odyssey?
It's a vehicle in the minivan segment.
It is available in five trims: EX, EX-L, Sport, Touring, and Elite, along with a single-engine option with a 280-horsepower 3.5-liter V6.
Standard features include Apple CarPlay/Android Auto compatibility, tri-zone automatic climate control, 18-inch alloy wheels, an 8-inch touch screen, and a suite of standard driver assistance features such as lane keep assist, roadside departure warnings, and adaptive cruise control.
Upgrading to the highest level trim, Elite, adds a larger 10.2-inch touch screen, Wi-Fi hot spot, 11-speaker audio system, and heated/ventilated front seats.
Main competitors are the Kia Carnival, Toyota Sienna, Kia Carnival, and Dodge Caravan.
Find the Best Car Insurance Rates Online for Honda Odyssey Today
Freeway Insurance is ready to help all drivers find an affordable policy, which may be state minimum liability, full coverage or a variety of other plans.
Let us help you explore all of your options. To get started, visit us at an office near you, request a quote online, or speak with one of our customer service representatives at 800-777-5620 for a free consultation.