Nestled on the banks of the Susquehanna River lies Harrisburg, PA. The Pennsylvania state capital offers important historical and cultural context for the state. It is home to some of the nation's most revered historical attractions, such as the Pennsylvania Capitol building and City Island. For a taste of nature, residents and visitors can also enjoy riverboat cruises along the Susquehanna and revel in the commonwealth's civil history with captivating State Museum of Pennsylvania exhibits.
All Harrisburg drivers must carry the required car insurance in Pennsylvania. Keep reading to learn everything there is to know about Harrisburg car insurance, including average monthly rates paid by age group, zip code, and nearby cities.
Quick Facts
In 2019, there were two fatal car accidents in Harrisburg.
In 2019, there were 125,267 total reported crashes in Pennsylvania.
The most dangerous road in Harrisburg is I-83 at the interchange with I-283. This stretch of road sees more fatalities than other roads in Harrisburg.
How Much Does Car Insurance Cost in Harrisburg, Penn?
Harrisburg drivers pay an average monthly rate of $129 for full coverage care insurance. That's slightly less than the national average for full coverage car insurance of $144 per month. Pennsylvania's average car insurance cost is $123 per month.
Full coverage auto insurance consists of liability, collision car insurance and comprehensive auto insurance. Many lenders require full coverage on financed vehicles to protect their interests. Some drivers also choose to carry full coverage to protect themselves financially.
For the basic state-required minimum liability car insurance, Harrisburg drivers average $42 per month, very similar to the national average of $40 and just slightly above the state average of $35 for liability insurance.
How does Harrisburg compare with other cities in Pennsylvania? Here is a breakdown of average monthly car insurance costs for other cities in the state:
| City | Full Coverage Insurance | Liability Insurance Coverage |
| --- | --- | --- |
| Harrisburg | $129 | $42 |
| Allentown | $158 | $53 |
| Philadelphia | $309 | $94 |
| Pittsburgh | $147 | $45 |
Insurance agencies typically look at an area's rate of crime (vehicle theft and vandalism), number of car crashes and number of personal injury lawsuits – among other factors – to determine what residents in those areas will pay for car insurance. This is by far not all insurers look at when determining rates; rates are very specific to each individual, but it explains the different auto insurance quotes between cities. Those who qualify for the cheapest car insurance have excellent driving records, among other criteria.
Harrisburg, PA Affordable Auto Insurance Rates by Zip Code
Some zip codes have a higher theft, moving violation, and accident rates than other zip codes. For this reason, people who live in those zip codes may pay more for their car insurance.
Check out our list below for monthly average car insurance prices by zip code in Harrisburg.
| Zip Code | Full Coverage Insurance | Liability Insurance Coverage |
| --- | --- | --- |
| 17101 | $129 | $42 |
| 17102 | $133 | $43 |
| 17103 | $136 | $45 |
| 17104 | $134 | $44 |
| 17106 | $136 | $45 |
| 17107 | $136 | $45 |
| 17109 | $121 | $41 |
| 17110 | $122 | $40 |
| 17111 | $120 | $40 |
| 17112 | $117 | $38 |
| 17113 | $124 | $41 |
Harrisburg, Penn Low-Cost Car Insurance Rates by Age
When determining the cost of car insurance, age is a significant factor. Because of this, it's no surprise that younger age groups pay higher rates than people in their 30s, 40s, and 50s due to a riskier driving profile and lack of a driving record.
Check out our list below for monthly average car insurance prices by age in Harrisburg:
| Age | Full Coverage Insurance | Liability Insurance Coverage |
| --- | --- | --- |
| Teenagers | $346 | $109 |
| 20s | $140 | $45 |
| 30s | $129 | $42 |
| 40s | $118 | $39 |
| 50s | $111 | $37 |
| 60s | $113 | $38 |
| 70s | $121 | $42 |
Unless otherwise specified, we use the following methodology to arrive at our average cost: male, age 30, lowest possible legal coverage allowed by state. Your rates will be determined by several factors, including your age, your gender and the amount of coverage you want to purchase.
Get a Quote for Car Insurance in Pennsylvania Today!
Driving Conditions in Harrisburg, Pennsylvania
How Many Fatal Accidents Happen in Harrisburg?
In 2019, two fatal car accidents in Harrisburg involved three vehicles and three people, including one pedestrian.
How Are the Road Infrastructure and Bridges in Harrisburg, PA?
The Harrisburg Department of Public Works is responsible for all public highway projects including street maintenance, sweeping, and plowing. This also covers maintaining greenway trails and limiting air and water pollution.
Today, one of Harrisburg's biggest projects is its Vision Zero program, a city-wide initiative designed to reduce traffic fatalities by focusing on pedestrian, bicyclist, and vehicle passenger safety. Sample initiatives include bumper block installations for bike lanes, ADA ramp construction, and line painting. This produces plenty of lane closures, clearly marked with visible signage throughout the city.
To learn more about Harrisburg's Vision Zero action plan, visit here.
Minimum Car Insurance Requirements in Harrisburg, Penn
All Pennsylvania drivers are required to carry the following minimum liability coverage:
All Pennsylvania drivers must purchase personal injury protection (medical benefits) coverage. Many drivers understand that the minimum liability insurance will not be enough to cover repairs and injuries after a car crash. This is why choosing to add more coverage, increase the limits of coverage or adding other types of car insurance such as uninsured motorist coverage may be a good idea.
Note: Pennsylvania is a no-fault state, which means that each driver's insurance policy pays for their costs incurred after an accident, including medical bills and loss of wages, regardless of who is at fault.
What Are the Penalties for Driving Without Insurance in Harrisburg?
Do not even think of driving without insurance in Harrisburg. It's not worth the risk.
Penalties for first offenses will cost you $300, a 3-month driving suspension, and a $94 reinstatement fee. Any suspension can be waived earlier by paying a $500 civil penalty and an $88 reinstatement fee. However, this privilege can only be exercised once every 12 months. After every offense, drivers must also show proof of coverage to the Pennsylvania Department of Motor Vehicles.
Factors Allowed in Harrisburg Car Insurance Rates
There are individual factors used to determine the price of Pennsylvania auto insurance.
These factors include, but are not limited, to:
Insurance claims history
Credit score
Age
Gender
Zip code
Marital status
Type of vehicle
Keep your premiums low by maintaining a clean driving record for three to five years and applying for discounts that reward you for everything from multi-policy bundling to being a good student.
Discounts for Car Insurance in Harrisburg, PA
To save money and find the cheapest car insurance, Harrisburg drivers can take advantage of the following car insurance discounts:
As your life circumstances change, it's good to call your insurance provider. Many non-driving record-related actions could trigger discounts, such as enrolling in autopay/paperless billing, driving an older make and model vehicle, installing an anti-theft device, or bundling your auto policy with your homeowner's and other policies.
Get a Quote for Low-Cost Car Insurance Online in Harrisburg Today!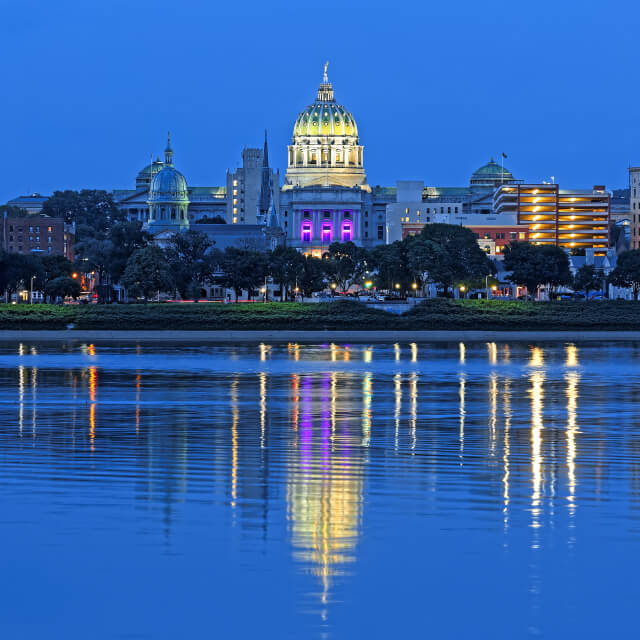 Protect yourself in the event of an accident with affordable car insurance from Freeway Insurance.
Freeway Insurance can help you find car insurance you can afford that meets your driving needs so you can have peace of mind behind the wheel. To get started, visit a Harrisburg office near you, call 800-777-5620, or look for a low-cost car insurance quote online. One of our friendly agents is waiting for your call.
Select a Product or Service to request a quote
Ready to Get a Quick Quote?