Everything You Need to Know About Car Insurance in Michigan
Located in east central Michigan, Saginaw has solidified itself as a rising arts and culture hub within the last decade. One of its main claims to fame is the Castle Museum of Saginaw County. Listed on the National Register of Historic Places, this three-story museum houses an impressive collection of automotive and lumbering exhibits — all paying tribute to the trades of Saginaw.
Are you looking to hit the outdoors? The 25-mile Shiawassee National Wildlife Refuge should fit the bill. It is one of the state's largest wetland ecosystems and is an excellent bird-watching destination.
All Saginaw drivers are required to carry auto insurance. Failure to do so will result in a suspended driver's license/registration as well as fines and reinstatement fees. Keep reading to learn more about auto insurance in Michigan, including the average rates paid by zip code, penalties for driving without insurance in Michigan, and the minimum required car insurance.
Get a Quote for Car Insurance in Oregon Today!
How Much Does Car Insurance Cost in Saginaw, MI?
Saginaw drivers pay an average monthly rate of $174 a month for full coverage, which is lower than the state average ($224) and higher than the national average ($148). The state-required minimum liability averages $61 per month, lower than the state's average of $92, but much higher than the national average of $47.
The best protection is full coverage, which packages liability and collision for your protection if you suffer damage in an accident, plus comprehensive if your car is damaged by things like a hailstorm or by theft or vandalism.
Why is Auto Insurance so Expensive in Michigan?
There are numerous reasons Michigan drivers pay more for their insurance. Some rank Michigan as the most expensive state and some give Louisiana that spot, but either way, motorists in Saginaw will be paying roughly 85% more than drivers in other states.
Michigan is a no-fault state and no-fault states tend to have a higher cost because they typically require drivers to carry more types of insurance, such as medical coverage like Personal Injury Protection (PIP). And, in an effort to make it easier financially on drivers, the state has some of the most convoluted insurance requirements out there.
The state also requires drivers to carry more liability coverage than most states. Michigan requires:
In contrast, Texas requires $30,000/$60,000 for BI and $25,000 for PD. Pennsylvania, another no-fault state, requires $15,000/$30,000 BI and $5,000 PD.
Affordable Car Insurance Rates Comparison by Cities in Michigan
For the average monthly premium paid in nearby cities to Saginaw, check out our breakdown below:
| City | Full Coverage Insurance | Liability Insurance Coverage |
| --- | --- | --- |
| Saginaw | $174 | $61 |
| Dearborn | $361 | $114 |
| Detroit | $459 | $141 |
| Farmington | $206 | $71 |
| Grand Rapids | $172 | $61 |
| Lansing | $171 | $60 |
Affordable Car Insurance Rates by Zip Code in Saginaw, MI
Each zip code in Saginaw pays a different average monthly premium than other zip codes thanks to claims rate, number of thefts/acts of vandalism, and other factors assessing an area's risk.
See our breakdown below for the average monthly premiums paid by Saginaw drivers in each zip code:
| Zip Code | Full Coverage Insurance | Liability Insurance Coverage |
| --- | --- | --- |
| 48601 | $184 | $67 |
| 48602 | $174 | $61 |
| 48603 | $170 | $60 |
| 48604 | $170 | $60 |
| 48606 | $189 | $68 |
| 48607 | $189 | $68 |
| 48609 | $169 | $59 |
| 48638 | $170 | $60 |
Low-Cost Car Insurance Rates by Age in Saginaw, MI
Due to a lack of driving experience and higher claims rates, teenagers and younger drivers generally pay higher premiums than older drivers.
See our breakdown below for the average monthly premiums paid by Saginaw drivers by age:
| Age | Full Coverage Insurance | Liability Insurance Coverage |
| --- | --- | --- |
| Teenagers | $504 | $166 |
| 20s | $250 | $79 |
| 30s | $174 | $61 |
| 40s | $171 | $62 |
| 50s | $156 | $59 |
| 60s | $157 | $61 |
| 70s | $173 | $69 |
Unless otherwise specified, we use the following methodology to arrive at our average cost: male, age 30, lowest possible legal coverage allowed by Michigan. Your rates will be determined by several factors, including your age, your gender and the amount of coverage you want to purchase.
Driving Conditions in Saginaw, MI
How Many FataI Accidents Happen in Saginaw?
In 2019, there were three fatal accidents involving 11 people in Saginaw.
How Are the Road Infrastructure and Bridges in Saginaw, MI?
Saginaw has an active Public Works program that works on the operation and maintenance of all of the city's roads and infrastructure. This also includes water supply system, construction, and wastewater treatment facility management.
Minimum Car Insurance Requirements in Saginaw, Michigan
Here are the following minimum liability requirements required of all Saginaw drivers:
Bodily Injury Liability per Person: $50,000
Bodily Injury Liability per Accident: $100,000
Property Damage Liability for Damage Outside of Michigan: $10,000
Property Protection Insurance (PPI) in Michigan: $1 million
Personal Injury Protection (PIP) or health insurance
Unlike many states, Saginaw drivers are not required to carry uninsured or underinsured motorist coverage. However, Michigan has a high percentage of uninsured drivers (roughly 25%), so it's worth a few extra dollars to have it.
How Does Personal Injury Protection in Michigan Work?
All drivers must carry some form of PIP insurance, unless they have both Medicare A and B. This medical addition helps pay for your injuries in an accident, regardless of who caused the wreck. In Michigan, drivers must choose between one of these options:
Unlimited coverage – Expensive but offers the best coverage.
$500,000 or $250,000 – The amount your insurance company will pay for medical expenses.
$250,000 with persons excluded – You may choose to exclude people who may be driving your vehicle or in your vehicle, including yourself, your spouse and family members, but they must have qualified health coverage that is not Medicare.
$50,000 – The insured must be enrolled in Medicaid and spouse, plus resident relatives all have qualified health coverage, Medicaid or coverage under another auto policy with PIP coverage.
No PIP coverage – Insured must be have coverage under Medicare Parts A & B.
PIP, also known as no-fault insurance, can help pay for things your health insurance won't, such as childcare and lost income.
Find an office near you to help with your auto insurance
What Are the Penalties for Driving Without Insurance in Saginaw, MI?
Driving without insurance in Michigan is a dangerous proposition.
On top of a driver's license and registration suspension, first-time offenses are punishable by fines of up to $500. To get your driving privileges back, you must provide proof of insurance with an SR-22 certificate and pay a license reinstatement fee of $125. Depending on the severity of the offense, you may even be sentenced to a year in jail.
If you get into a car accident without insurance and are determined to be at fault, third parties may decide to sue you with potential future wage garnishment if they win.
Car Insurance Factors Allowed in Saginaw, MI
Insurance companies use proprietary underwriting criteria to determine your premiums.
Factors used by auto insurance companies include:
Age
Gender
Zip Code
Marital Status
Employment
Another factor is the make and model of your vehicle. Some vehicles have higher costs of parts and labor and enhanced safety features than others.
Discounts for Car Insurance in Saginaw, Michigan
Saginaw drivers can be eligible for all types of auto insurance discounts, such as good driver discounts.
Generally, the cleaner your driving record, the more discounts you will receive.
Some of these discounts include but are not limited to
Some popular driver discounts include safety discounts and defensive driver course discounts. Keeping a claims-free record for the past three to five years will also make you eligible for "Good Driver" discounts. Complimenting that with enrollment in defensive driver courses will also let insurance companies know you pose less of a risk to them.
Call your insurance provider every year to see if new discounts are available. Even a phone call could help you cut $20 or $30 off your next bill.
Get an Online Quote for Low-Cost Car Insurance in Saginaw, MI Today!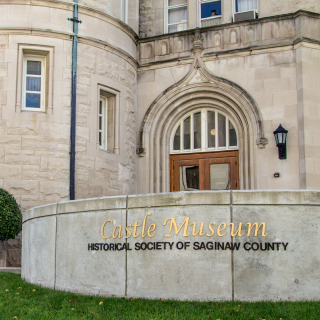 Ready to explore all of your auto insurance options? Let Freeway Insurance help you find the right policy for you and your family.
Getting started is easy. Request a quote online through our website, visit a Saginaw office near you, or call 800-777-5620 to go over your policy and all of your desired coverage options with a friendly Freeway Insurance agent. Get in touch with us today!
Select a Product or Service to request a quote
Ready to Get a Quick Quote?