The second largest city in Michigan, Grand Rapids is a thriving metropolis with no shortage of cultural and entertainment opportunities. It also has the proud distinction of being a Top 20 Foodie City in the U.S. and top beer destination with more than 40 craft breweries around town. Some of Grand Rapids' most popular attractions include the John Ball Zoo, Grand Rapids Art Museum, Fulton Street Farmers Market, Frederik Meijer Gardens and Sculpture Park, and the Blandford Nature Center.
All Grand Rapids drivers must carry an active auto insurance policy to drive legally in the state. Keep reading to learn everything you need to know about car insurance in Michigan, including average premiums paid by Grand Rapids zip codes, the state's minimum required coverage, and ways to save on your next auto insurance bill.
Quick Facts
Grand Rapids is the second largest city in Michigan, after Detroit.
Gerald R. Ford International Airport in Grand Rapids serves more than 2 million passengers a year.
Famous boxer Floyd Mayweather and the nation's 38th President, Gerald Ford, grew up in Grand Rapids.
Grand Rapids is one of the premier cities for office furniture manufacturers in the country.
How Much Does Car Insurance Cost in Grand Rapids, MI?
The average monthly cost of full coverage car insurance in Grand Rapids is $234. The average monthly cost of the state-required minimum auto insurance is $124. These two costs compare to the national average at $140 monthly for full coverage and $47 monthly for the state minimum.
Grand Rapids drivers can expect to pay some of the highest car insurance costs in the nation. Lawmakers in Michigan have repeatedly tried to come up with car insurance that is equitable and fair to all. What has resulted has been a set of complicated and expensive rules. In fact, car insurance in Michigan is expensive enough that it's the second highest state, behind Mississippi, for number of uninsured drivers.
Michigan is a no-fault state, so in addition to the regular liability car insurance, drivers in Grand Rapids must also purchase No-Fault Personal Injury Protection (PIP) insurance and an additional $10,000 in property damage insurance in case they cause an accident in another state.
See below for a more detailed explanation of these coverage limits.
Insurance companies base their rates on many factors. If you live in a congested city where accident claims are frequent and vehicle crime is elevated, you can expect to pay higher rates. How does Grand Rapids compare with other cities in Michigan? For the average monthly premiums paid by other cities in the state, see our breakdown below.
| City | Full Coverage Insurance | Liability Insurance Coverage |
| --- | --- | --- |
| Grand Rapids | $234 | $124 |
| Ann Arbor | $215 | $120 |
| Detroit | $478 | $356 |
| Lansing | $263 | $147 |
Cheap Car Insurance Rates by Zip Code in Grand Rapids, Michigan
Residents of one zip code can expect to pay lower or higher rates than others. That is because each zip code has its own risk profile depending on demographic distribution, the number of theft and vandalism incidents, and other deciding factors.
See our breakdown below of the average car insurance rate by zip code in Grand Rapids, Michigan:
| Zip Code | Full Coverage Insurance | Liability Insurance Coverage |
| --- | --- | --- |
| 48532 | $400 | $229 |
| 49426 | $207 | $108 |
| 49456 | $213 | $116 |
| 49503 | $234 | $124 |
| 49504 | $232 | $123 |
| 49505 | $226 | $121 |
| 49506 | $230 | $124 |
| 49507 | $247 | $133 |
| 49508 | $233 | $126 |
| 49509 | $231 | $124 |
| 49510 | $247 | $133 |
| 49512 | $229 | $123 |
| 49519 | $228 | $122 |
| 49525 | $228 | $125 |
| 49534 | $219 | $115 |
| 49544 | $219 | $114 |
| 49546 | $226 | $121 |
| 49548 | $230 | $121 |
Low-Cost Car Insurance Rates by Age in Grand Rapids, MI
Your age plays a part in the cost of car insurance you pay. Generally, younger drivers pay higher premiums than drivers in their 30s, 40s, and 50s. This is because young drivers are inexperienced, have no driving history and, as a group, tend to have more accidents and tickets. Finding affordable car insurance for a young driver can be challenging. The important thing to remember is that they won't be subject to these high fees forever, as long as they keep their driving record clean.
See our breakdown below of the average car insurance rate by age in Grand Rapids, Michigan:
| Age | Full Coverage Insurance | Liability Insurance Coverage |
| --- | --- | --- |
| Teenagers | $459 | $339 |
| 20s | $307 | $146 |
| 30s | $234 | $124 |
| 40s | $230 | $127 |
| 50s | $215 | $123 |
| 60s | $219 | $124 |
| 70s | $273 | $149 |
Unless otherwise specified, we use the following methodology to arrive at our average cost: male, age 30, lowest possible legal coverage allowed by Michigan. Your rates will be determined by several factors, including your age, your gender and the amount of coverage you want to purchase. 
Get a Quote for Car Insurance in Michigan Today!
Driving Conditions in Grand Rapids, Michigan
How Many Fatal Accidents Happen in Grand Rapids, MI?
In 2019, there were 15 fatal accidents in Grand Rapids involving 25 vehicles and 25 people. Of these people, seven were pedestrians.
How Are the Road Infrastructure and Bridges in Grand Rapids, Michigan?
The city of Grand Rapids has a busy Public Works department that performs all kinds of services to maintain its roads and bridges, including pothole repair, emergency street repairs, and winter preparedness activities. Its work also involves the design, construction, and maintenance of its water distribution, sewer, and sanitary systems, along with property maintenance code enforcement and municipal building maintenance.
For more information on Grand Rapids and its Public Works programs, visit the City of Grand Rapids – Public Works Department.
Minimum Car Insurance Requirements in Grand Rapids, Michigan
Michigan is a no-fault state. This means insurance companies do not look at who is at fault for an accident. Each driver's insurance is used to help pay for their own injuries and damages. The liability auto insurance component consists of bodily injury/death liability insurance and property damage liability insurance.
In addition, drivers are required to purchase No Fault Personal Injury Protection (PIP), which helps pay for their (and their passenger's) medical costs, lost wages, funeral expenses and more. In Michigan, drivers have a choice of how much PIP they want to purchase. If they don't choose, they will be assigned the most expensive option. Here is a look at those options.
Michigan drivers must also carry Property Protection Insurance (PPI) of up to $1 million. This is to protect Michigan drivers if they cause an accident in another state and are liable for someone's personal property (vehicle, fence, etc.)
The state minimum requirements are as follows:
$50,000 for bodily injury/death per person
$100,000 for bodily injury per accident
$10,000 for property damage per accident
Personal Injury

Protection – multiple

choices offered
Property Protection

Insurance – up

to $1 million
Surprisingly, Michigan does not require uninsured motorist coverage (UM) or underinsured motorist coverage (UIM). Typically, no-fault states (and many at-fault states) require this coverage. With Michigan's high rate of uninsured drivers, you would be smart to have this coverage. It's relatively cheap for the protection it provides.
What Are the Penalties for Driving Without Insurance in Grand Rapids, MI?
If you do not show proof of insurance when pulled over at a traffic stop in Grand Rapids, expect to be served with a misdemeanor.
For first-time offenders, this misdemeanor can assess fines from $200 to $500, along with the suspension of your driver's license and registration until you provide proof of insurance. In addition, expect to pay a $125 reinstatement fee if you are driving uninsured and a $25 service fee if you have insurance but cannot provide proof when stopped by law enforcement.
You will also be required to file an SR-22, showing proof of financial responsibility and letting the state know you carry the minimum required coverage. If you thought car insurance in Michigan was high before, wait until you have to file carry SR-22 insurance. You'll need to shop around to find affordable high-risk auto insurance at a reasonable price.
Factors Allowed in Grand Rapids Car Insurance Rates
In Grand Rapids, there are many factors insurers use to determine your rate, including:
Driving record
Age
Gender
Zip code
Marital status
Type of vehicle
Michigan is one of a few states that do not allow insurance companies to use your credit rating to deny, cancel or refuse to renew or issue an auto policy or to determine your rates.
Your vehicle's make and model is another major factor. For example, a $57,000+ Audi could cost $3,000+ in annual premiums versus less than $1,200 for an older Honda Civic due to the cheaper cost of parts and labor on the latter vehicle.
Discounts for Car Insurance in Grand Rapids, Michigan
To find the cheapest car insurance in Grand Rapids, drivers need to have a clean driving record and make good use of car insurance discounts. The best discounts are available to Grand Rapids drivers who have maintained clean driving records for the last three to five years. It's an excellent way to shave dollars off your monthly premiums without adjusting your coverage limits or deductibles.
Other car insurance discounts available to Green Rapids drivers include:
Do not forget the process known as "bundling," which awards discounts for buying multiple types of insurance policies from the same insurance provider. This could include auto, homeowners, boat, life, and motorcycle policies.
Get a Quote Online for Low-Cost Car Insurance in Grand Rapids Today!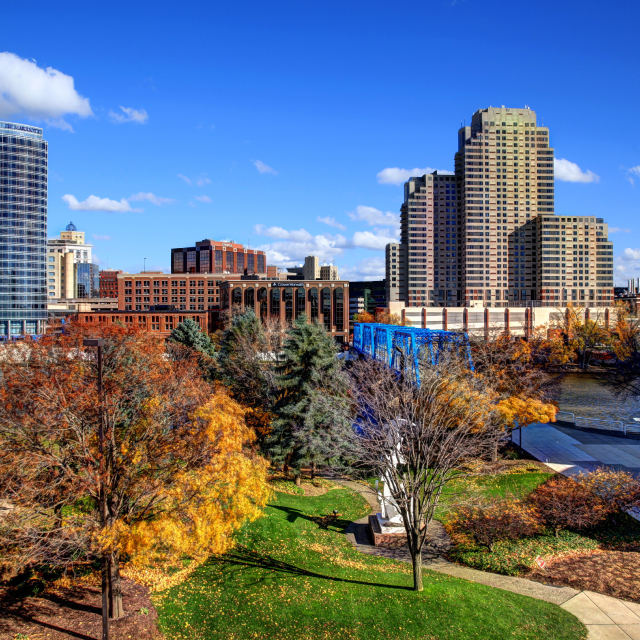 To drive legally in Grand Rapids, we highly recommend working with Freeway Insurance to find a policy that fits your needs and your budget.
To get started, request a car insurance quote online, visit a Grand Rapids office near you, or call one of our friendly agents at 800-777-5620 for a quote. Contact us today!
Select a Product or Service to request a quote
Ready to Get a Quick Quote?