How Much Is Car Insurance for a Mercedes C-Class?
The average annual car insurance premium for a Mercedes C-Class is $1,652 a year for full coverage and $663 for a liability-only policy.
Full coverage offers an increased level of protection, with liability, collision, and comprehensive for first and third-party benefits to cover the cost of injuries and damages to policyholders and other drivers up to specified limits.
If you need help understanding which policy is right for you, Freeway Insurance is standing by. Considering your needs and budget, we're prepared to present several affordable policy options with expert advice.
Getting a Free Auto Insurance quote with Freeway is easy!
Comparing Insurance Costs for a Mercedes C-Class to Other Vehicles
There are many reasons why this luxury car is less or more expensive to insure than comparable vehicles like the BMW 3 Series and the Genesis G70, including the vehicle's value, number of advanced safety features, IIHS/NHSTSA crash test ratings, theft rate, and repair costs.
| Make/Model | Annual Full Coverage Insurance |
| --- | --- |
| Mercedes C-Class | $1,948 |
| BMW 3 Series | $1,792 |
| Genesis G70 | $1,880 |
| Audi A4 | $1,954 |
| Cadillac CT4 | $1,842 |
Types of Car Insurance Coverage for a Luxury Car
Mercedes C-Class drivers can benefit from several coverage options, including state minimum liability and full coverage.
Both vary greatly in terms of scope and degree of protection. One offers third-party benefits only, and the other provides a combination of first and third-party benefits like liability, collision, and comprehensive.
Full Coverage
A full policy is a term used to describe a policy that comprises liability, collision, and comprehensive coverage.
Whereas liability covers the cost of injury or property damage caused to others in an at-fault accident, collision pays for repairs or replacement to your vehicle or property. In turn, comprehensive protects against non-collision-related events such as natural disasters, theft, and vandalism.
Full coverage does not necessarily include other types of coverage, e.g., uninsured/underinsured motorist, roadside assistance, and medical payments (MedPay). Although added separately and not required in many states, adding these may offer greater peace of mind.
State Minimum Liability
State minimum is the legally mandated policy your state requires you to have. Specifically, it provides protection for bodily injury and property damage up to specified limits, expressing as a three-number combination e.g. 25/50/10.
For example, all Idaho drivers must carry a 25/50/15 policy, or $25,000 in bodily injury liability per person, $50,000 in bodily injury liability per accident, and $15,000 in property damage liability per accident.
Minimum limits may not be enough to cover you in an accident. It's not uncommon for medical costs and property damage to exceed your limits. Remember, the higher your liability limits, the better you are protected in the event of an accident.
Individual Factors That Influence Pricing for the Mercedes C-Class
Many factors influence premiums, including driving record, location, and vehicle annual mileage.
Driving Record
Expect drivers with zero accidents, traffic violations, or claims to pay significantly lower premiums than drivers with multiple accidents or violations.
Location
Geographical location must also be considered, with high population density, crime rate, and claims rate areas seeing higher premiums. That's why drivers from densely populated cities frequently pay more than drivers from sparsely populated suburban and rural areas.
Vehicle Type and Usage
The vehicle make/model, number of safety features, depreciation rate, theft rate, and hundreds of other variables used by auto insurers to determine risk level all contribute towards higher or lower premiums. Additionally, vehicle usage factor, with high mileage drivers paying more in premiums since they are more likely to be involved in an accident.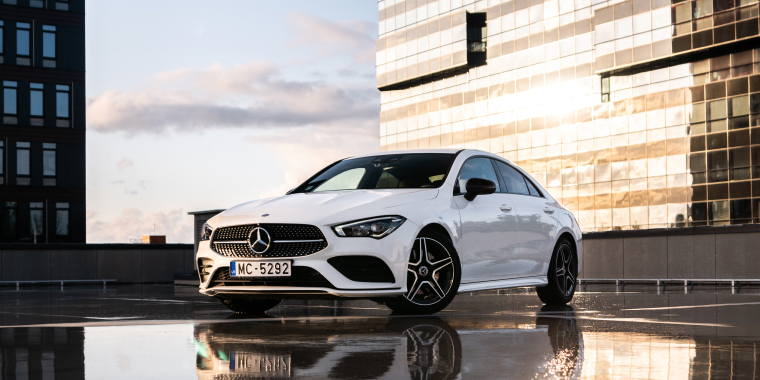 How Does a DUI Affect Insurance Rates for a Mercedes?
Unfortunately, even first-time DUIs will harm any driver's record and premiums paid.
For starters, you can expect your premiums to increase, with providers adjusting rates based on state regulations, accident severity, and the driver's past driving record. Do not be surprised if your premiums double or triple. Secondly, depending on the state, you may be required to file an SR-22 or an FR-44, which lets the state know you are complying with all of the state-mandated auto insurance requirements.
Lastly, do not forget limited coverage options. Providers may outright reject or deny policy renewal, forcing you to seek help from high-risk insurance providers with significantly higher rates and inflexible terms.
If you have been recently convicted of a DUI, you may need to shop around to find cheap DUI insurance.
What Are Some Car Insurance Discounts?
There are several auto discounts available to Mercedes C-Class drivers. Good driver and multi-policy discounts are arguably the most popular, awarding drivers with clean driving records with no accidents, moving violations, or other risky reported behaviors over a specific period anywhere from three to five years.
Multi-policy discounts reward drivers for letting the same provider provide two or more policies (e.g., auto and homeowners insurance) under one roof.
Auto discounts available include:
Defensive Driving Course Discount. Awarded for completing a defensive driving course, teaching you everything from maintaining healthy stopping distances to navigating wet and slippery roads.
Low Mileage Discount. Awarded for driving less than the average number of miles annually. Insurers see low mileage drivers as a lower liability risk.
Telematics Discount. Downloading a GPS-enabled app /installing a Bluetooth beacon in your vehicle allows companies to monitor your driving behavior, including speed, mileage, and time of day driven. Based on the data collected, you can earn discounts up to 20% off your premium.
If you want to stay on top of all discounts you may be eligible for, try calling your auto insurance company every few months. Keeping an open line of communication (especially as your life circumstances change) may save you a quick 10% off your next annual premium.
Find an office near you to help with your auto insurance
What Are Some of the Characteristics of the Mercedes C-Class?
This is a vehicle in the luxury small car segment.
It comes in three trims: Premium, Exclusive, and Pinnacle, along with several engine options ranging from 255 to 503 horsepower, including a 255-horsepower turbo-four and a 402-horsepower turbocharged 2.0-liter four-cylinder engine.
Standard features include an 11.9-inch touch screen, Apple CarPlay/Android Auto compatibility, a 12.3-inch digital instrument cluster, and a universal garage door opener.
Main competitors are the BMW 3 Series, Genesis G70, Audi A4, and Cadillac CT4.
Find the Best Car Insurance Rates Online for the Mercedes C-Class Today
Freeway Insurance is ready to step up to help you find a new, affordable auto policy.
To explore your coverage options, request a quote online, call 800-777-5620, or stop by one of our locations to discuss your options with a friendly service representative. Give us a call today!