How Much is Car Insurance for a BMW 3 Series?
The average annual premium for a BMW 3 Series is $527 for minimum and $2,270 for full coverage.
Depending on which state you live in, your car insurance policy will likely require, at a minimum, a liability-only policy providing third-party benefits, paying for bodily injury and vehicle or property damages sustained by others in an at-fault accident you cause. Rates are subject to change based on several factors, including (but not limited to) your age, gender, driving record, amount of deductible, and eligibility for various discount programs.
Many opt for full coverage, which provides first-party benefits such as collision and comprehensive insurance. If leasing or financing a vehicle, expect your bank to require it, as it better preserves your vehicle's value.
Allow Freeway Insurance agents to help you find the right policy. It doesn't take long to explore several options from multiple insurers.
Getting a Free Auto Insurance quote with Freeway is easy!
Comparing Insurance Costs for 3 Series to Other Vehicles
Drivers can expect to pay lower or higher premiums than drivers of vehicles in the same class as the Audi A4, Mercedes-Benz C-Class, Audi A5, and Genesis G70. This is because each car make and model has differences in the cost of parts and labor, safety features, powertrain options, body style, and other variables that insurers use to determine risk and probability/cost of future claims payouts.
| Make/Model | Annual Full Coverage Insurance |
| --- | --- |
| BMW 3 Series | $2,270 |
| Audi A4 | $1,954 |
| Mercedes-Benz C-Class | $1,948 |
| Audi A5 | $1,980 |
| Genesis G70 | $1,880 |
Types of car insurance coverage for the BMW 3 Series
Many affordable auto insurance options are available to BMW 3 Series drivers, including state minimum and full coverage. Feel free to select from various basic packages and add-ons, including but not limited to underinsured/uninsured motorists, roadside assistance, and rental car reimbursement.
Full Coverage 
Full coverage comprises a mix of policies, the most notable being liability, collision, and comprehensive.
Liability provides third-party benefits, covering the cost of damages and injuries sustained by third parties in an at-fault accident you cause. In turn, collision and comprehensive provides first-party benefits, covering the cost of repairs to your vehicle due to collision and non-collision-related damages.
Although full coverage does not always include optional selections like roadside assistance, rental car reimbursement, and gap insurance, selecting any add-ons may offer greater peace of mind, depending on your driving habits. Plus, they cost no more than a few dollars extra per year, so one or more of these options may be worth having.
State Minimum Liability 
Every state requires that its drivers carry minimum liability requirements for bodily injury and property damage.
For example, all Iowa drivers must carry limits of $20,000 in bodily injury per person, $40,000 in total bodily injury per accident, and $15,000 in property damage per accident. In turn, Kansas drivers have a minimum of $25,000 in bodily injury per person, $50,000 in total bodily injury per accident, and $25,000 in property damage, along with $25,000 per person and $50,000 per accident in uninsured motorist coverage.
It is highly recommended that you carry a minimum 100/300/100 policy, which offers substantially greater protection. Even a single at-fault accident could cost $45,000 worth of property damage, which easily eclipses Iowa's minimums. If your limits are too low, you will be forced to pay for damages and injuries out of pocket, resulting in potential lawsuits by third parties if not paid in full and on time.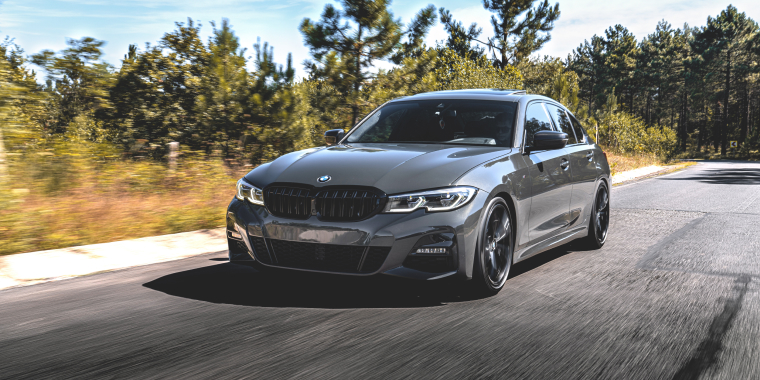 Individual Factors that Influence Pricing for the BMW 3 Series
Several factors influence auto insurance pricing.
One of the most significant factors is age. Inexperienced drivers under 25 generally see higher rates thanks to higher-than-average claims activity and lack of driving experience. They also tend to cause more at-fault accidents. Expect rates to stabilize between your 30s and 60s. After your '60s, you should see an uptick, as more mature people generally have higher rates.
Another major factor influencing the cost of premiums for drivers is the amount of deductible and liability limits. Expect a liability-only policy to cost several hundred dollars less per year than a full policy since state minimum liability only provides third-party, not first-party, benefits.
Notably, deductibles and liability limits play a factor as well. The higher your deductible and the lower your limits, the lower your rates.
How Does a DUI Affect Insurance Rates for a BMW 3 Series?
Unfortunately, being convicted of a DUI is one of the worst things a driver can do.
For starters, expect your rates to increase and remain elevated for at least three years, depending on your state's look-back window and your insurer's policies. It's unsurprising for a DUI conviction to increase rates by up to 100%. In most states, you will also be required to file an SR-22 or FR-44, a proof of financial responsibility that lets the state know you carry the minimum required coverage.
On top of increased premiums, expect a suspended driver's license and registration (until proof of insurance is provided) with plenty of fines and administrative fees. In the worst scenario, you may even face several months of jail time and vehicle impoundment.
If you have recently been convicted of a DUI, it is highly recommended that you shop around and compare DUI insurance from at least three companies, as not all insurers treat DUI -convicted drivers the same.
Find an office near you to help with your auto insurance
What Are Some Car Insurance Discounts for BMW Drivers?
There are many discounts available for BMW 3 Series drivers. They generally fall into four categories: vehicle, usage, driver safety, and policy-based discounts.
What Are Some of the Characteristics of the BMW 3 Series?
This is a vehicle in the luxury small car segment.
It is available in five trims: 330i, 330e, M340i, M3, and M3 Competition.
Standard features on the base 330i include a 255-horsepower turbocharged four-cylinder engine. 14.9-inch touch screen, ten-speaker audio system, USB ports, and Apple Carplay/Android Auto compatibility.
Upgrading to the top trim, M3 Competition adds a 503-horsepower engine with eight-speed M-tuned automatic transmission. It also can include a slew of optional features, such as the M Carbon Exterior package with carbon fiber elements throughout the exterior.
Main competitors are the Audi A4, Mercedes-Benz C-Class, Audi A5, and the Genesis G70.
Find the Best Car Insurance Rates Online for BMW 3 Series Today
If you are ready for a better, more affordable policy, it's time to engage with Freeway Insurance, whether it's state minimum, full coverage, or another type.
There are three ways to get started with Freeway Insurance. Feel free to request a quote online, visit us in person, or call 800-777-5620 for a free, no-obligation consultation to explore your options.