How Much Is Car Insurance for the Jeep Patriot?
Lots of people still drive the Jeep Patriot even though this SUV was discontinued a few years back. If you're one of those people, you're likely paying around $1,116 for minimum liability insurance or $1,932 for full coverage annually.
Whether you drive a new vehicle or an older model, Freeway Insurance offers affordable auto coverage that fits your needs and budget. Contact us, and one of our agents will help you find the right policy for your compact SUV at the best price.
Getting a Free Auto Insurance quote with Freeway is easy!
Comparing Insurance Costs for the Patriot to Other Vehicles
Despite its discontinuation, the Patriot remains popular among many drivers, especially outdoor enthusiasts. That may be one reason why the premium for this SUV is equally competitive, costing around as much as newer, similar ones to insure. Another reason — and likely the most influential — is its discontinuation. Older cars require parts that are harder to find when they need repairing, which can make them a little more expensive to insure.
| Make/Model | Annual Full Coverage Insurance |
| --- | --- |
| Jeep Patriot | $1,932 |
| Jeep Compass | $2,088 |
| Jeep Renegade | $2,004 |
| Jeep Liberty | $1,860 |
| Chevrolet Equinox LT | $1,956 |
| GMC Terrain SL | $1,932 |
| Subaru Forester | $1,632 |
| Kia Sportage | $1,920 |
| Nissan Juke | $1,980 |
Types of Car Insurance Coverage for the Patriot
If you drive this compact SUV, you can purchase full or minimum liability coverage or a combination of those and other types of coverage. Minimum liability policies are typically cheaper because they provide the basic protection you need to meet state requirements.
If you cause a crash while driving your SUV and others involved are hurt, your minimum liability policy will take care of any medical costs involved if anyone is hurt, as well as property damage — to a specific extent, though. If the treatment for bodily injuries and damage costs exceed your policy limits, you will have to pay for any outstanding balances out of pocket.
By contrast, a full coverage policy covers all the costs you incur, as well, no matter who is at fault.
Because this vehicle is discontinued, this might affect your coverage options. Older vehicles can be cheaper to insure than newer models, but their safety features are a bit outdated, which can be risky on the road.
Another important factor to consider is the availability of vehicle parts if your SUV needs repair. The manufacturer still sells vehicle parts and accessories for this SUV on its website. One day, it likely won't, and fixing this SUV will be more expensive, driving up your monthly premium.
Full Coverage
Full auto coverage combines liability protection with comprehensive and collision, which protects you financially if you crash your vehicle.
The liability aspect of your policy takes care of medical claims filed by anyone injured in a crash and any property damage caused. Collision kicks in if you're involved in any kind of crash — whether with a car, another SUV, a commercial truck, or property, like a fence or a building.
Comprehensive takes care of damages caused by vandalism or a weather event. You'll be able to get your SUV repaired with your insurer paying the costs.
State Minimum Liability
A state-required minimum liability policy gives you the basic protection required by your state to cover bodily injuries and property damage.
Requirements vary by state. Drivers in New Hampshire, for example, don't have to buy auto insurance, but they do need to prove that they can pay for the costs of a crash they cause — that includes medical treatment if anyone involved is hurt and repairs for property damage. Other states, like Florida and Ohio, require that policies include minimum coverage amounts.
Keep in mind that minimum liability may not be enough to cover injuries and damages you cause in an accident. For example, in Texas, drivers are required to carry $30,000 for bodily injury/death liability for one person, $60,000 for two or more people injured or killed in an accident you cause and $25,000 in property damage. If you hydroplane in a rain storm and sideswipe a Lexus with your Patriot, you may be looking at repairs well over $25,000 – that will come out of your pocket if you decide not to increase your limits.
Individual Factors That Influence Pricing for Your Jeep
Various factors influence how much you'll have to pay to insure a vehicle. Here's a closer look at what some of these factors are.
Loss Probability
Your insurer calculates loss probability based on the number of crashes involving the same model, make, and year of your SUV in your city or region. They will also look at the extent of the damages this vehicle typically experiences in crashes. If you live in an urban area that experiences a lot of traffic congestion, you'll likely pay more for coverage than someone who lives in a quiet suburb with minimal traffic.
Vehicle Safety Features and Ratings
The Jeep Patriot averaged a four-star safety rating from the National Highway Traffic Safety Administration despite several model years being recalled more than once. The agency has received hundreds of complaints from drivers about this SUV, including engine, electrical, and fuel and propulsion issues.
Vehicle Value
Older vehicles depreciate over time — one reason why they tend to be cheaper to insure. But if repair parts are harder to find or the vehicle's safety features are outdated, you can expect your premium rate to increase slightly. Because the Patriot was discontinued in 2016, it doesn't have the collision alerts or blind spot monitoring features the 2024 Compass has.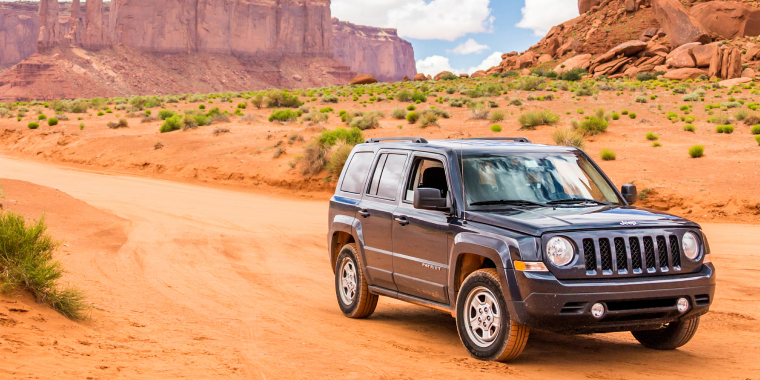 How Does a DUI Affect Insurance Rates?
Getting convicted for driving under the influence of drugs or alcohol won't just harm your driving record. It will also send your premium skyrocketing for at least three years. That's because those convicted on this charge are viewed as high-risk drivers. You'll wind up paying much more than $1,932 in annual auto coverage premiums if you're caught driving your SUV while under the influence.
Additionally, you may be required to file for SR-22 insurance, which some insurers refuse to handle. This means you may be shopping for cheap DUI solutions. It's helpful to shop around and compare, as some carriers specialize in high-risk drivers.
What Are Some Car Insurance Discounts?
Two types of policyholders usually get the best deals from insurers: good drivers and those who bundle coverage.
If you've got a clean driving record and are a proven safe driver, you could get a 10% to 30% discount on your premium. For example, policyholders who opt for multi-policy coverage by combining home and auto packages typically pay 5% to 25% less on their premiums.
Remember, the more discounts you're eligible for, the more you save. You may also be eligible for:
An 8% to 25% multi-car discount if you insure more than one vehicle on the same policy.
A 4% to 12% discount if you sign up for a policy after getting an online quote from the insurer.
A 5% to 10% discount if you enroll in a defensive driving course approved by your insurer. This discount typically applies to drivers age 50 and older, though.
Freeway Insurance can help you get the best policy for your compact SUV at an affordable price. Contact us today or get an online quote, and we can get you on the road with a great rate.
Find an office near you to help with your auto insurance
What Are Some of the Characteristics of the Jeep Patriot?
Debuting in 2006 alongside the Jeep Compass, the Patriot is a front-engine, five-door compact crossover SUV. It was manufactured and sold for 10 years before the manufacturer stopped producing it in 2016.
Patriot models have either a 2.0-liter or a 2.4-liter I4 engine and come in front-wheel or four-wheel drive. The most basic model — the Sport edition — has manual roll-up windows and door locks, an anti-theft ignition, and front bucket seats that are manually adjustable. The Latitude and Limited versions have additional features the Sport lacks, like power windows, locks, and a sunroof. The High Altitude edition of the Patriot has leather-trimmed, heated seats, a 6.5-inch touchscreen, and a subwoofer.
Find the Best Car Insurance Rates Online for the Jeep Patriot Today
Freeway Insurance can help you get a great auto policy for your SUV at a cheap rate. Contact us today to find affordable coverage that fits your needs.
We can hook you up with a great plan to protect you and your family on the road. Call us at (800) 777-5620, come get a fast and free quote online or stop by one of our locations.