How Much Is Car Insurance for a Ford E-Series?
The average annual premium for a Ford E-Series is $1,152 for full coverage.
Ford E-Series drivers are required to purchase car insurance. You can choose from full coverage with more protection or the state-required minimum, which offers third-party benefits only.
Are you looking for an affordable policy that meets your needs and budget? If so, Freeway Insurance is ready to step up to the plate.
Getting a Free Auto Insurance quote with Freeway is easy!
Comparing Insurance Costs for an Econoline to Other Vehicles
If you drive a Ford E-Series, you can expect a different premium than drivers of competing makes and models like the Chevrolet Express, RAM ProMaster, Mercedes-Benz Sprinter, and Nissan NV.
| Make/Model | Annual Full Coverage Insurance |
| --- | --- |
| Ford E-Series | $1,152 |
| Nissan NV | $1,132 |
| Chevrolet Express | $1,186 |
| GMC Savana | $1,202 |
| Mercedes Benz-Sprinter | $1,380 |
Types of Car Insurance Coverage for a Ford E-Series
As a Ford E Series driver, you can benefit from various insurance options, including state minimum liability, full coverage and a variety of other types such as uninsured motorist coverage or rental car reimbursement.
State minimum liability only provides third-party benefits (covering the cost of damages and injuries sustained by others in an at-fault accident you cause (whereas full coverage includes third-party and first-party benefits with protections for you, your passengers, and your vehicle).
Full Coverage
A full coverage policy consists of liability, collision, and comprehensive coverage.
Collision and comprehensive coverage pay for repairs and replacement to your vehicle in case of crashes or non-collision-related scenarios such as rollover collisions, fire, theft, and falling tree limbs.
State Minimum Liability
To legally operate a vehicle in your state, you must carry at least a state minimum liability policy that provides third-party benefits for bodily injury and property damage liability, covering the cost of damages and injury sustained by others in an accident you cause.
Liability is the most fundamental part of a policy, comprising of bodily injury and property damage liability that pays for lost income, property repairs, and medical bills for third parties in an at-fault accident you cause.
State minimum liability is expressed as three numbers (e.g., 25/50/25). Using Connecticut as an example, all drivers are required to carry a minimum of $25,000 in bodily injury liability per person, $50,000 in bodily injury liability per accident, and $25,000 in property damage liability.
We highly recommend that you seek higher coverage limits to ensure you have enough protection in case of a serious accident. Remember that you will be held liable to cover all remaining expenses if the cost of third-party damages or injuries surpasses your coverage limits.
Individual Factors That Influence Pricing for the Ford E-Series
Many factors influence your auto insurance premiums, including your vehicle make/model, selected coverages/deductibles, and driving record.
Vehicle Make/Model
Your vehicle make and model plays a major role in determining what you pay. You can expect to pay higher premiums if your car is more expensive to repair or maintain and has high theft rates.
Selected Coverages & Deductibles
As for selected coverages and deductibles, expect to pay higher premiums with higher coverage limits and lower deductibles since you are cutting your out-of-pocket expenses in case a claim is filed. Inversely, expect lower premiums if you select lower coverage limits and higher deductibles.
Driving Record
If you have a record free of at-fault accidents, claims, and moving violations, insurance companies will determine that you are low risk, which means you'll pay much less.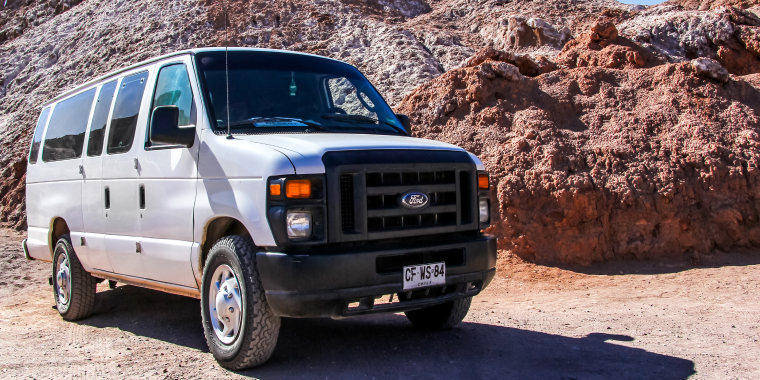 How Does a DUI Affect Insurance Rates for a Ford E-Series?
A DUI (Driving Under the Influence) can seriously impact your auto insurance rates.
Ways DUIs affect your rates include premium increases, high-risk classification, and the required filing of an SR-22, a document filed with your state's Department of Motor Vehicles (DMV) that lets everyone know you carry the minimum liability insurance coverage. Expect to pay a fee for filing.
On top of that, you may also face policy non-renewal or cancellation, where your provider may outright deny you coverage. From there, you may have to refer to DUI solution providers to find a policy.
Lastly, expect your premium to stay up for quite some time after the DUI conviction. Your rates will remain elevated for at least three years, depending on your provider and your state's lookback window. However, it should gradually decrease if you maintain a clean driving record.
What Are Some Car Insurance Discounts for Your Ford Econoline?
If you want to save on your auto insurance policy, discount programs are one of the best ways to do it. Two popular discount programs include good driver and bundling discounts, rewarding you for claims-free driving behavior and ensuring two or more policies (e.g., auto and homeowners insurance) with the same provider.
Here are other types of discounts that good drivers and drivers with less-than-perfect records may be eligible for:
Defensive Driver Discount. Suppose you take an approved defensive driving course that teaches you everything from maintaining healthy stopping distances to the latest regarding traffic laws and regulations. In that case, insurance will reward you with a small discount. Only some insurers offer this discount, so it is best to check.
Usage-Based Discounts. If you allow auto insurance companies to monitor your driving behaviors using a Bluetooth beacon or other kind of telematic device, then you could get a discount. However, you must have a solid track record of driving safely with a positive score to qualify.
Occupation Discount. Some professions and occupations are perceived as lower risk than others in the eyes of insurance companies. Depending on what your occupation is, you may benefit from a small discount.
One of the best things you can do is to call your insurance company when you renew to see if you qualify for any new discounts. Sometimes, providers may only offer a discount to you if you ask for it.
Find an office near you to help with your auto insurance
What Are Some of the Characteristics of the Ford Full-Sized Van Series?
Also known as the Ford Econoline, the E-Series is a vehicle in the van segment, discontinued after the 2015 model year. It is available in three trims: XL, XLT, or XLT Premium with regular/extended wheelbases in the wagon and cargo van body configurations.
Standard features include rear-wheel drive, seating for up to 15 passengers, durable vinyl upholstery, manual air conditioning, AM/FM radio, and anti-block brakes for improved braking performance.
Main competitors are the Nissan NV, Chevrolet Express, GMC Savana, and Mercedes-Benz Sprinter.
Find the Best Car Insurance Rates Online for the Ford E-Series Today
Are you a Ford E-Series driver looking to explore your auto insurance options? Freeway Insurance welcomes you to a free no, obligation consultation.
To get started with Freeway Insurance, you may request a quote online, stop by one of our locations or call 800-777-5620 to discuss your options with one of our friendly agents. Feel free to get in touch with us today!