How Much is Car Insurance for the Chevrolet Cobalt?
Chevrolet stopped manufacturing the Cobalt in 2020. Many still drive this compact sedan, though, and annual premiums for it stand at around $1,092 for minimum liability coverage and $2,064 for full auto insurance coverage. A full coverage auto policy for a Cobalt will cost you much more than a similar compact car, even a newer one.
Freeway Insurance offers affordable auto insurance plans that fit your needs and budget. Our agents are ready to help you find the best policy for your Cobalt at the best possible rate.
Getting a Free Auto Insurance quote with Freeway is easy!
Comparing Insurance Costs for the Cobalt to Other Vehicles
Insuring a Chevy Cobalt isn't cheap. This vehicle has had several safety issues and recalls in the past, compared to similar cars, which could be one reason premiums for it are so high. Another reason is that it's no longer manufactured, so replacement parts are harder to find. Here's how the average annual full coverage premium for this car stacks up against similar models, including newer ones.
| Make/Model | Annual Full Coverage Insurance |
| --- | --- |
| Chevrolet Cobalt | $2,064 |
| Pontiac G5 | $2,016 |
| Mazda 3 | $2,136 |
| Volkswagen GTI | $2,244 |
| Subaru Impreza WRX STI | $1,788 |
| Honda Civic SI | $2,352 |
| Mini Cooper Clubman | $1,980 |
| Mitsubishi Lancer Ralliart | $1,812 |
| Toyota Corolla | $2,112 |
Types of Car Insurance Coverage for a Chevrolet Compact Car
If you're looking to insure your Cobalt, you can choose between several types of policies, including a state-required minimum liability policy or a full coverage one.
A policy offering minimum liability coverage meets state-mandated insurance requirements — and that's it. If you cause a crash that exceeds the amounts listed on your policy, you have to pay the remaining balance and all of your own costs associated with the wreck out of pocket.
A full coverage policy provides more than a basic one. In addition to liability insurance, it also includes collision, which kicks in to pay for damages caused to your vehicle regardless of fault, and comprehensive, which pays to repair damages caused by vandalism or a weather-related event.
Full Coverage
Under a full coverage policy, liability, comprehensive, and collision coverage protect you financially if you cause a crash.
In that situation, the liability portion takes care of any medical bills or damage claims filed by others involved. It won't take care of your losses, but your collision coverage will, paying to repair or replace your car in any kind of crash — whether you caused it or someone else did.
Comprehensive takes care of damages that aren't related to a crash. If your Cobalt is vandalized, for example, or gets damaged during a storm, comprehensive pays to have it repaired.
State Minimum Liability
States require drivers to have a minimum amount of liability coverage on the road. This ensures that every driver is financially responsible for a crash they cause, paying to treat bodily injuries and any property damages that result.
Requirements vary by state. Virginia, for example, has a 30/60/20 minimum liability requirement. That means a basic policy in Virginia must provide up to $30,000 to medically treat one person hurt in the crash that the driver with the basic policy caused, with up to $60,000 to cover two or more injured persons. The policy must also include $20,000 to cover property damage.
Individual Factors That Influence Pricing for the Chevy Cobalt
Several factors influence how much you'll pay to insure your car. Here's a closer look at some of the most common ones.
Loss Probability
Many vehicles end up in crashes, and these crash reports generate statistics that insurers use to determine loss probability. To get an auto policy for your Cobalt, for example, an insurer would look at how often other vehicles of this make and model have crashed in the city or region where you live and drive. This includes the extent of damage this car typically experiences.
Vehicle Safety Ratings
How well a vehicle performs during crash tests gives insurers insight into how safe it will be on the road. The better it performs, the safer it is, and this typically means you'll pay a lower premium.
When safety tested, models of the Cobalt didn't perform very well. The Insurance Institute for Highway Safety found that the 2005, 2006, 2007, and 2008 models had the highest fatality rate among the compact, four-door car class.
The 2009 model was recalled six times, according to the National Highway Traffic Safety Administration, which is likely a reason why annual premiums for this car tend to be high.
Vehicle Age
The 2020 Cobalt was the last model manufactured. Because this car is no longer produced, replacement parts are likely harder to find. In that case, repairs cost more, which can drive premiums up.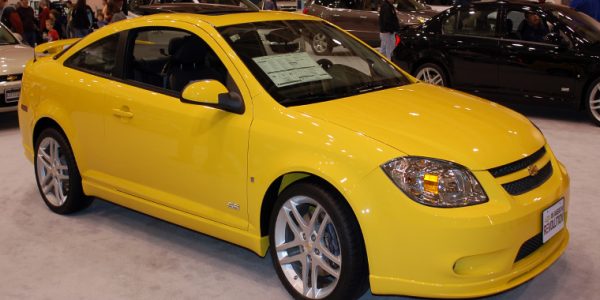 How Does a DUI Affect Insurance Rates?
If you're convicted of driving your Cobalt under the influence of drugs or alcohol, your annual insurance premium will likely skyrocket. That's because your insurer will consider you highly risky behind the wheel and a danger on the road.
So, instead of $2,064 per year, your auto policy will cost you much more, increasing by a certain percentage, depending on the circumstances surrounding your traffic stop. This higher rate will hold for at least three years when a DUI infraction typically clears from a driving record.
What Are Some Car Insurance Discounts for the Cobalt?
Insurers typically give good drivers and customers who bundle coverage the best deals, with rate reductions that range between 10% and 25%.
You might be eligible for more than one discount, and if that's the case, you'll save more on your premium. If you drive a Chevy Cobalt, you may be eligible for:
An 8% to 25%

multi-car

discount if you insure more than one vehicle on the same policy.
A 4% to 12% discount if you sign up for a policy after getting an online insurance quote.
Up to 15% off if you work in a specific occupation, like teaching, or are a military service member.
Freeway Insurance can help you get the best coverage for your midsize pickup at an affordable price.
Find an office near you to help with your auto insurance
What Are Some of the Characteristics of the Chevrolet Cobalt?
Introduced in 2004 to replace two compact cars in the Chevrolet lineup, the Cobalt had a 16-year run, with production ceasing in 2020. Two-door coupe and four-door sedan versions of this vehicle were made along with a sports edition called the Cobalt SS.
Throughout its history, this vehicle didn't fare very well in safety tests, with several model years experiencing recalls for failing to meet federal safety standards. In 2007, for example, 98,000 Cobalt coupes sold between 2005 and 2006 were recalled because this specific trim lacked adequate padding that could cause head injuries if drivers were involved in a crash. Similar recalls took place in 2010, 2012, and 2014 for power steering problems, potential fuel leak issues, and faulty ignition switches.
Find the Best Car Insurance Rates Online for the Chevrolet Cobalt Today
A Freeway Insurance agent can help you find the best car insurance at an affordable rate. Contact us today to find auto coverage that fits your needs and budget.
We can hook you up with the cheapest car insurance for your Chevrolet Cobalt so you and your family are protected. Call us at 800-777-5620, come get a fast and free quote for car insurance online, or stop by one of our locations.