How Much Is Auto Insurance for a Mazda3?
The annual cost of your car insurance can vary based on the type of auto insurance coverage you choose. The average you will pay is $560 for minimum coverage and $1,062 for full coverage.
You have choices when it comes to buying car insurance. You could purchase full coverage that provides you with comprehensive, collision, and liability protection for you and your vehicle. Alternatively, you could opt for the state minimum requirement that only includes liability coverage.
No matter your choice, Freeway Insurance is here to help. We can assist you with getting the best possible policy that protects you in the case of an accident.
Getting a Free Auto Insurance quote with Freeway is easy!
Comparing Insurance Costs for Your Mazda3 to Other Vehicles
The cost of premiums each month will vary based on individual factors. The cost of coverage for competitors is:
Types of Car Insurance Coverage for Your Mazda Sedan
The laws of each state require drivers to carry a minimum amount of liability insurance, and these requirements apply to the Mazda3. While you face a minimum amount of coverage you have to carry, you do have the option to purchase more than the minimum. More robust policies could provide you with additional protection if you are in an accident.
The type of policy you buy is only one of the factors that will determine what your policy will cost. The other factors that might impact your premiums can also vary.
Full Coverage
There is no question that full coverage provides you with the strongest protection in the event of a motor vehicle accident. When you buy full coverage car insurance, you get financial protection not only for your own losses but also for any damage you cause to other motorists.
Your full coverage policy includes collision insurance. This type of insurance pays for your damages resulting from a collision, no matter who is at fault. You also get comprehensive coverage that pays for your losses when damage results from something other than a collision, like vandalism or a hail storm.
Finally, your full coverage policy includes liability coverage. Liability insurance coverage protects you from third-party claims in cases where you are responsible for the accident. This means you won't have to pay as much out of your own pocket if you cause damage to another driver in a crash.
State Minimum Liability
Every state requires a minimum level of liability insurance coverage. While full coverage policies meet this requirement, many drivers choose a policy that only includes liability coverage. This is usually because the monthly premium for this type of policy is much lower.
You might pay less upfront, but you could be on the hook for your own losses if you are in an accident without full coverage. This includes the cost of your medical care or the damage your vehicle sustains.
Individual Facts that Influence Pricing for the Mazda3
Different factors impact the cost of your car insurance. When you insure a Mazda sedan, these factors combine to determine what you can expect to pay each year. Some of the important factors include the following:
Age
Your age might be the most important factor in determining your monthly premiums. Younger drivers—particularly teens and those in their 20s—can expect to pay more each month. These costs go down as drivers age.
Accident History
Your accident history can also play a part in determining what you pay for car insurance. The more accidents you have been involved in, the higher your premiums are likely to be.
Vehicle Value
The value of your vehicle is an important factor in determining the cost of your car insurance. It should come as no surprise that your policy will likely cost more if you are ensuring an expensive, newer model.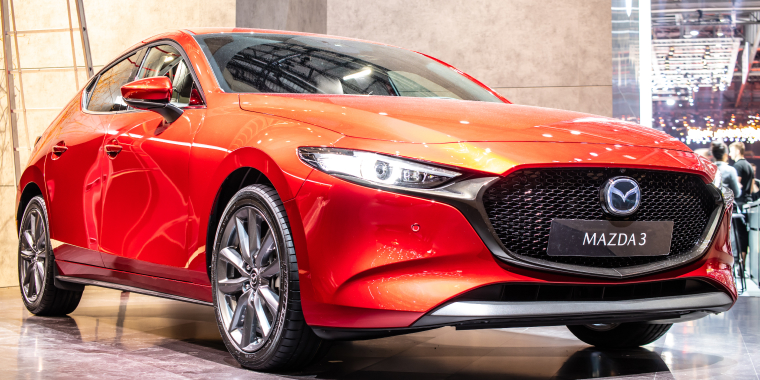 How Does a DUI Affect Insurance Rates for a Mazda3?
Being arrested and convicted of DUI can impact the cost of your car insurance. Not only could you see your premiums increase, but you might even face the cancellation of your policy entirely. Finding affordable DUI solutions can be difficult.
In addition to paying more, you can also expect to deal with SR-22 requirements. These requirements make it necessary for you to provide certification that you have enough insurance to cover an accident due to your status as a high-risk driver.
What Are Some Auto Insurance Discounts?
There is no doubt that car insurance can be costly, especially if you don't take advantage of available discounts. For example, you could earn a good driver discount if you have avoided accidents and tickets recently. Some other examples of available discounts include the following:
Another great way to save money on your car insurance is by bundling your policy. For example, you could purchase your auto policy from the same carrier that provides your home insurance. You might be surprised at the savings bundling can bring.
Find an office near you to help with your auto insurance
What Are Some of the Characteristics of the Mazda3?
This vehicle has been offered as both a 4-door sedan as well as a 5-door hatchback.
Currently in its fourth generation, which came with a substantial visual change from previous years, this sedan has retained a similar size although it rides lower and is slightly longer than before. The current generation has been focused on improving the car's quietness with the inclusion of sound-deadening material.
Find the Best Car Insurance Rates Online for Mazda3 Today
If you are ready to get started on the hunt for the right auto policy, Freeway Insurance is here to help. Our team can assist you in evaluating your options before purchasing the right policy at the right price. Our goal is to get you cheap car insurance that will serve you and your family.
Contact us to talk about your insurance policy options for your Mazda3. Call us at (800) 777-5620, come get a fast and free quote for car insurance online or stop by one of our locations.