How Much Is Car Insurance for an Escalade?
The average annual premium is $2,444 for full coverage. In most states, car insurance may be full coverage, minimum required liability or any additional protection you need or want.
State minimum liability refers to the minimum amount of coverage required by state law, and full coverage adds additional coverages like collision and comprehensive for broader protection against collision and non-collision-related damages.
Whether it's state minimum liability, full coverage, or another type of auto insurance coverage, Freeway Insurance is ready to help you explore affordable policy options for you and your family.
Getting a Free Auto Insurance quote with Freeway is easy!
Comparing Insurance Costs for a Cadillac Escalade to Other Vehicles
Expect your luxury SUV premiums to be different from comparable makes and models. There are many reasons for this, including safety ratings, probability of theft, vehicle value, depreciation rate, and a treasure trove of proprietary historical data auto insurance companies use to classify your vehicle's risk of future claims payouts.
| Make/Model | Annual Full Coverage Insurance |
| --- | --- |
| Cadillac Escalade | $2,444 |
| Volvo XC90 | $1,820 |
| Lincoln Navigator | $2,186 |
| Infiniti QX80 | $2,200 |
| BMW X7 | $2,240 |
Types of Car Insurance Coverage for Your Escalade
Drivers can benefit from all types of auto insurance policies, including state minimum liability and full coverage.
The main difference between both coverage types is that one provides third-party-only benefits, and the latter provides first- and third-party benefits that cover damages and injuries sustained by you, your vehicle, and your passengers.
Full Coverage
A full coverage policy packages three important types of coverage: liability, collision and comprehensive insurance.
Liability coverage pays out claims associated with injuries or property damage to others (assuming you are determined to be at fault). In contrast, collision pays for damages to your vehicle caused by collision-related incidents such as vehicle-to-vehicle, vehicle-to-object, and rollover collisions.
Comprehensive coverage covers non-collision-related scenarios, paying for damages due to theft, vandalism, falling objects, animal collisions, and natural disasters.
We recommend you carry full coverage over state minimum liability for its broader scope, providing first and third-party benefits.
State Minimum Liability
All drivers must carry minimum liability coverage to drive legally. Referred to as liability, it includes bodily injury and property damage liability, with every state requiring minimum limits.
Using Georgia as an example, drivers must carry a minimum of $25,000 in bodily injury liability per person, $50,000 in bodily injury liability per accident, and $25,000 in property damage liability.
Note that state minimum liability only extends to paying for damages and injuries sustained by others and accidents you cause. It does not provide first-party benefits. To enjoy first-party benefits, you must include collision and comprehensive, better served by a full coverage policy.
Individual Factors That Influence Pricing for the Cadillac High-End SUV
Many factors affect driver insurance pricing, including age/gender, driving record, selected coverage/deductibles, and credit score.
Age
Younger drivers, like teenagers and people in their early 20s, tend to have higher premiums thanks to belonging to a demographic with a higher record of claims. Expect rates to gradually decrease as you gain more experience upon hitting your 30s, 40s, and 50s.
Driving Record
As for driving records, drivers with zero accidents, traffic violations, and claims on their records for the past three to five years generally pay lower premiums than problematic drivers with multiple infractions, especially if they rack up numerous infractions within a short period.
Selected Coverage and Deductibles
Do not forget about your selected coverage and deductibles. With deductibles typically ranging from $250 to $1,000 or more, the higher your deductible, the lower your premiums, as you are assuming more risk in case of an accident. As for covered selections, adding extras like personal injury protection (PIP), roadside assistance, and uninsured motorist coverage (UM) can all add a few extra dollars every month to your premium. Just know that PIP and UM may be required by your state.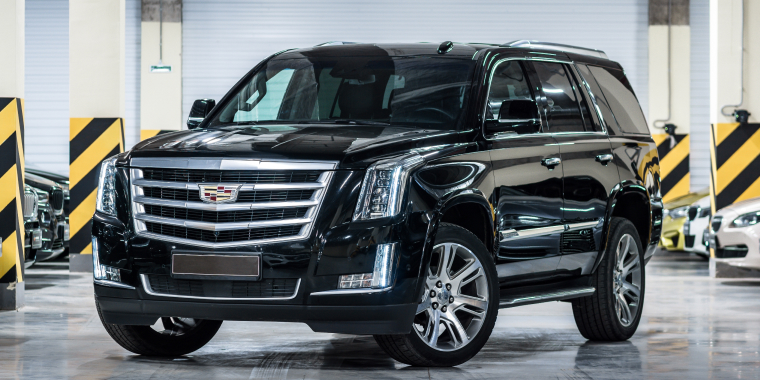 How Does a DUI Affect Insurance Rates for a Cadillac?
Expect some serious consequences if you are convicted of a DUI.
Aside from increased premiums, you can expect outright cancellation or non-renewal of your policy, forcing you to seek a policy elsewhere from a provider specializing in DUI solutions. Future premium increases will depend on your current driving record and the severity and frequency of past convictions, remaining elevated for a minimum of three years before eventually tapering down (assuming you maintain a clean driving record).
Additionally, you may be required to file an SR-22 or an FR-44 form (subject to a filing fee), which is a certificate of financial responsibility that lets the state know you are carrying the minimum required auto insurance.
Outside of that, you can also expect to lose discounts. For example, if you had a good driver discount, a DUI conviction will certainly cause you to lose it, with higher premiums taking its place.
What Are Some Car Insurance Discounts for a Cadillac Escalade?
Suppose you want to save a few bucks on your premium by enrolling in discount programs. Two popular discount types are good driver and multi-policy discounts. You must keep a clean driving record for the past three to five years, free of moving violations, claims, and at-fault accidents, to obtain a good driver discount. Multi-policy discounts also reward you for purchasing two or more policies under one insurer (e.g., auto and homeowners )
You may also decide to take advantage of the following discounts:
Pay in Full Discount. If you elect to pay your entire annual premium upfront instead of fixed monthly installments, expect some small savings from your provider.
Vehicle Safety Discount. "Risk-proofing" your vehicle by adding safety features like daytime running lights and anti-theft devices may make you eligible for discounts. Insurers see these features as lowering your risk of theft or accidents, adjusting your premiums accordingly.
Occupation-Based Discounts. If you are a member of a specific profession or trade organization (e.g., teachers or police officers), then you may see a small discount.
One of the best ways to save on your policy is to talk to your provider when its time to renew. Switching to an older make and model vehicle, increasing your deductible, achieving an A+ average on your college transcript, and other changes to your life may offer discounts or reduced premiums.
Find an office near you to help with your auto insurance
What Are Some of the Characteristics of the Escalade?
This is a vehicle in the large luxury SUV segment.
It is available in six trims: Luxury, Premium Luxury, Sport, Sport Platinum, Premium Luxury Platinum, and Escalade-V.
Standard features include a 16.9-inch touch screen, Apple CarPlay/Android Auto compatibility, several USB ports, a 19-speaker audio system, and tri-zone automatic climate control. Upgrading to the highest level trim, Escalade-V comes adds Brembo brakes, a supercharged 682 horsepower v8 engine, and cabin noise cancellation.
Main competitors are the Volvo XC90, Lincoln Navigator, Infiniti qx80, and BMW X7.
Find the Best Car Insurance Rates Online for the Cadillac Escalade Today
Whether it's a state minimum, full coverage, or another type of policy, Freeway Insurance is ready to help you find the right policy for you and your family.
Getting started with Freeway Insurance is easy. You may request a quote by visiting us online, calling 800-777-5620, or stopping by one of our offices for a free, no-obligation consultation with one of our representatives. Get in touch with us today!