The largest city in the sparsely populated state of Montana, Billings is a thriving metropolis with a vibrant arts & culture scene and plenty of scenic routes. It is home to a large portion of Yellowstone National Park, rich with hot springs, alpine rivers, and majestic geysers sure to melt the hearts of every nature enthusiast. We are also big fans of the Beartooth Highway, a scenic highway with plenty of secluded back roads to partake in the classic American road trip.
Some of Billings' most popular attractions include the Bighorn Canyon National Recreation Area, Red Lodge Mountain Resort, Pompey's Pillar, Pictograph Cave, and the Little Bighorn Battlefield National Monument.
All Billings drivers must carry auto insurance to drive legally in the state. Keep reading to learn more about car insurance in Montana including the average monthly premium paid, traffic data, road/infrastructure quality, and the types of discounts available.
Quick Facts
Billings is the largest city in Montana
Billings' nicknames are the "City Beneath the Rimrocks" and the "Magic City"
The city of Billings is named after Frederick H. Billings, a former Northern Pacific Railroad president
Billings is Montana's largest trade and distribution center
How Much Does Car Insurance Cost in Billings, MT?
Drivers who live in Billings pay an average monthly premium of $159 a month for full coverage car insurance, which is close to the state average of $145 and higher than the national average of $140. For the cheapest car insurance in Billings, the state-required minimum liability insurance, drivers pay an average of $45 monthly, about the same as the national average of $47 and more than the state average of $29 per month. It makes sense that drivers in Billings pay more than other drivers in Montana, since there is more congestion with the larger population and, therefore, more opportunity for accidents and claims.
How does Billings compare with other cities in Montana? For the average monthly car insurance prices across different cities in Montana, see our breakdown below.
| City | Full Coverage Insurance | Liability Insurance Coverage |
| --- | --- | --- |
| Billings | $159 | $45 |
| Bozeman | $152 | $39 |
| Great Falls | $158 | $45 |
| Missoula | $147 | $41 |
Affordable Car Insurance Rates by Zip Code in Billings, Montana
Your zip code plays a significant role in the rates that you pay. Expect zip codes with a higher number of moving violations, thefts, and other high-risk behavior to produce higher premiums for each of its residents.
For the average monthly car insurance prices by zip code in Billings, see our breakdown below.
| Zip Code | Full Coverage Insurance | Liability Insurance Coverage |
| --- | --- | --- |
| 59101 | $159 | $45 |
| 59102 | $159 | $47 |
| 59105 | $158 | $46 |
| 59106 | $159 | $46 |
| 59117 | $159 | $47 |
Low-Cost

Car Insurance Rates by Age in Billings, MT

The cost of car insurance by age in Billings varies significantly. Generally, teenagers pay as much as quadruple the premium amount as drivers in their 30s, 40s, and 50s. This is due to teenagers having a riskier driving profile with limited histories.

For the average monthly car insurance prices by age in Billings, see our breakdown below.
| Age | Full Coverage Insurance | Liability Insurance Coverage |
| --- | --- | --- |
| Teenagers | $493 | $163 |
| 20s | $174 | $51 |
| 30s | $159 | $46 |
| 40s | $156 | $46 |
| 50s | $144 | $42 |
| 60s | $150 | $45 |
| 70s | $156 | $49 |
Unless otherwise specified, we use the following methodology to arrive at our average cost: male, age 30, lowest possible legal coverage allowed by Montana. Your rates will be determined by several factors, including your age, your gender and the amount of coverage you want to purchase. 
Get a Quote for Car Insurance in Montana Today!
Driving Conditions in Billings, Montana
How Many Fatal Accidents Happen in Billings?
In 2019, Billings had seven fatal road traffic accidents resulting in seven fatalities. Of these accidents, there were a total of 13 vehicles and 17 people involved.
In 2020, there were five fatal crashes and five people were killed.
How Are the Road Infrastructure and Bridges in Billings?
The city of Billings, Montana, has a very active public Works department that provides services to improve roads and infrastructure, including traffic resource maintenance and repair, stormwater management, environmental monitoring, and facility management.
Recent transportation projects have included annual paver program work at 4th avenue North from 27th Street to N. 13th Street and Poly Drive from 13th St West to 17th St West.
For more information on Billings construction projects, visit Billings Public Works – Construction Projects.
Minimum Car Insurance Requirements in Billings, MT
All Billings drivers must carry the following state minimum liability requirements:
Bodily injury: $25,000 per person
Bodily injury: $50,000 per accident
Property damage: $20,000 per accident
This liability car insurance consists of bodily injury/death liability insurance and property damage liability insurance.
If possible, go with a full coverage policy over a state minimum policy. Full coverage policies have a higher degree of protection with liability, plus collision car insurance and comprehensive auto insurance, which helps pay for damages caused by scenarios outside of your control, such as theft, totaling of your vehicle, deer collisions, and weather-related events.
Remember, hospital bills piling up after an accident could easily exceed the state-required minimums of $25,000 bodily injury per person and $50,000 bodily injury per accident, so we strongly recommend seeking higher liability limits if you can afford it.
What Are the Penalties for Driving Without Insurance in Billings?
According to Montana's Motor Vehicle Insurance Responsibility and Verification Act, driving without insurance in Montana is classified as a misdemeanor.
If you are a first-time offender, expect your license/registration to be suspended on top of an up-to-$500 fine and stiffer penalties for second and third offenses, including up to 10 days in jail and a 90- or 180-day registration revocation period. In extreme cases, meaning four or more offenses, you may even serve up to six months in jail.
Remember, all Montana drivers must carry bodily injury liability coverage of $25,000 per person, bodily injury liability coverage of $50,000 per accident, and property damage liability coverage of $20,000. Insurance companies must report drivers who cancel their policies or let their coverage lapse to the state in real time.
Factors Allowed in Billings Car Insurance Rates
Key factors that affect Billings car insurance rates include:
Zip code of residence
Age
Gender
Occupation
Make and model of vehicle
Yearly mileage
Credit history
Note: The way your policy is structured also affects rates. For example, reducing/eliminating coverages or raising your deductible from $500 to $1000 can significantly lower the price you pay. Regardless, we highly recommend a full coverage policy with comprehensive and collision insurance over the state's minimum required policy with limited protections. For an extra couple of hundred of dollars a year, a full coverage policy is worth the peace of mind.
Discounts for Car Insurance in Billings, Montana
Good driver discounts are typically awarded to people with a claims-free driving record for three to five years. A claims-free driving record means no moving violations, traffic infractions, or collisions with other vehicles—whether you are determined to be at fault or not. Also, enrolling in a defensive driving course, installing an anti-theft device, and similar programs are all designed to lower your overall risk profile.
To see what discounts you may qualify for, be sure and check with your car insurance agent. For example, a specific life change, such as switching to an older vehicle, could save you $200 or more in insurance premiums every year.
Get an Online Quote for Low-Cost Car Insurance in Billings, MT Today!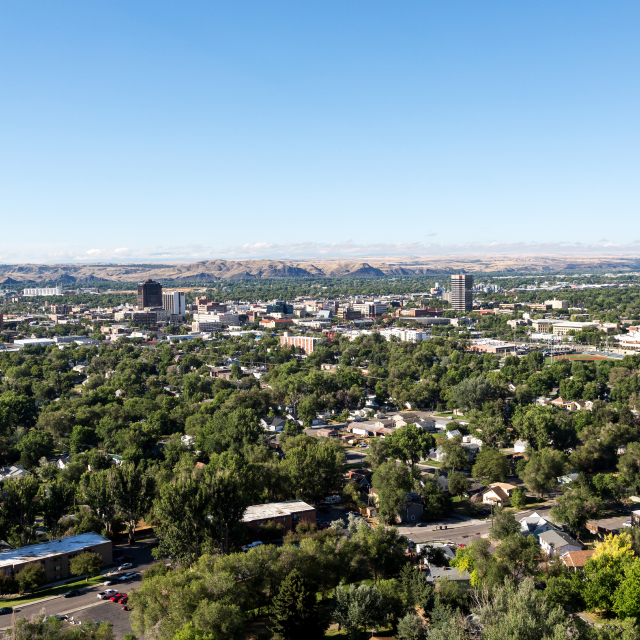 To drive around in Billings, you will need the state minimum required liability insurance coverage or a full coverage policy. Let Freeway Insurance connect you with the best car insurance rates.
Getting started is easy. You can request a free, no-obligation car insurance quote online, visit us at a Billings office near you, or call one of our friendly agents at 800-777-5620.
Select a Product or Service to request a quote
Ready to Get a Quick Quote?