Everything You Need to Know About Auto Insurance in Indiana
Located in southern Indiana, Bloomington is a thriving metropolis that offers a little bit of everything. Affectionately known as "B-Town," it is the home of Indiana University and its strong Hoosier tradition. It is also well known for its cuisine, home to 4th Street's Restaurant Row with some of the finest international eateries in the region.
The country's most prominent college bike race is in Bloomington at Indiana University, but bicyclists are not required to have insurance. However, car insurance in Indiana is required.
Keep reading to learn more about Indiana's average premiums paid by age group, the minimum insurance requirements, and the types of discounts you can expect with a clean driving record.
How Much Does Car Insurance Cost in Bloomington, IN?
The average monthly premium paid by Bloomington drivers is $80 for full coverage, slightly below the state average of $90 and well below the national average of $140. The state-required minimum liability averages $36 per month, slightly higher than the state minimum at $30.50 and much lower than the national average of $47 per month.
Why is Insurance Cheaper in Indiana?
It's a fair question since there are a fair number of college students in Indiana attending big universities such as Purdue, Indiana and Notre Dame. Typically, many college-age drivers would skew the insurance towards the higher end.
Insurers base their premiums on the possibility or likelihood of claims. Since Indiana has a low incidence of natural disasters, low population density and a lower-than-normal car theft rate, its citizens benefit from lower overall rates.
Indiana's minimum liability requirements are also low, which generally equates to lower rates overall.
Get a Quote for Car Insurance in Indiana Today!
Affordable Car Insurance Rates Comparison by Cities in Indiana
For the average monthly premium paid in Indiana cities, check out our breakdown below.
| City | Full Coverage Insurance | Liability Insurance Coverage |
| --- | --- | --- |
| Bloomington | $103 | $36 |
| Evansville | $113 | $43 |
| Fort Wayne | $97 | $36 |
| Indianapolis | $101 | $38 |
| South Bend | $106 | $38 |
Affordable Car Insurance Rates by Zip Code in Bloomington, IN
Every zip code in Bloomington pays a different rate thanks to several factors including claims/theft rate, demographic distribution, and other risk factors.
Check out our breakdown below for the average monthly premium paid by Bloomington residents by zip code.
| Zip Code | Full Coverage Insurance | Liability Insurance Coverage |
| --- | --- | --- |
| 47401 | $103 | $36 |
| 47402 | $104 | $37 |
| 47403 | $101 | $36 |
| 47404 | $103 | $37 |
| 47405 | $102 | $37 |
| 47406 | $104 | $37 |
| 47408 | $104 | $37 |
Low-Cost Car Insurance Rates by Age in Bloomington
Older drivers generally pay lower premiums than younger drivers, thanks to a healthier driving record, greater discount eligibility, and lower claims rate.
Check out our breakdown below for the average monthly premium paid by Bloomington residents by age:
| Age | Full Coverage Insurance | Liability Insurance Coverage |
| --- | --- | --- |
| Teenagers | $397 | $148 |
| 20s | $116 | $40 |
| 30s | $100 | $36 |
| 40s | $97 | $36 |
| 50s | $90 | $34 |
| 60s | $91 | $35 |
| 70s | $98 | $39 |
Unless otherwise specified, we use the following methodology to arrive at our average cost: male, age 30, lowest possible legal coverage allowed by Indiana. Your rates will be determined by several factors, including your age, your gender and the amount of coverage you want to purchase.
Driving Conditions in Bloomington
How Many FataI Accidents Happen in Bloomington?
In 2019, there were three fatal road traffic accidents in Bloomington involving four people, including two pedestrians.
How Are the Road Infrastructure and Bridges in Bloomington, Indiana?
Bloomington's Department of Public Works works tirelessly to manage infrastructure and traffic flow improvements throughout the region. Its Street Division is responsible for maintaining more than 230 miles of city streets, specializing in sidewalk repairs, traffic signal maintenance, installing street signs, pavement construction, and more.
One of Bloomington's biggest initiatives is its Sidewalk Repair Assistance Program, which funds private homeowners to repair adjacent sidewalks to their property.
Find an office near you to help with your auto insurance
Minimum Car Insurance Requirements in Bloomington, Indiana
Here are the minimum liability requirements all Bloomington drivers must carry:
Note these are only third-party benefits, covering the cost of damages sustained by other drivers in an accident. Opt for a full coverage policy with collision and comprehensive insurance for greater protection. Increasing liability limits is another way to add a layer of protection.
With the average cost of a new vehicle over $40,000, the minimum property damage liability of $25,000 could mean you'll be paying out of pocket for any repairs over that amount.
What Are the Penalties for Driving Without Insurance in Bloomington, IN?
Driving without insurance in Bloomington is not a good idea.
First-time offenders will have their driver's license and registration suspended for a minimum of 90 days until proof of insurance is provided. On top of that, you will have to pay a $250 reinstatement fee and file an SR-22 certificate for 180 days.
Second offenses bump the suspension period to one year plus a $500 reinstatement fee and an SR-22 certificate for three years. Third and subsequent offenses bump the reinstatement fee to $1,000, along with a one-year suspension and a 5-year SR-22 filing.
Whether it's your first time or multiple times, you can expect your premiums to rise significantly. It may even double or triple in some cases, depending on the severity of the offense.
Remember, all Indiana drivers must carry minimum liability limits of 25/50/25.
Factors Allowed in Bloomington Car Insurance Rates
Everyone in Bloomington pays different premiums thanks to several factors, including driving history, age, and demographic profile.
Some of these factors include:
Driving history and claims record
Your zip code and address
Gender
Marital status
Age
Type of vehicle
Changes to any of these factors may drive your premiums upward or downward.
What Happens if I Damage Property?
With the minimum amount of $25,000 property damage liability, your insurance company should kick in up to that amount. However, if the repairs cost more than that, you could end up paying out of pocket or being sued and having your assets seized.
Personal Property
Personal property includes anything owned by somebody. So plowing through someone's fence or backing into their mailbox counts. Keep in mind that if you don't stop to self-report taking down a fence, you could also face charges of leaving the scene of an accident. If the fence is keeping livestock restrained and you don't stop, another driver could be killed if they hit a cow in the dark.
Public Property
Items that belong to a government, such as public mailboxes, guardrails and stop signs will need to be paid for with your property damage insurance. As with personal property, any amount left over will be paid from your pocket. Here are some examples of the cost to repair public property.
Traffic signals: $3,000
Stop sign: $500
Guard rails: $900
USPS mailboxes: $750
Discounts for Car Insurance in Bloomington, Indiana
There are many ways Bloomington drivers can save on auto insurance. The types of discounts available include but are not limited to the following:
To learn which auto insurance discounts are available, call your insurance agent. It is also wise to call as your life circumstances change. For example, purchasing a new home may make you eligible for a multi-policy discount awarded to drivers who buy two or more policies under the same insurer.
Did your workplace switch to a remote, work from home policy? You may also earn a low mileage discount now that you are driving much less.
Get an Online Quote for Low-Cost Car Insurance in Bloomington, IN Today!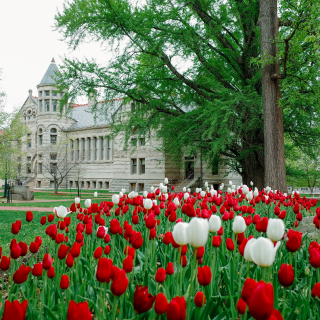 Whether it's state minimum liability, full coverage, or another of the auto insurance types we offer, Freeway Insurance is ready to help you find the right policy for your needs.
To get started with Freeway Insurance, visit a Bloomington office near you, call 800-777-5620 for a quote, or visit us online. It only takes less than 10 minutes to receive a quote. Contact us today!
Select a Product or Service to request a quote
Ready to Get a Quick Quote?