Everything to Know About Auto Insurance in West Virginia
Located on the southernmost edge of West Virginia, the Bluefield metropolitan area extends into the Commonwealth of Virginia. The city itself is home to less than 10,000 residents, although the larger metropolitan area is home to more than 100,000. It is also home to Bluefield State University.
Due to its location in the Appalachian Mountains, the weather remains cool most of the year. This pleasant temperature has earned it the nickname "nature's air-conditioned city, where the summer spends the winter." On rare occasions when the temperature is above 90 degrees, the Chamber of Commerce hands out free lemonade. If you live or plan on traveling to Bluefield, be sure to understand car insurance in West Virginia.
How Much Does Car Insurance Cost in Bluefield, West Virginia?
In Bluefield, WV, the average monthly cost for full coverage car insurance is $124. This rate is below the national average of $148. Instead of full coverage insurance, you also have the opportunity to pay less for the state-required minimum coverage. You will face average monthly premiums of $38 for the minimum level of liability coverage. This is substantially less than the national average of $47 monthly.
For some people, the cost of these premiums is their primary concern. However, it is a good idea to consider securing more coverage than is required by state law. If you cause an accident and the damages are above your policy limits, you can expect to pay the rest out of your own pocket.
Get a Quote for Car Insurance in West Virginia Today!
What Does Full vs. Minimum Mean?
Full coverage insurance—as the name suggests—is more than what is required under state law. In addition to helping pay for the damage you cause to other drivers in an accident, full coverage also helps pays for your own losses. With full, you typically have the liability required by law (or more, if you choose) and comprehensive coverage plus collision coverage.
Collision kicks in to help pay for damage to your car in a wreck. Comprehensive helps pay for things that happen to your vehicle, from hail damage to your car being stolen.
Minimum coverage means the least amount of liability coverage you can carry while complying with state law. This includes only liability insurance, meaning in most states, it will help pay for the injuries and damages you cause others. While this minimum coverage is less expensive, you will be paying for your own damages out of pocket in an accident.
Affordable Car Insurance Rates Comparison by Cities in West Virginia
See our list below to learn more about average monthly car insurance prices in West Virginia cities:
| City | Full Coverage Insurance | Liability Insurance Coverage |
| --- | --- | --- |
| Bluefield | $124 | $38 |
| Charleston | $126 | $39 |
| Huntington | $130 | $40 |
| Morgantown | $120 | $35 |
| Parkersburg | $120 | $35 |
Affordable Car Insurance Rates by Zip Code in Bluefield, WV
One of the factors that insurance companies take into account is the ZIP code where you live. This is because accidents occur more often in some ZIP codes than others. For that reason, you can face higher rates based on the ZIP code where you live.
See our list below for average monthly car insurance prices by zip code in Bluefield:
| Zip Code | Full Coverage Insurance | Liability Insurance Coverage |
| --- | --- | --- |
| 24701 | $140 | $38 |
Low-Cost Car Insurance Rates by Age in Bluefield, WV
Many factors can impact the cost of your car insurance in Bluefield, and one of those factors is your age. Younger drivers as a group have more claims, so it should come as no surprise that they typically pay more per month. As you age, your insurance rates will continue to drop until you reach your 70s.
See our list below for average monthly car insurance prices by age in Bluefield:
| Age | Full Coverage Insurance | Liability Insurance Coverage |
| --- | --- | --- |
| Teenagers | $434 | $186 |
| 20s | $311 | $141 |
| 30s | $141 | $54 |
| 40s | $133 | $49 |
| 50s | $123 | $45 |
| 60s | $118 | $42 |
| 70s | $129 | $51 |
When determining the cost of car insurance, we use a set methodology to ensure our results are meaningful. We use the following method to arrive at our average cost: male driver, age 30, seeking the lowest possible legal coverage allowed by West Virginia law. Your insurance premiums are based on different factors like your age, your gender, your claims history, and the extent of the insurance coverage you opt to purchase.
Driving Conditions in Bluefield, WV
How Many Fatal Accidents Happen in Bluefield?
Although the total number of traffic fatalities each year in Bluefield is fairly low, they are higher per capita compared to some larger cities. For example, 2020 saw a total of three traffic fatalities in Bluefield. However, there was only one fatality in all of 2021.
How Are the Road Infrastructure and Bridges in Bluefield, WV?
While the city has struggled with infrastructure issues over the years, Bluefield is in line to receive a significant infrastructure investment from state and federal sources. The city is one of three areas included in a pilot program that is designed to connect neighborhoods that have been cut off from opportunities in the larger metropolitan area. Bluefield is set to receive over $1 million for sidewalk and repaving projects targeting the city's East End.
Minimum Car Insurance Requirements in Bluefield, West Virginia
West Virginia law requires drivers to have a minimum level of liability insurance coverage. This minimum coverage must pay claims for bodily injury and property damage losses. The minimum liability coverage needed according to state law includes the following:
Bodily injury liability coverage: $25,000 per person
Bodily injury liability coverage: $50,000 per accident
Property damage liability coverage: $25,000 per person
Uninsured motorist bodily injury: $25,000 per person and $50,000 per accident
Uninsured motorist property damage: $25,000 per accident
What Are the Penalties for Driving Without Insurance in Bluefield, WV?
There are criminal consequences that come with driving without insurance in West Virginia. According to state law, if you are caught driving without insurance, you could face a range of penalties. You can typically expect steeper consequences for repeat offenses. These penalties include the following:
As much as a year in jail
Maximum fine of $5,000
Car registration suspension
Reinstatement fee
Find an office near you to help with your auto insurance
Car Insurance Factors Allowed in Bluefield, WV Car Insurance Rates
When your insurance company determines your monthly premiums, they are allowed to use a wide range of factors. These factors vary significantly from person to person, which is why your policy might be much more or much less than you anticipated. Your premiums could differ dramatically compared to someone your age when other factors in your lives are different. Some of the factors used by the insurance companies include the following:
Age
Marital status
Accident history
Claims history
Gender
ZIP code
What Happens If I Damage Property?
West Virginia is considered an "at-fault" insurance state. That means when another person negligently damages your vehicle in an accident, you have the right to pursue legal action against them. If you cause a collision, your liability insurance should help cover those losses. However, your policy will only pay up to the limits you set, meaning you could be stuck paying for large claims on your own. Carrying full coverage insurance is the best way to avoid this kind of liability. Some things to consider when you damage property:
Your liability coverage won't pay for your damages.
Any damages above your policy limits are your problem.
You could lose coverage if you don't report your accident to your carrier.
Discounts for Car Insurance in Bluefield, WV
Discounts are the best way for your to bring down the price of your monthly insurance premiums. Numerous discounts could be available to you, and you must take advantage of as many of them as possible. Some of the popular discounts available to drivers in Bluefield include the following.
You could also money on your premiums by purchasing your more than one policy from the same carrier. You could get a discount by buying your home insurance as well as your auto insurance and more in a discount called bundling.
Get an Online Quote for Low-Cost Car Insurance in Bluefield, WV Today!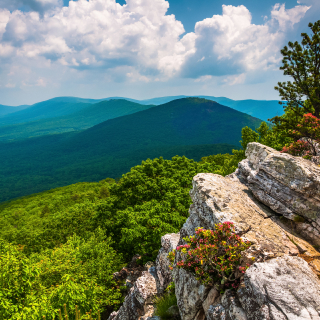 That wraps up our guide to car insurance in Bluefield, West Virginia. While insurance issues are complicated, getting the answers you need is only a phone call away.
Now is the right time to call about a quote. You can get started with a quote online, visit us at a Bluefield office near you, or call us at 800-777-5620 at your convenience.
Select a Product or Service to request a quote
Ready to Get a Quick Quote?